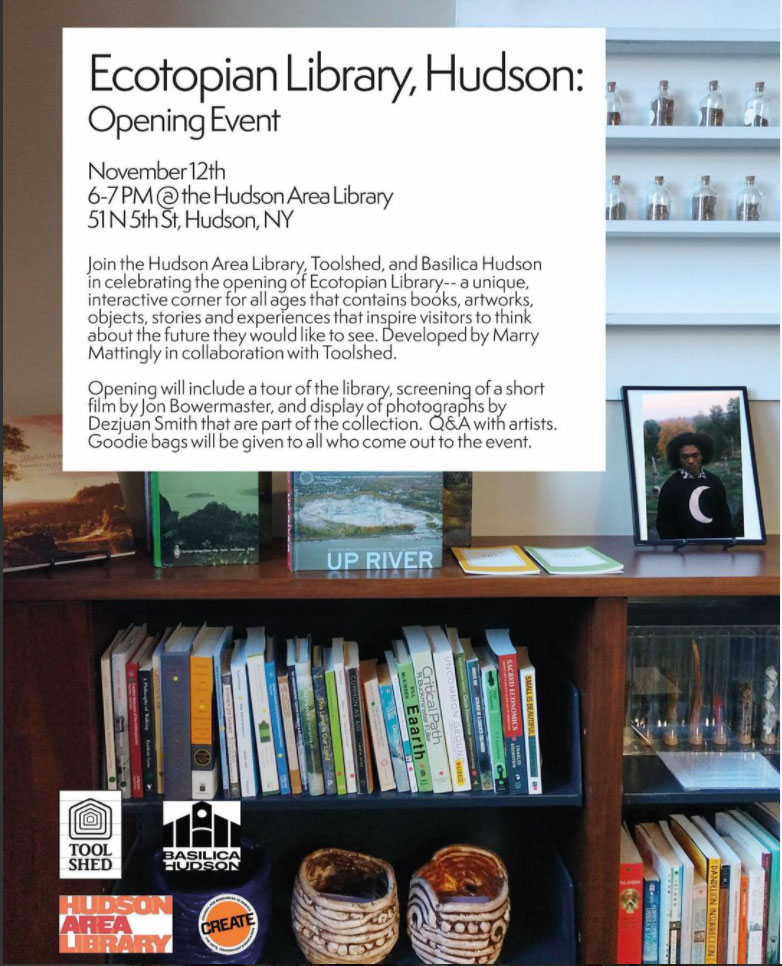 Opening Reception: Ecotopian Library, Hudson
On Friday, November 12, 6 -7 pm, join Hudson Area Library, Toolshed and Basilica Hudson for a special in-person event: the opening of Ecotopian Library, Hudson.
This is a unique, interactive corner of the Hudson Area Library for all ages that contains books, artworks, objects, stories and experiences that inspire visitors to think about the future they would like to see. It is an iteration of artist Mary Mattingly's Ecotopian Library project specially developed in collaboration with Toolshed and with support from Basilica Hudson and the Hudson Area Library. 
The opening event will include a tour of Ecotopian Library, Hudson by Toolshed co-founders Susannah Sayler and Edward Morris (Sayler/Morris), the announcement of new special artworks, books and objects available for check out, the unveiling of a new locally focused film series that will be on display with headphones in the library, as well as a special screening of three short films with a Q&A by the filmmakers.
Our opening event will include a land acknowledgement by Heather Bruegl, a tour of the collections, a screening of a short film by Jon Bowermaster, a display of photographs by Dezjuan K. Smith that are part of the collection, and a Q&A with the artists. Goodie bags will be given to all who come out to the event, with baked goods by Trixie's Oven. Masks will be required inside the building for the safety of all attendees