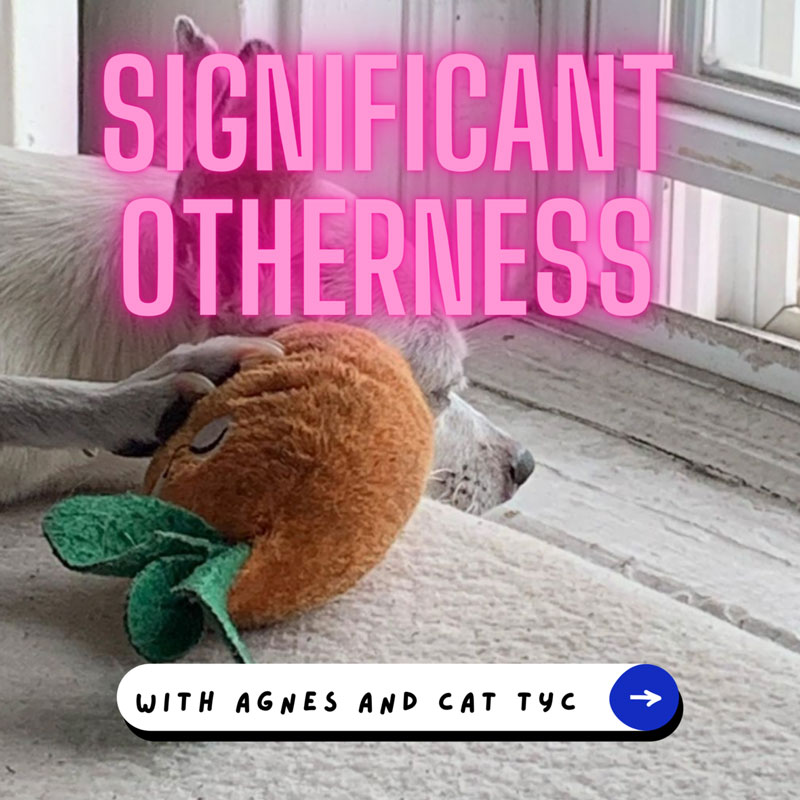 Opening Reception: Cat Tyc: Significant Otherness
Tanja Grunert is proud to present Significant Otherness, an inter-species collaboration by Cat Tyc and Agnes Tyc.
This is Agnes's statement for the show:
My human Cat Tyc and I will be presenting the pilot episode of our podcast SIGNIFICANT OTHERNESS as a sound installation. My human wanted to give me this platform as a way to reciprocate for all the "emotional labor" I gave to her during quarantine. To build deeper communication during this time, we processed our lives together with the help of an animal communicator. I think she thinks too much but I do have to say I have enjoyed having this space to express my concerns for this troubling world. In this discussion, we give space for the somewhat hidden discussions around the pressures to mother on those who choose or choose not to, issues exacerbated by economic inequality, the failing US healthcare system, and pressing environmental concerns that push on views of futurity.
Also included in the exhibition will be two sculptures by me from known objects ie: dog toys because I am a firm believer in Walter Benjamin's belief that 'the production of ideas, of conceptions, of consciousness, is at first directly interwoven with the material activity and the material intercourse of men, the language of real life'.
THE ARTIST WILL NOT BE PRESENT in the space as I do not enjoy the company of many humans but MY human Cat Tyc will be available to speak on my behalf and answer any questions.
Please do not keep her out late. I worry.
— Agnes Tyc
November, 2022
Cat Tyc is an interdisciplinary writer/artist who has three chapbooks, An Architectural Seance (dancing girl press & studio), CONSUMES ME (Belladonna* Collaborative) and I AM BECAUSE MY LITTLE DOG KNOWS ME (Blush Lit).
Her most recent writing has published in Maggot Brain, The Recluse, Shock of the Femme, Touch the Donkey and FENCE.
She has presented and performed at the Microscope Gallery, Anthology Film Archives, Brooklyn Museum, Hauser & Wirth, Kassel Fest and the synthesis gallery in Berlin. She has directed music videos that have been added to the rotation on LOGO's NewNowNext and MTVu.
She has been granted residencies and fellowships at Signal Culture and The Flaherty Seminar and has received support from the Foundation of Contemporary Arts.
She teaches writing at the School of the Visual Arts in New York City and lives in Hudson, NY.
Agnes Tyc is a medium age Chihuahua Whippet who was born in Tennessee but identifies as a New Yorker as she has lived most of her adult life in Brooklyn. She has been featured in Winnie Au's CONE OF SHAME photo series which was featured in FOUR & SONS magazine and raised thousands of dollars for dogs in shelters. She now centers her life around philosophical concepts and active intellectualism which in her mind means watching the world go by at her window and barking at anyone she disagrees with. She lives with her human, Cat Tyc in Hudson, NY.