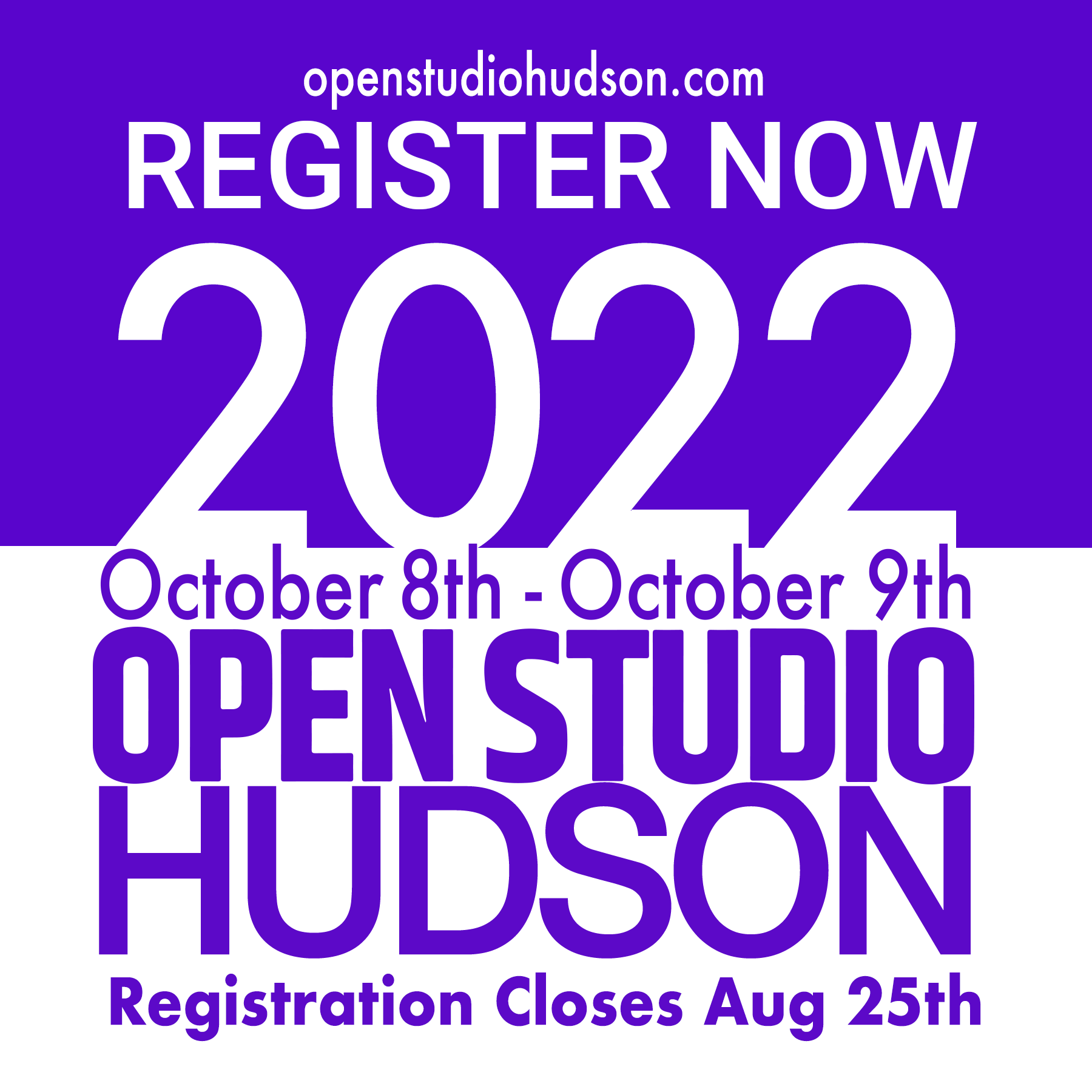 Open Studio Registration Open
OPEN STUDIO HUDSON is pleased to return this fall for the third year of our successful and well attended open studio tours.
As we journey through yet another summer of political, health and economic uncertainties, Upstate New York has shown remarkable resilience and expansive cultural vitality. A magnet for urban transplants and tourists throughout the last year, Hudson continues to enjoy sustained growth in virtually every sector from shopping to dining, and especially the arts.
Local residents, as well as guests, are actively seeking unique cultural and experiential destinations more than ever. This appetite for adventure, centered around creative communities, makes OSH 2022 uniquely appealing to a diverse audience of art lovers.
Hudson's artists, both professional as well as emerging, welcome aspiring collectors, neighbors and curators into their private studios for a behind the scenes, unfiltered conversation about artistic process and purpose. Utilizing the OSH 2022 website and map, visitors can enjoy a self-guided tour, choosing from a wide range of creative disciplines and techniques, within an easily walkable area. Printed maps will be distributed throughout the city, as well as being available to download online.
Open Studio Hudson provides a unique opportunity to purchase original artwork directly from the maker, a benefit to both artist and buyer. While galleries and curators provide a vital service, many artists do not have professional representation and struggle for recognition and financial stability. Artists who participate in OSH 2022 will also reap the benefits of a non-curated exhibition, encouraging more freedom and authenticity.
This year for the first time, we hope to be able to provide a "Pop-Up" gallery space for those artists not able to open their studios to the public, as well as those who live outside of Hudson, but have demonstrated a connection to the city. More on this as it develops.
Finally, we are deeply grateful to be the recipient of a 2022 Grant awarded by The New York State Council on the Arts, and facilitated by Create Council. We would also like to thank Time & Space Ltd for agreeing to be our fiscal partner in Hudson's arts community.
OSH 2022 goal is to help bridge the gap between the local artist and the public eye. We look forward to seeing you in October. VISIT OSH WEBSITE ARTIST REGISTRATION OPENS AUGUST 5th
This project is made possible with funds from the Statewide Community Regrants Program, a program of the New York State Council on the Arts (NYSCA) with the support of Governor Kathy Hochul and the New York State Legislature and administered in Columbia County by the Columbia County Council on the Arts dba CREATE Council for the Arts.
Community Partner Sponsor for Open Studio Hudson 2022. https://timeandspace.org