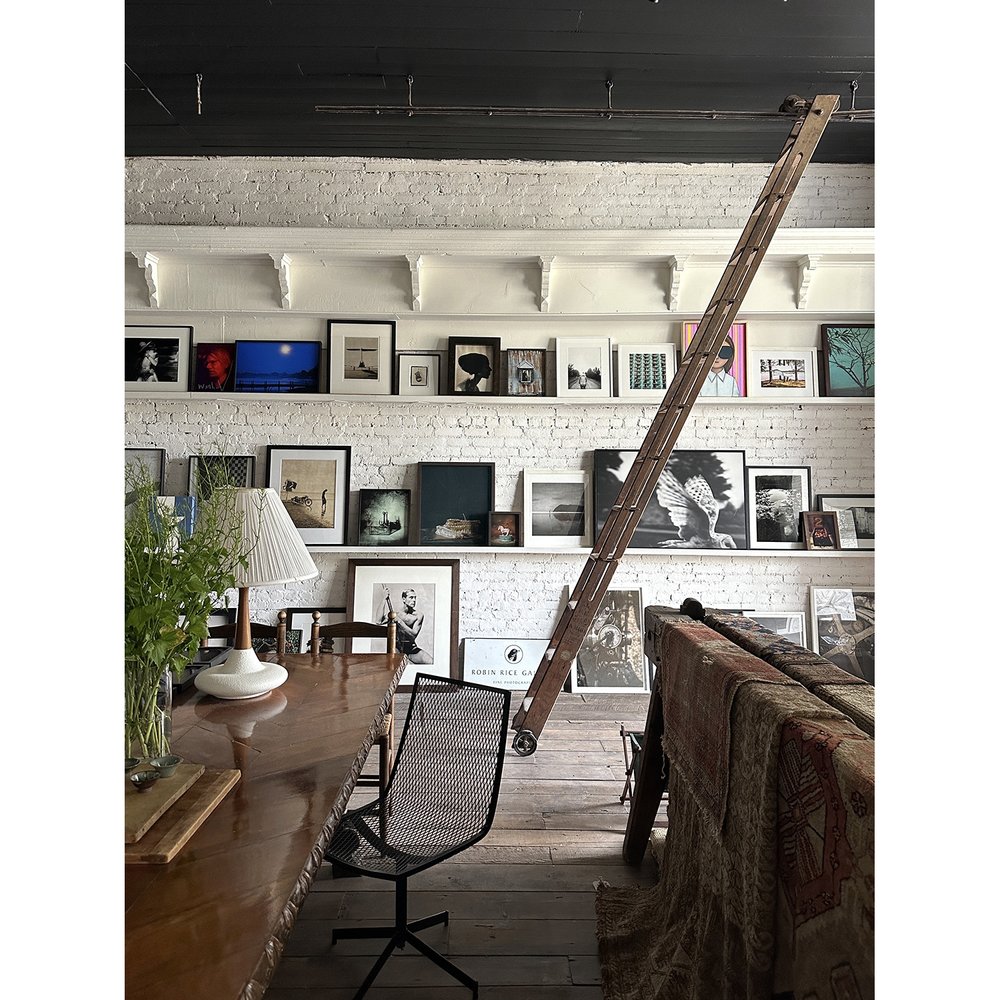 ON VIEW: ROBIN RICE GALLERY AT LAVA ATELIER
Robin Rice Gallery at LAVA Atelier
Opening Reception Saturday July 22, 2023
Meg Lavalette and Robin Rice met at the 2020 Kingston Design Showhouse where Lavalette fully renovated the non-profit's kitchen and discovered she and Rice both live upstate. Soon, a connection blossomed when Lavalette opened LAVA Atelier, which features vintage and antique finds from her worldly travels in addition to local artists, creatives, and now the Robin Rice Gallery collaboration. Lavalette and Rice have come together for this dynamic pop-up, searching for a way to harmoniously contrast historic architecture and design with contemporary fine art and photography. The collection is installed through Thanksgiving weekend.
MEG LAVALETTE
Lavalette started LAVA interiors, a high end residential interior design firm, in 2015 from her New York City apartment after studying at Parsons and her years of experience at several AD100 design studios.Lavalette tailors her work to her clients' needs and lifestyles, engendering spaces that tell rich and intricate stories about those who inhabit them. Clients immerse themselves in Lavalette's sharp acumen for bringing together craftsmanship and premium materials.
Nestled into the Catskills, LAVA Atelier is located in Franklin, NY's charming historic village. Meg Lavalette, the design studio's operator and creative director, purchased the mid-19th century brick and cast-iron building two years ago with the intent of restoring and preserving its cultural aesthetic while updating its systems. Lavalette runs not only her Atelier upstate, but also LAVA Interiors from Manhattan's Flatiron neighborhood.
ROBIN RICE
More than three decades since opening The Robin Rice Gallery on West 11th St. in New York's West Village, Rice hasn't lost her love for connecting art to the collector and still researches tirelessly to find the perfect fit for her clients' personal tastes. Drawing inspiration from Alfred Stieglitz—who curated art while also exhibiting his own—Rice developed her own "school" of artists, cultivating a keen eye for design and in doing so enriching the aesthetic of her own photography.
After dinners with friends, Rice likes to try her hand at being a disc jockey so you can often find DJ Redshoes spinning vinyl at her home in Hudson. Robin's Rice's own early 70's photography of Studio 54's opening night was recently included in the exhibition Studio 54: Night Magic at The Brooklyn Museum.
PARTICIPATING ARTISTS
Ted Adams, Emil Alzamora, Todd Burris, Paul Christiensen, Lance Clayton, Christine Cody, Lynda Churilla, Paul Dagys, Mindaugas Gabrenas, Victoria Goldman, Shannon Greer, Barnaby Hall, Erica Hauser, Benjamin Heller, Charlotta Janseen, Dawn Ladd, Matt Kinney, Patricia McDonough, Micheal McLaughlin, Bill Phelps, Jose Picayo, Giacomo Piussi, Leonardo Pucci, Robin Rice, Nenad Semullo Amodaj, David Saxe, Jonathan Schlafer, Keith Sharp, Kristen and Mark Sink, Bob Steiner, Tina West