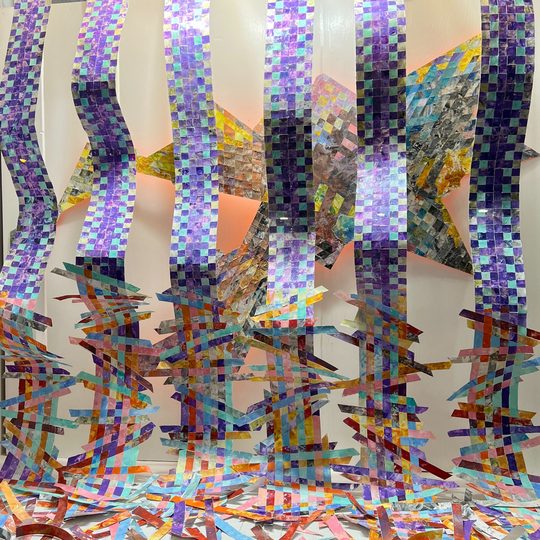 On View: "Peekaboo" – Installation by painter and sculptor Ellen Jouret-Epstein
Jouret-Epstein has created a site-specific installation for the windows, taking inspiration from the decades old striped awning that hangs above this former convenience store. Painted paper has been woven into vibrant stripes which bow and buckle before unraveling at the ends – these ribbons interrupt our view of the large glowing shapes ("Inside Out" and "I never saw a comet") which hang in the background. Additional woven abstract shapes can be seen indoors as well as numerous "quilted" works.
Jouret-Epstein's work has been described as "some otherworldly mash-up of quilts and paintings and sculpture and something else altogether." Ellen says, 'That 'something else' is always what interests me. I've developed my practice through experimentation with a variety of materials and processes – felt, foil, and now paper. I approach most of my work as abstract collage, in the sense of a conscious layering of elements, along with a good deal of chance.
"Two years ago, playing with ways to add complexity to my work on paper, I went back to the origins of my art practice in textiles, combining mixed media with woven paper. The first of these, rectangular panels, are the most like textiles. They began with printed paper collages woven together with chance to create unexpected patterns, or sometimes deliberately layered like printed fabrics. From there I began to think beyond two dimensions and the painterly rectangle in order to explore form and the illusion of space. My most recent work process disrupts the systematic grid of the woven paper structure and creates an unpredicted painting. Or a virtual sculpture? Whereas basic woven structure is highly controlled, I want to let it tell me where it wants to go."
Jouret-Epstein is a self-described self-taught artist who first exhibited weavings in museums and galleries as part of the nascent fiber arts movement in the San Francisco Bay Area. Following a career in the not-for-profit sector and landscape architecture, as well as part-time farming, she is now focused on a full-time art practice. She has exhibited throughout the region and in New York City. She lives in Germantown with her husband and sheep.
Window on Hudson will also be open to the public during the final 2econd Saturday Hudson Gallery Crawl of the year, Saturday November 12, 2022 from 5-8pm as well as during Hudson Hall's Winter Walk on Saturday, December 3rd from 5-8pm.
"Peekaboo" will be on view through December 5, 2022.