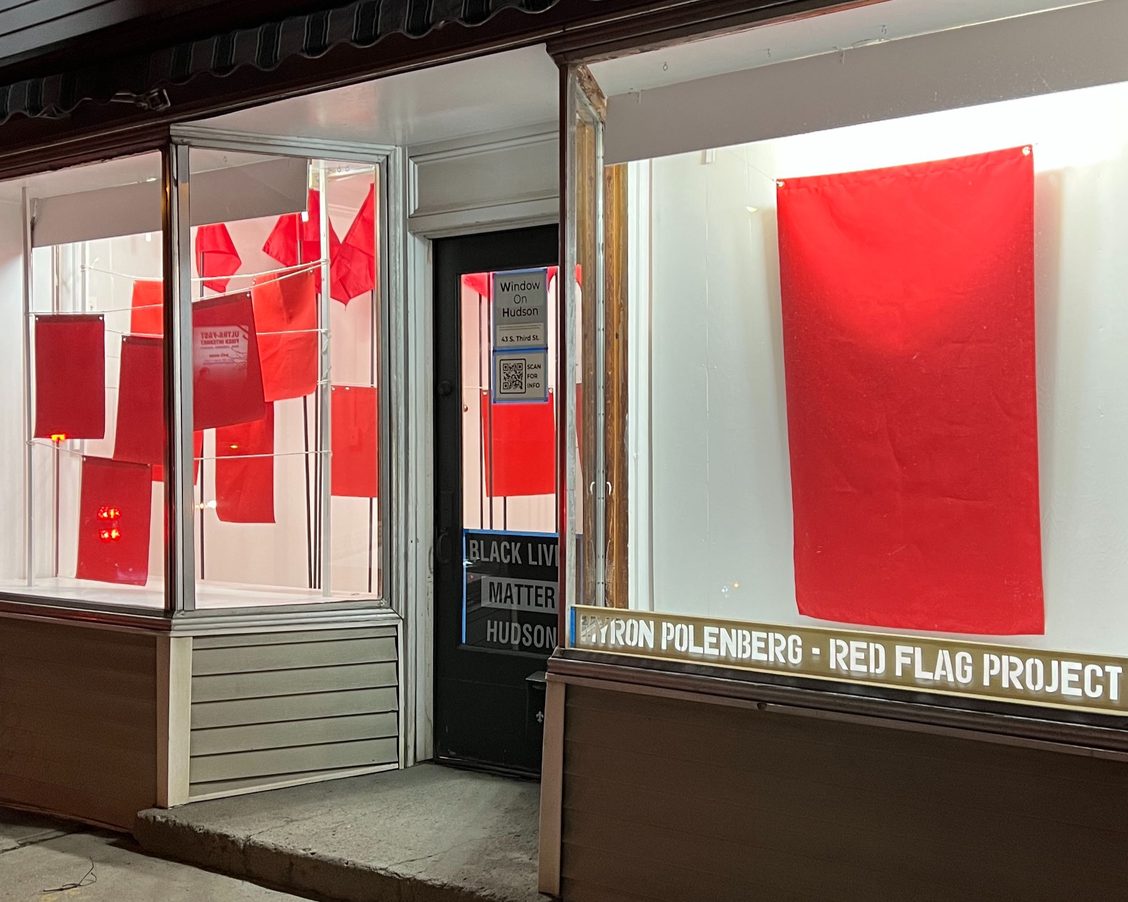 Myron Polenberg: Red Flag Project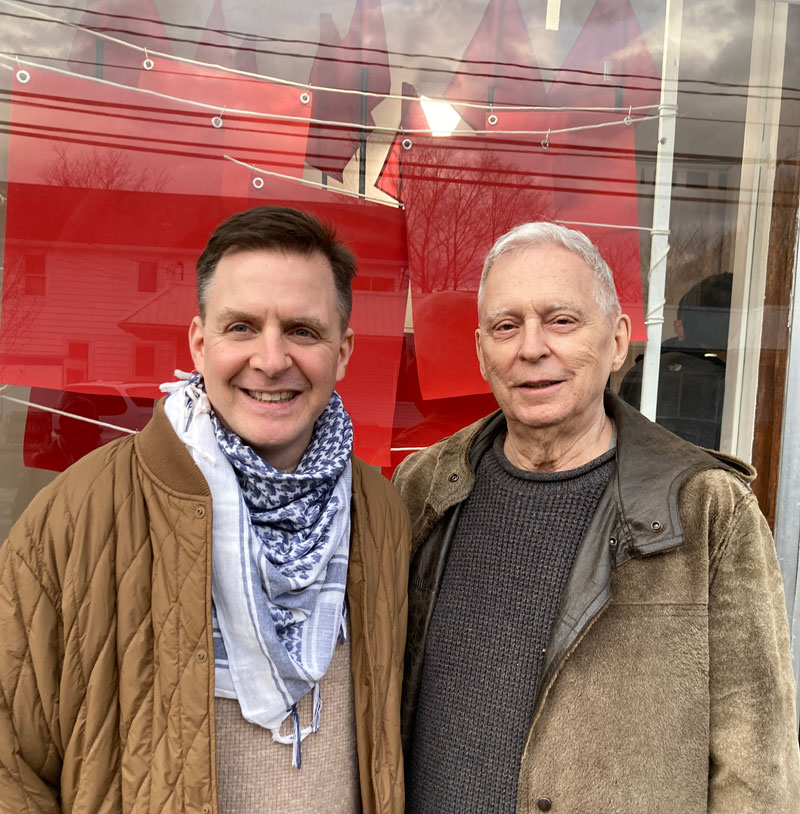 Window on Hudson curator Jeremy Bullis and artist Myron Polenberg
Artist Myron Polenberg, at the opening reception on Thursday, March 23rd at Window on Hudson, told me, "I'm scared of the government.  They are not bashful, but the people I favor are timid."  The "Red Flags" are a warning for us all, from climate change to reproductive rights,   "If you're a liberal, and you don't have a gun, buy one."
From Window on Hudson:
Polenberg is not a doomsayer, but like many of us, he is frustrated. It seems that more than ever we are dangerously close to crossing a point from which we will not be able to return – now is the time to raise a red flag, sound the alarm, and with united effort prevent disaster.
Over the course of a 40 year career as a Fine Artist and Designer, Myron Polenberg has created a significant body of work that addresses important issues of our time and uses a variety of mediums including paint, sculpture, assemblage, mixed media, installation and film, among others. Regardless of the medium, Polenberg's work retains as its core a concern with information; in particular, the gap between the remains of information and the information that remains; information as artifact; questions about impermanence and the manner in which information is processed, obscured, revealed and destroyed. All of this is done in the context of a historical continuum that coincides with the events, histories and social narratives that Polenberg has been witness to in his lifetime. Themes that emerge time and again in Polenberg's work include justice, inequality, power, war, gender and sexuality. Such are the concepts that continue to remind us of our own humanity, and historically, the incidences that cause us to question it altogether.
Polenberg's lengthy career in Advertising and Design was also consumed by the conveyance of information, including designing the first line of Swiss Army watches by the brand. Where Polenberg's Design career was preoccupied with a very direct manner of information transmission for the consumer market, his Fine Art often ruminates, sometimes remaining intentionally elusive, preferring suggestion to statement; other times relying on provocation to compel a response. In every case, Polenberg is reacting to or against personal experiences from a lifetime lived in the midst of historic cultural shifts and dramatic social change.
"Red Flag Project" will be on view 24/7 through April 9th, 2023.