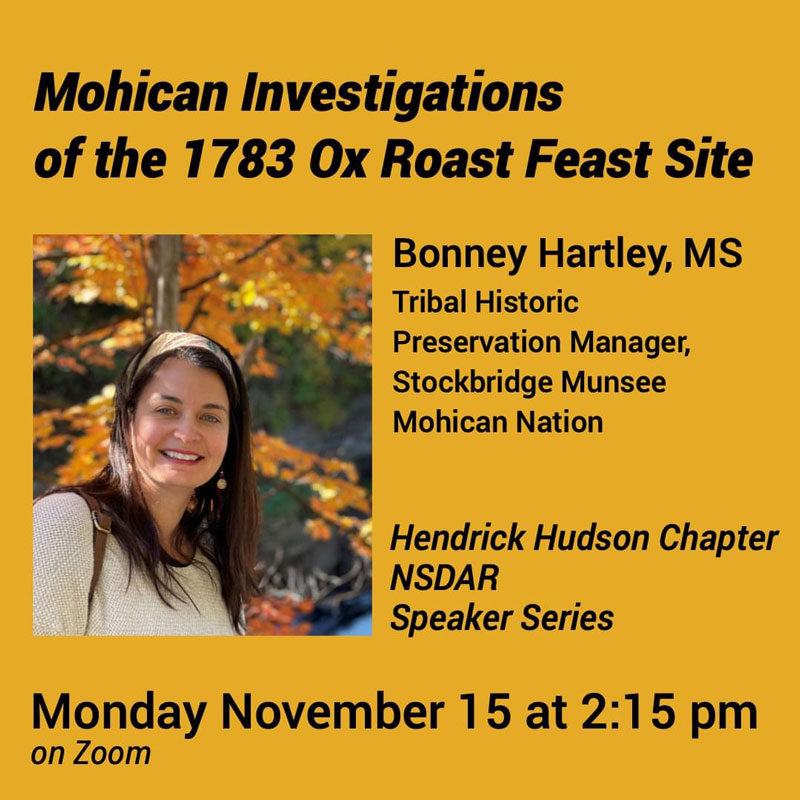 Mohican Investigations of the 1783 Ox Roast Feast Site
The 2021 speaker series of the Hendrick Hudson Chapter of the Daughters of the American Revolution continues on Zoom on November 15 at 2:15 pm. Bonney Hartley, member of the Stockbridge Munsee Mohican Nation and its Tribal Historic Preservation Manager, will discuss the significance of a 2021 archaeological excavation of the 1783 Ox Roast Feast Site in Stockbridge, MA. The site being explored is where an historic yet largely forgotten feast occurred. It was sponsored by none other than General George Washington who wanted to thank Mohican veterans for their service in the Revolutionary War.
Bonney Hartley is a cultural resources professional who works to preserve, manage, and interpret indigenous cultural heritage. In her capacity as Tribal Historic Preservation Manager and working from an extension office in Williamstown, MA, she protects Mohican and Munsee (Lenape) cultural sites and repatriates cultural items from a variety of institutions. Prior to this role she held posts with the United Nations Department of Economic and Social Affairs and with nonprofit organizations including Seva Foundation.