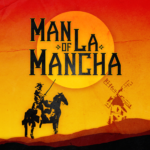 Man of La Mancha
AUGUST 26–SEPTEMBER 5, 2021
Music by Mitch Leigh
Lyrics by Joe Darion
Book by Dale Wasserman
The Mac-Haydn's own "Impossible Dream" continues with the long-awaited return of Man of La Mancha.
A moving tale about a man's refusal to give up his impossible dream, inspired by Miguel de Cervantes' masterpiece Don Quixote. Powerful, brutal, hilarious, and heartbreaking, it celebrates the perseverance of someone who refuses to relinquish his ideals or his passion.
The celebrated score includes "The Impossible Dream," "I, Don Quixote," and "Dulcinea."
Last seen on our stage 20 years ago, this promises to be an epic return.
---