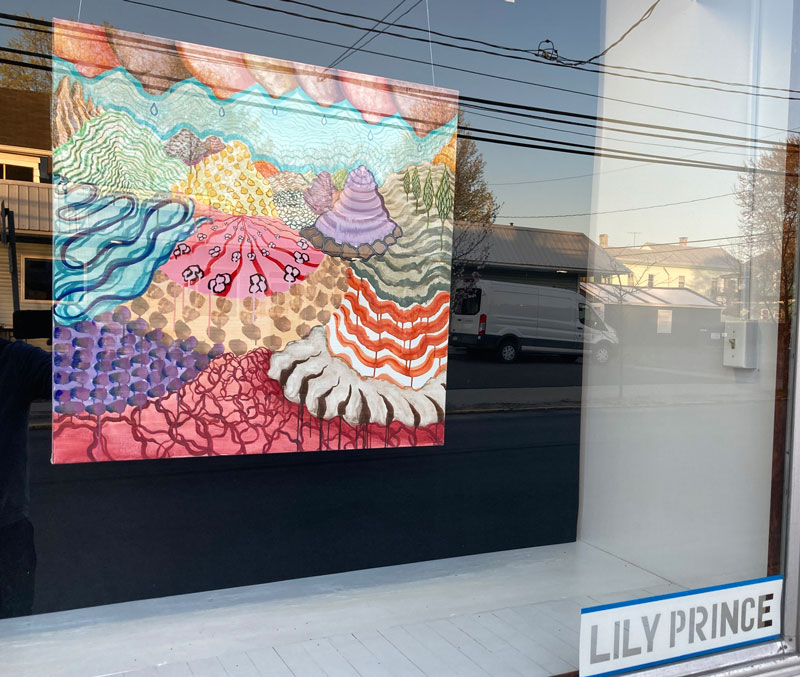 Lily Prince: The Honey and the Thorn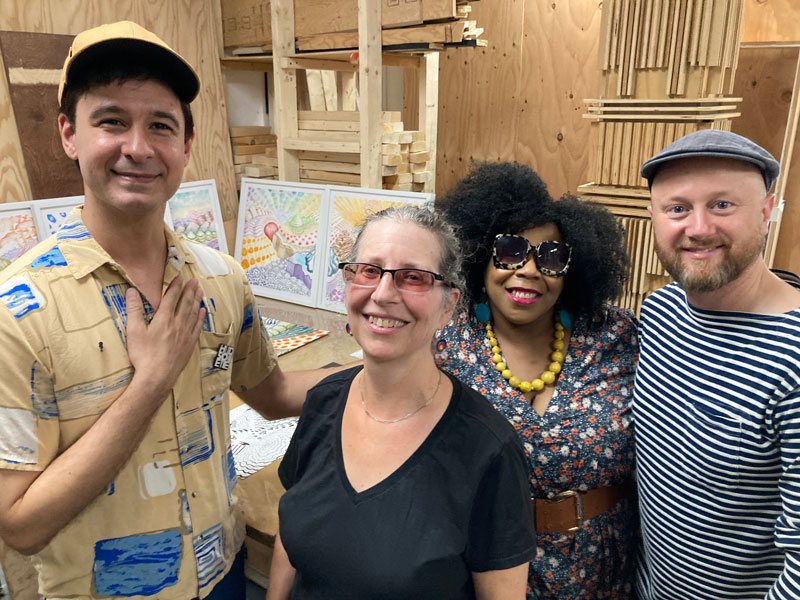 Jonah Bokaer, Lily Prince, Chiarra Jonelle Hughes Mba, Chris Davies
These new works created for WOH are part of her ongoing "American Beauty" series of paintings. In her travels through the United States Prince records her surroundings through plein air drawing and then returns to the studio where she combines perceptions of the moment, memory of past space and aspiration of future place into deep, colorful, textured landscapes that pull us to the land's horizon.
"The Honey and the Thorn" speaks to the beauty and chaos of nature … the healing factors that nature offers while acknowledging just how damaged nature is right now. When painting, Prince presents the feelings that being in nature evokes in her, stitching together the hills from one area with the trees and mountains of another. These unique landscapes are what live in her paintings.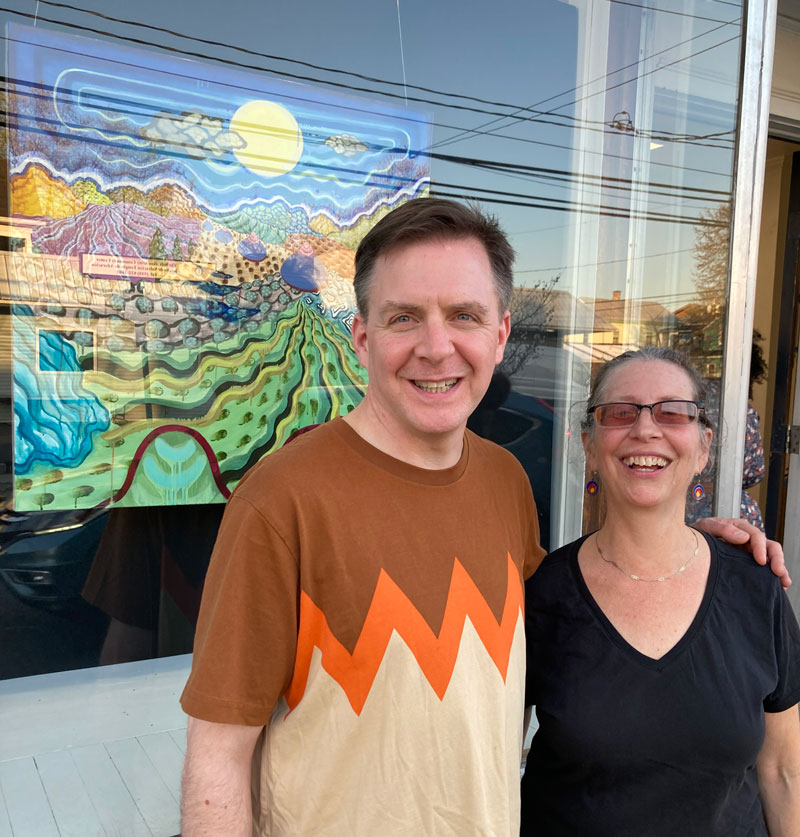 Curator Jeremy Bullis and artist Lily Prince
Prince says, "I take to heart the adage that beauty is the greatest form of protest. Working en plein air, I attempt to take what I experience observationally in nature and translate it into a language of personal expression and universal significance. I consider myself an explorer of specific terrains, studying the atmosphere of diverse spaces. In these times of environmental and societal devastation, I consider it a political act to immerse myself in the landscape to record the natural beauty lurking there: perhaps to incite the arousal of sentiment, a stirring of connectedness."
Lily Prince has her B.F.A. from The Rhode Island School of Design, her M.F.A. from Bard College and studied at Skowhegan. Lily participated in The Bronx Museum's Art-in-the-Marketplace Program and studied abroad on R.I.S.D.'s European Honors Program in Rome. Prince has exhibited widely both nationally and internationally, including in England, Germany, Israel, Poland, New York, Los Angeles, and San Francisco, among many others. In 2020 Prince was awarded the prestigious Pollock-Krasner award in painting. Prince exhibited with Littlejohn Contemporary Gallery, NY in 2017 showing her work in the Art on Paper Fair. In 2018 they had her solo exhibition Recurring Waves of Arrival. Prince was awarded an artist residency at Galerie Huit in Arles, France, summer 2019 and was awarded a sabbatical for 2019-2020. Her solo show There There was curated by Jen Dragon of Cross Contemporary Art at 11 Jane Street Gallery, Saugerties, NY, July 2019. In fall of 2021 Prince had a solo show American Beauty at Thompson Giroux Gallery, Chatham, NY. In spring 2022 Lily had a solo show Both Sides Now at the Carrie Chen Gallery in Great Barrington, MA. Prince's work was in the Sunrise/Sunset exhibition at the Albany Airport Gallery, fall 2021. Lily has been awarded commissions by numerous hotels and the New York City Department of Cultural Affairs. Her book of portraits with writer Richard Klin's profiles, Something To Say: Thoughts on Art and Politics in America, was published by Leapfrog Press, 2011. Prince was commissioned to create 100 illustrations for the book Abstract Expressionism For Beginners, published by For Beginners Books, 2016.
Lily Prince's work has appeared in the New York Times, New York magazine, The Brooklyn Rail, the Newark Star- Ledger, New American Paintings, San Francisco Weekly, The Bloomsbury Review, Rain Taxi, Jewish Currents Magazine, Chronogram magazine, and the literary journal Crossborder.