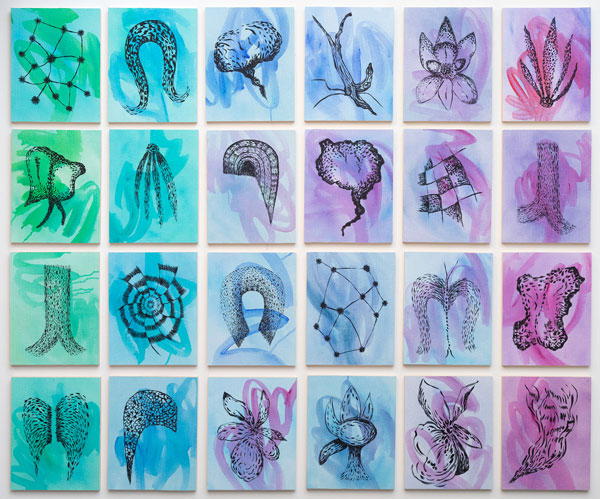 Lawre Stone "The Silvery Water and the Starry Earth"
Window On Hudson is thrilled to present "The Silvery Water and the Starry Earth" by Lawre Stone. This group of 48 images were painted specifically for the storefront windows and will be on view from July 6th – August 1, 2022.
An Artist's Reception will take place on Saturday, July 9th from 3-5pm. Window On Hudson will stay open until 8pm along with many other galleries participating in the 2econd Saturday Hudson Gallery Crawl.
"The Silvery Water and the Starry Earth" is also being presented by The Hudson Eye for this year's Upstate Art Weekend, July 22-24, 2022. The main exhibition is on view 24/7 while additional indoor works can be seen from 11am – 5pm, Friday – Sunday, during UAW.
About "The Silvery Water and the Starry Earth" Stone says, "I'm always looking to integrate ideas from art history into my work, especially the history of abstraction. This piece takes its title from an illustrated alchemical treatise by the 10th century scholar and alchemist Muhammad Ibn Umayl. Alchemists believed that 3 natural elements: sulphur, mercury and salt, could be combined through transmutation, to produce the "elixir of eternal life" or for material context, transform lead into gold. For the 10th c. alchemist, the element Mercury was the 'silvery water', and Sulphur was the 'starry earth'. "I can appreciate Ibn Umayl's reverence for the natural world and the belief that a single element may hold immense power and wisdom. Sulphur was considered an expansive force and stood for the human soul. Mercury embodied the fluid, omnipresent spirit of life and stood for the human body. I'm fascinated to consider these centuries old ideas as I contemplate our 21st century climate disaster." Stone continues, "The emergency of our time and an existential future compel me to empathize with aspects of the natural world through color, image, shape and gesture. I'm interested in finding what must be discarded and what must be carried forward. The un-seen contains both the beauty and the horror of what we have done. For me, painting is a portal to this unseen world." About Lawre Stone Lawre Stone grew up in suburban New Jersey and remembers painting the iridescent colors of a polluted sky over the oil slicked Passaic River from her bedroom. Images of nature altered by human endeavor continue to inform her work. Stone received her BFA from Rhode Island School of Design and MFA from The Milton Avery Graduate School of the Arts at Bard College. In the 1980's she moved to Williamsburg, Brooklyn and established her painting studio among a vibrant community of emerging artists.
Her work is included in numerous collections and has been exhibited nationally in galleries and non-profit spaces including Tanja Grunert Gallery, Joyce Goldstein Gallery, The Ely Center for Contemporary Art, Thompson Giroux Gallery, LABspace, P.S. 1, The Institute for Contemporary Art, and White Columns. She is a recipient of a NYFA/NYSCA Fellowship. Upcoming exhibitions include: "Mountain High, Valley Low", LABspace, Hillsdale, NY, Hudson, NY, "Baggage" at Icehouse Project Space, Sharon, CT, and "Summer Selections" at Furnace Art on Paper Archive, Falls Village, CT.
Lawre Stone is Associate Director of The Milton Avery Graduate School of the Arts at Bard College, Bard MFA. She serves on the Board of Directors of
Millay Arts and is a member of ARTTABLE. She lives and paints in Columbia County, NY. Stone can be found on instagram @lawrestone About Window On Hudson Window On Hudson offers storefront window exhibition space for artists of Hudson and the Hudson Valley. Window On Hudson is committed to providing a platform for established and developing artists to display their work, of all mediums, while also offering professional development opportunities for emerging artists.
Window On Hudson exhibits a new artist on a monthly basis. Window On Hudson is two large storefront windows located at 43 South Third Street, Hudson NY 12534. The windows are prominently visible 24/7 to all citizens and visitors of the City of Hudson traveling south on NY-9G. To see more of the artist's work which hangs inside, please make an appointment with the Artistic Director, jeremy@windowonhudson.org Window On Hudson is interested in exhibiting all artistic mediums, with a special emphasis on puppetry, textiles, movement, and emerging technologies. Of course, sculptors, painters, illustrators and video artists are equally welcome and encouraged to submit their work. Window On Hudson will mentor, to the best of its abilities, select artists who may not yet be ready to exhibit, those who have an upcoming exhibit, and those who have exhibited in the past. Artists interested in submitting their work may do so by emailing submissions@windowonhudson.org or visiting the website WindowOnHudson.org.
Window On Hudson was founded by artists Jeremy Bullis and Jonah Bokaer. Jeremy is a sculptor with 25+ years experience in NYC who is currently creating in Hudson, NY. Jonah Bokaer is a choreographer and visual artist as well as the founder of The Hudson Eye. They both have a strong belief in expanding and strengthening The Artist Community, an eagerness to provide emerging artists with a platform for showcasing their talents, and a civic desire to engage and inspire the public.
Financial support for the exhibition materials and utilities of Window On Hudson come from the founders, grants, and private donations. For more information please contact Jeremy Bullis, Artistic Director, at jeremy@windowonhudson.org.