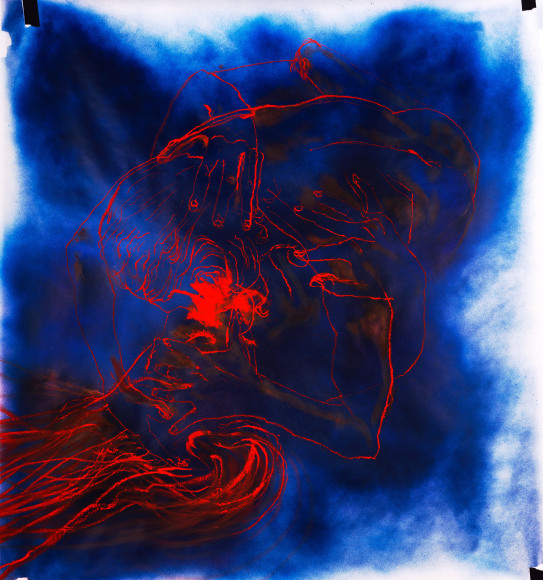 Laur Elias Traynor: Anchored: On Display
Laur Elias Traynor, "Sea & Moon 3," 2022. Pastel and spray paint on vellum, 38″ x 36."
Running October 8 — October 30, 2022
Gallery hours during the run of the exhibition are Saturday and Sunday, 12 – 6 PM.
Tanja Grunert is proud to present Anchored, an exhibition of drawings by artist Laur Elias Traynor running October 8 — October 30, 2022.
Traynor has been showing with Tanja Grunert, and Anchored marks his fourth show with the gallery. Traynor wrote about the show:
What is the difference between a kiss and a fight?
Anchored opens with "Lucid" an ongoing performance and film collaboration between Laur, Layla Keele and Angel Malerba. Lucid is based on a 14 year old recurring dream of mine. In the dream a Shadow Monster restrains me and then sucks away my soul or returns it with a kiss? Sometimes people surround me in the dream to watch. We performed the first installment of Lucid at artist collective VeilMachine's Salon at an undisclosed Dungeon in Brooklyn. In Lucid I wanted to be conscious for what I am unconscious for.
The drawings in anchored are of a kiss and a fight. I drew the black and white drawing from videos of me wrestling and assuming pin downs with my friends. The blue and red drawings are from photos of my girlfriend and I making out. These two bodies of drawings meet in a process of dissecting masculinity and displays of intimacy. I think there is also an aspect of voyeurism involved in making and showing these drawings. Afterall part of masculinity is about proving it.
Beyond this the drawings explore touch, loyalty and a gravitational pull that binds. The drawings all have two bodies which define each other in points of tension and relief. With this exhibition I am thinking about how love and relationships impact, anchor and transform us.
The opening reception for Anchored will be held on Saturday, October 8, 2022 from 4 to 9 PM with "Lucid" to be performed and recorded at 6 PM. Audience wishing to participate must sign consent waivers which will be distributed at the performance.
ARTIST STATEMENT
Art is a way for me to construct fantasy. As a teenager, it was an escape. A way to hang out, make friends and create belonging and family that I did not have. This is true for me to this day. I draw myself, friends, and girlfriend. My drawings keep track of my transition. They also document my relationships and the lives and transitions of people around me. So I think of the drawings as a physical archive of transformation. My practice has evolved from one body to another and stayed the same in other ways. In 2016 I showed VAMPyr drawings of my genitals in the foreground–the rest of my body a blur. At this time my collaborator Phoenix and I founded "The Corp", a changing nameless, faceless source of creative energy which made us fight each other naked at raves, clubs, and other parties in ink and grease. The Corp was featured by the New York Times and "Plague" is one of the surviving photos. We fought into 2017 dissolving the collaboration into a show called "Death". The way we used our bodies to fight without hurting one another, that point of pain and ultimate trust, is a thread that runs through everything.
At this time I set out on a 5-year experiment in pain as an invitation for change in a series of drawings I call "body slams" which comprised the show "Heartbreaker" (2020).
I set up a rig in the center of a garage and I would get naked in all kinds of weather and cover my body in charcoal, I'd pull myself up on the ropes and when I slammed into the drawing, I'd let go. Then I would draw over these marks–my perception of myself in the mirror–as opposed to that of the mark.
The idea of perception informing "reality" to create a living fantasy intrigued me. In 2018 Night of the Hunter, a two-year-long performance was born with StigmaUnbound an NYC sex worker artist collective. Night of the Hunter drew others from their shadows in the midst of a series of ordeals and or experiences: climbing, restrained, pierced hearts that exploded, love notes, and death waivers, a kiss, a dance, a fight, a walk on a leash, disguised and laid bare for all to see. The performances created a series of drawings. Kink and fetish gear are a crucial part of the drawings in terms of the anatomy in relation to the gear. The gear becomes part of one's anatomy and the anatomy part of the gear. In MonsterofEvol, my focus turned inward. This series of drawings came from photos and videos of me sculpting, clay, plasticine, lace fishnets, and pouring paint, hot wax, latex, and plaster onto my body. I did it again for the self-destructing, interactive show Eviction.net, over 2 hours, with various phases of becoming and unbecoming the monster. This was my first time making a film of this duration. Film is a medium I have continued to explore in my current performance/ ongoing video work Lucid. I would like to see myself and my art develop through experimenting with film as the final output. I would value the guidance to learn and grow into this medium.
BIO
Laur Elias Traynnor (he/they) is a trans artist living in rural Upstate New York. He draws himself and his loved ones. His drawings are an archive of his queer/trans existence. He excavates emotions from all angles and goes deeper and deeper, documenting it through drawing, video, photos, sculpture and performance. Drawing becomes performance, sculpture, photo, and video, in an endless cycle of creation, destruction, and transformation. His performances focus on building the body and psyche through pain, fortitude, trust, and love. He enjoys playing with the line between fantasy and reality. Where body parts merge and mutate, anatomy falls out of bounds and something else takes over. Laur shows with Tanja Grunert Gallery since 2016 and is happy to present "Anchored" October 2022. In 2020 he showed Heartbreaker with Petra Singh Salon in NYC and Rebels and Angels at Horseshed, a queer project space in Manchester, UK. He is part of VeilMachine and StigmaUnbound, Artist Collectives, NYC. He has performed at galleries, The Chelsea Hotel, raves, and dungeons.