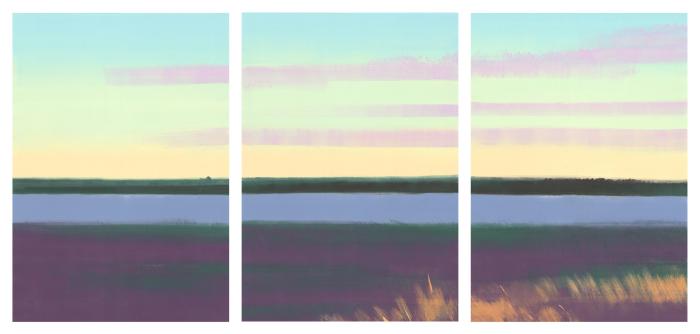 Ingrained: On View
Image: RACHEL BURGESS, AUTUMN DAY (2019), MONOTYPE ON THREE SHEETS OF PAPER, 39 X 84 INCHES
Susan Eley Fine Art is pleased to present Ingrained, a two-person exhibition featuring recent work by Jared Abner and Rachel Burgess. The exhibition is on view from September 22 to November 13, 2022 at the Gallery's Upstate location in downtown Hudson, NY.
The exhibition title Ingrained references the materials and the processes of both artists. Abner works in wood, carving and combining the unique natural material to create sculptures that are intuitive and expressive. Burgess produces monotypes on paper—a substance also generated from trees. Her prints of landscapes literally ingrain the ink, thus the images, into the paper via the pressure of the printing press. Both artists rely on the tree—the trunk, the bark, the pulp—and activate its particular formal and textural properties.
Currently based near Boston, MA, Abner is a recent graduate and has embraced the tactile potentials of woodworking since his childhood with saw and chisel in hand. Ingrained will feature two large-scale floor sculptures, one at seven feet tall, standing as the focal point for visitors upon entering SEFA. Additionally, the exhibition will highlight intimately scaled works that are posed on ledges and shelves throughout the Gallery. They twist and morph into shapes that can be read as organic and fantastical; as prehistoric and modern.
Living and working in NYC, Rachel Burgess is a master of the monotype medium—her preferred method of translating landscapes to paper. Ingrained will feature large-scale monotypes including diptychs and triptychs. Her vivid and pastel palettes employ the medium to record fleeting natural scenes—sunsets, tides, coastal plains. Burgess seeks to capture memory, nostalgia and environmental change through gestural, abstracted marks. To create her monotypes, she paints with oil based pigments on plexiglass; once pulled through the press, the image can never be repeated or replicated, endowing them with a poignant singularity.
Artist: Rachel Burgess