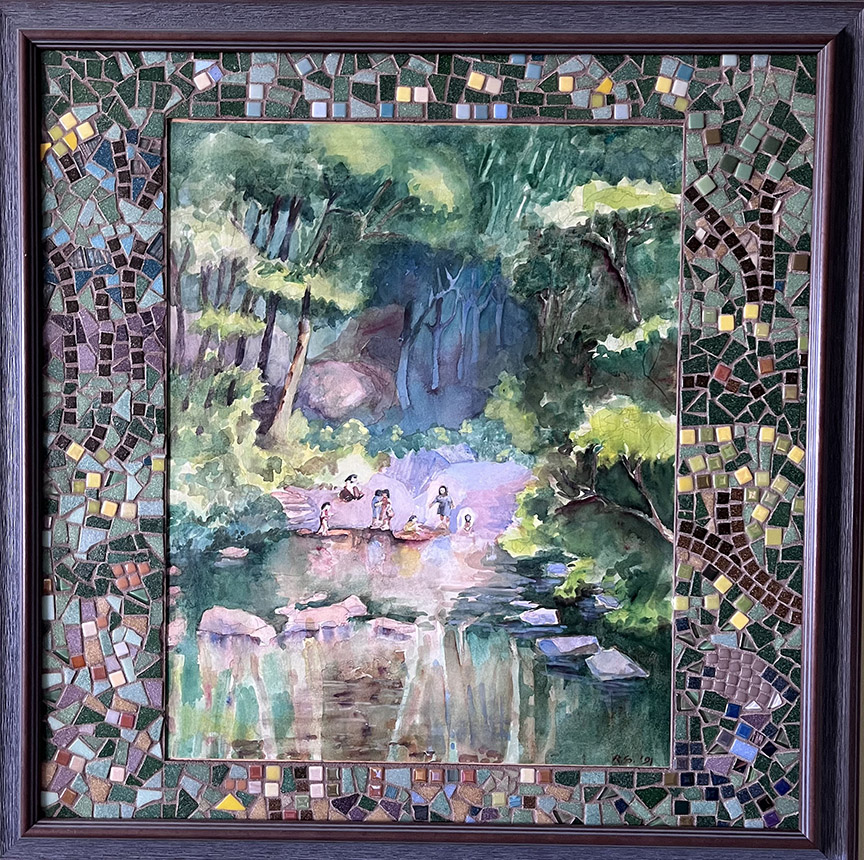 Date
Mar 03 2023
Expired!
Time
FRIDAY, SATURDAY: 12-6, SUNDAY, 12-5
12:00 pm - 6:00 pm
In Memoriam: "Remembering Dad, Works by Robert and Pamela Serota"
In Memoriam: Remembering Dad
The Works of Robert and Pamela Serota
March 3 – March 26, 2023
Opening reception: Saturday, March 4th from 2-6 pm
510 Warren Street Gallery
510 Warren St., Hudson, NY 12534
510warrenstreetgallery.com
(518) 822-0510
Hours: Fridays, Saturdays 12-6, Sundays, 12-5
Hudson, NY – 510 Warren Street Gallery is very pleased to present a show of works by Robert Serota, (1935-2017), and his daughter, mosaic artist Pamela Serota who has created works in collaboration with her father's paintings.
The show will begin on Friday, March 3rd and continue until Sunday, March 26, 2023. Join us for the opening reception on Saturday, March 4th from 2-6 pm at the gallery.
Robert (Bob) Serota was born in Coney Island on March 25, 1935. The son of a Jewish immigrant, he was raised by his single mother on the Lower East Side of Manhattan. He was gifted with artistic talent from a young age which led him to enroll in classes at the Art Student's League after high school followed by Cooper Union's free evening art/architecture program. Although his working career was spent as a draftsman for architecture firms, he never stopped painting. Watercolor and pastels were his chosen mediums and his primary subjects were landscapes and skies. Ever an idealist at heart, he also chose political subjects to express his concern for the human condition. After he put both his daughters through college, he retired and dedicated himself full time to painting. Although most of his artistic life was quite solitary, in his last decade he taught watercolor painting in the New York Public Library system where he enjoyed mentoring other artists.
While both of Bob's daughters were deeply influenced by the world of art he shared with them, his youngest daughter, Pamela, ended up pursuing an artistic life of her own. During a trip to Barcelona, Spain in 2005, she discovered the mosaic works of Gaudi and was called to study this art form. She has been creating mosaics and refining her work for the past 17 years and launched her business, Dragonfly Mosaics in 2018.
Bob passed away in 2017. While combing through his paintings, Pamela became moved to create mosaic frames responding to some of them as if in post-mortem conversation with him. These works became part of her grieving process and a way to continue the connection with her father. This show features several of Bob's solo paintings from summers spent in Columbia County and MA, along with some examples of these mosaic conversation pieces and Pamela's solo work.