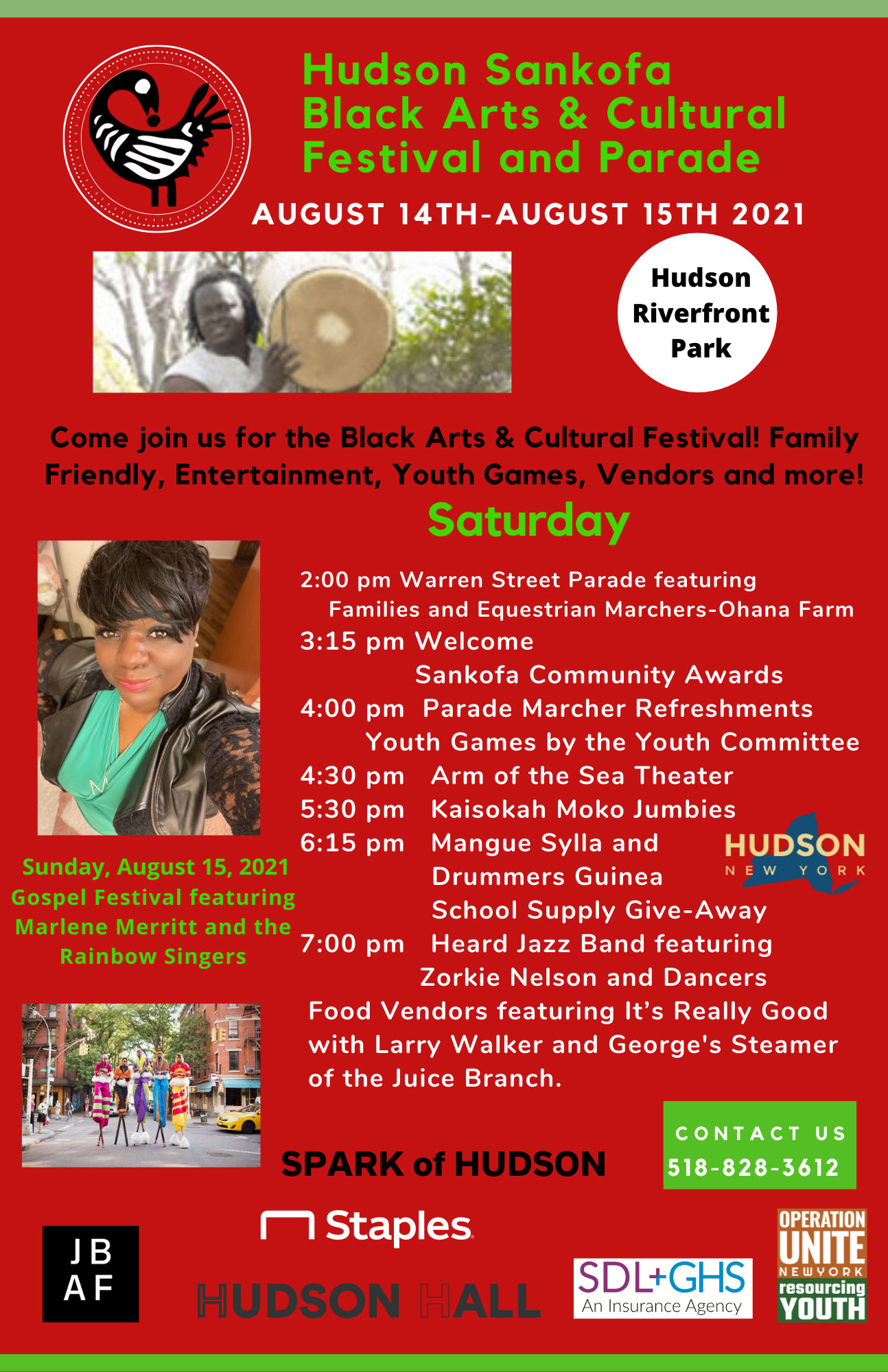 Hudson Sankofa Black Arts & Cultural Festival & Parade 2021
Hudson, NY—-60th Year Celebration!
Operation Unite, New York is proud to present this year's Hudson Sankofa Black Arts & Cultural Festival & Parade 2021 held on August 14th and 15th, celebrating sixty years in the Hudson Community! The celebration dates back to 1960 when families along Columbia Street gathered together with tables, food and music. According to Ed Cross, "families living on Columbia from Third Street to Front Street, welcomed everybody who came." The Cross family was one among many who were hands-on with community and youth activity. Other families to be celebrated are the Hughes, Murrays, Cranks, Cobbins, McClouds, Cunninghams, Wise, Fultons, Healths, Williams, Griffins, Pells, Shiloh Baptist Church, State Street AME Zion and more!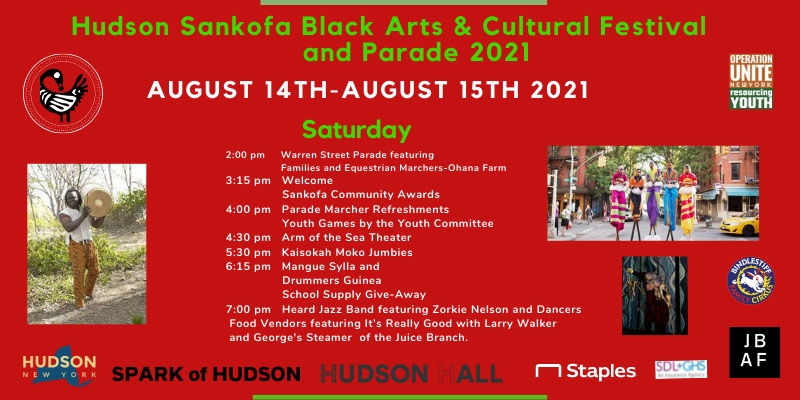 We kickoff the weekend celebration with the Sankofa Parade starting at 2:00 pm at 7th Street Park! Follow the parade all the way down to the Henry Hudson Riverfront Park to explore all that our wonderful festival has to offer! This year we are welcoming equestrian Kim Byrson of the Ohana Horse Farm to the parade and socializing by river. Our waterfront festivities will begin with a few words from Operation Unite, New York's President Joseph Watson and the Honorable Mayor Kamal Johnson. The Sankofa Community Awards follows, honoring community volunteers and leaders. We are proud to have community activists Selha Graham as our Mistress of Ceremony.
This year's festival is jam packed with performances and activities for all ages to enjoy! Look forward to performances courtesy of the Arm of the Sea Theater, Mangue Sylla and the Drummers of Guinea, Heard Jazz Band and the Kaisokah Moko Jumbies, Co-sponsored by Bindlestiff Family Cirkus  and Operation Unite NY. The Hudson Sloop Club will provide free boat outings at 4:30 and 6:30 pm and free fishing with equipment under the leadership of Ngunga Badila. The Youth Planning Committee is composed of youth from The Catskill and Hudson Club House, Bindlestiff Family Cirkus and Operation Unite NY. Saturday's audio is sponsored by Hudson Hall. If you're more interested in spoken word, we have local artist and poet Ifétayo Cobbins. Aside from local culture, we also have delicious local cuisine! Keep an eye out for Larry Walker's What's Really Good Barbecue and The Juice Branch's Seafood by George. You will not regret it!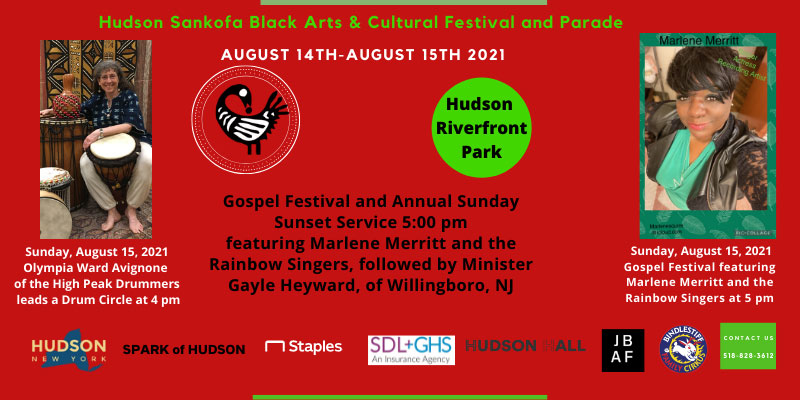 At Operation Unite, NY we care for our youth. That's why we have a plethora of games and activities lined up for the youth. Thanks to SDL & GHS Insurance Company, our lineup includes a potato sack race, water squirt challenge, foot race, hula hoop contest, spy tag and a water balloon challenge. Each fun activity has plenty of prizes to go along with it! Our games are carefully prepared and planned by our Operation Unite Youth in Action team ensuring fun and safety for all!
Spark of Hudson is sponsoring this year's Back to School Giveaway for any Columbia County residents! Staples' Hudson store Manager Teresa Sanders plans surprise donations in each bag. Parents and guardians may show up at the Operation Unite NY table and fill out a form for each child, then head to the festival Giveaway Tent. Our giveaway includes backpacks, pencils, pens, scissors, glue, and much more!
We implore all to stay safe and follow health guidelines as we socialize in outside open spaces. The Columbia County Health Department will offer free vaccines to the public from 2-5pm.
The festival continues Sunday, August 15th, with percussion, Gospel music and a message from 4:00 to 7:30 pm. Olympia Ward of the Ujima Community Collective and High Peak Drummers will open with a Drum Circle at 4:00 pm. At 5:00 pm bring your hand clapping and foot stomping friends for Marlene Merritt and the Rainbow Singers from Poughkeepsie, NY. Immediately following will be the Sankofa message by Minister Gayle Heyward of Willingboro, NJ. Sunday will also serve as the rain date in case of inclement weather on Saturday.
Early Birds can join our pre-festival activities. There will be a Garden Party at the Half Moon on 48 South Front Street, benefiting Beautiful Racket, led by Aniece Cousins on Sunday, August 8th from 2-4:00pm. Stephanie Monseur of Bindlestiff Family Cirkus will host the Kaisokah Jumbies, the week of August 9th focusing on the making stilts for the stilt walkers for the festival parade. For information about the Kaisokah workshops, call Bindlestiff at (917) 744-6844. On Friday, August 12th, the Arm of the Sea Theater will host a workshop for youth ages 7-12 years at the Hudson Riverfront Park at 2:00 pm. Participants will take part in Saturday's 430 pm presentation of the Rejuvenary Cirkus.
Operation Unite New York would like to thank the City of Hudson and the Hudson Tourism Board for all their assistance and financial support for the live and virtual Sankofa Festival.  Additional sponsors include the Jonah Bokaer Foundation and the Friendship Equestrian Center. We cannot do it alone and thank all community volunteers.
If you would like to get involved in the preparation, we host community planning meetings every Friday from 3:00 to 5:00 pm. Vendor applications will be available. We encourage families and friends to march in the parade honoring the history and contributions of Black people to our city, state and nation. For more information, please reach out to us at (518) 828-3612.