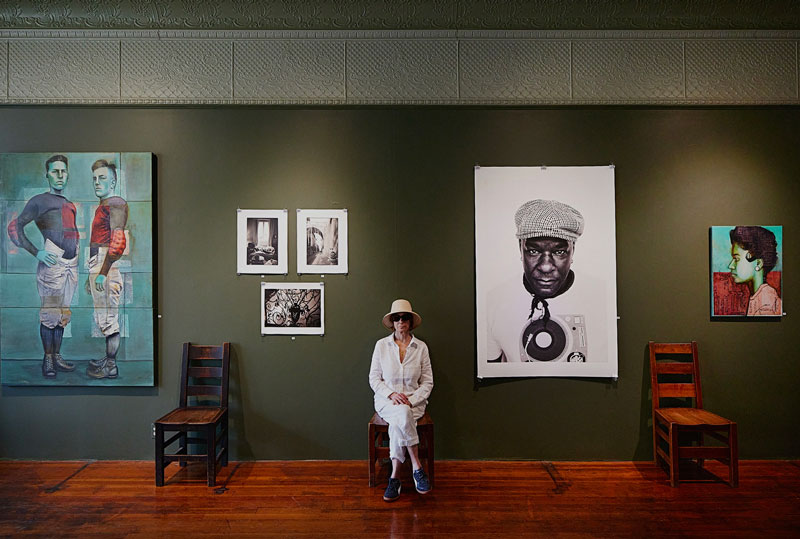 HUDSON MILLINER ART SALON PRESENTS: SITting…three approaches
SITting – 2023
"SITting" is a collection of works by artists Shannon Greer, Charlotta Janssen, and Robin Rice that manifest three distinct approaches to creating a portrait. One thread they all share is photography.
Greer's approach is straightforward, focusing exclusively on the sitter. Shot on white seamless, no props, background, or shadows obscure the subject. The black and white portraits are printed large scale to powerful effect, documenting a sitter's unitary moment in time.
Rice's perspective is observational. In most works the fact that the sitter appears unaware of Rice's presence within the sitter's environment is itself equally significant. These works chronicle several decades and depict friends, lovers, and the occasional stranger.
Janssen's paintings reference historical events. Her sitters are painted from photographs, many of which are taken from mug shots of Bus Boycotters circa 1956 and Freedom Riders circa 1961. Her palette of blues and green teals humanize a sitter's otherwise bleak countenance. Chairs throughout the gallery invite the viewer to sit and contemplate the works or simply take a moment's respite.
– Doug Meyer
Hudson, NY is all about collaboration. This collaborative spirit has been internalized behind-the-scenes. In addition to a cooperative process of curation, we also feel lucky to have Doug Meyer design and conceptualize the exhibition.