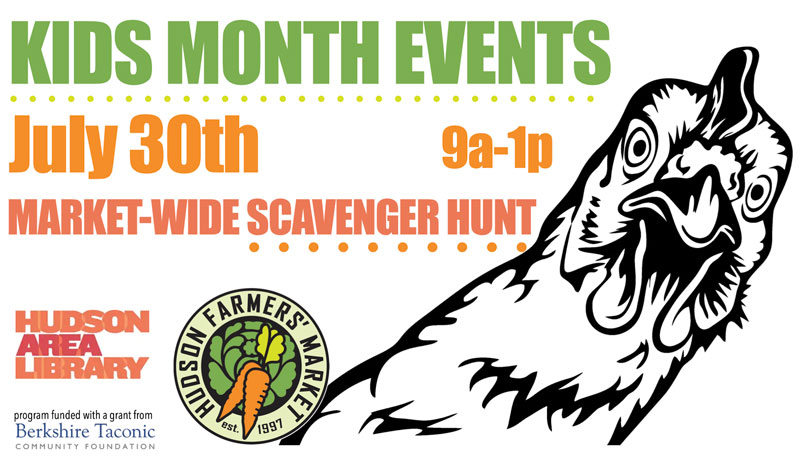 Hudson Farmers' Market – Kids Month Events: Market-wide Scavenger Hunt
We are in the middle of celebrating KIDS MONTH at the Hudson Farmers' Market! Since the beginning of July we have scheduled a few events each week that have been geared toward kids and their families. We have a couple weeks left and a great line-up of guest vendors, community vendors, and music.
On July 30th, we are co-hosting our annual KIDS SCAVENGER HUNT with the Hudson Area Library— with funding from Berkshire Taconic Community Foundation! Stop by the COMMUNITY TENT to grab the scavenger hunt list AND a $5 token (which can be spent with with any vendor). Once your list is complete, you'll be entered in a $50 raffle.
The Kitchen Girls will be performing and announcing the winner of the hunt at the end of the market!
ALSO… don't forget, we are participating in the Find Waldo Here challenge each week of July! Waldo hangs out with a different vendor every Saturday. We send out CLUES each Friday through our newsletter and stories on Instagram. REMINDER: We are at the corner of 6th and Columbia St in Hudson. Market is each Saturday from 9am to 1pm (rain or shine)! Hope to see you all!