George Spencer's first annual "100 Foot Public Participation Collage"
Come together for the creation of George Spencer's first annual "100 Foot Public Participation Collage" at Window On Hudson.
Like his solo exhibition, George Spencer continues "Cleaning Out the Attic" and now he wants you to join the fun!
On Saturday, November 27th, 2021 from 11am-8pm George will be in the Window On Hudson studio space collaging on another 100 feet of tar paper – you, your family and friends are invited to participate.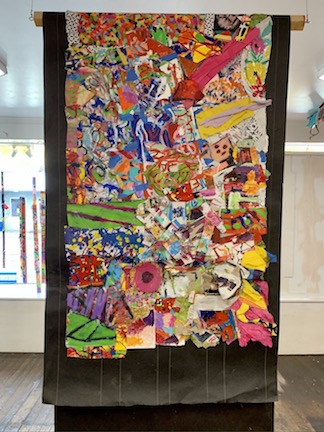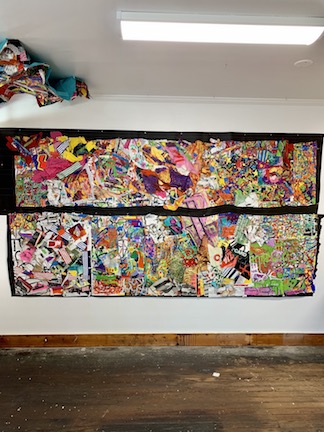 George will bring old paintings, old collages, pages from old books, photos, ribbons, wrapping paper, paper bags, old receipts, wall paper, old magazines, poems, parts of short stories. construction paper Jell-O boxes, cereal boxes, sugar boxes summons, letters from IRS, photos of old lovers, letters from old lovers packaging materials, scraps from the floor of his studio, scraps from his wastebasket, timetables, newspapers, bad reviews old clothes, Premium Brownie Mix boxes, gardening catalogues, London Review of Books, Art Forum Advertisements, etc. Anyone can collage – creatives and artists of all mediums are welcome!
Use George's materials or bring your own.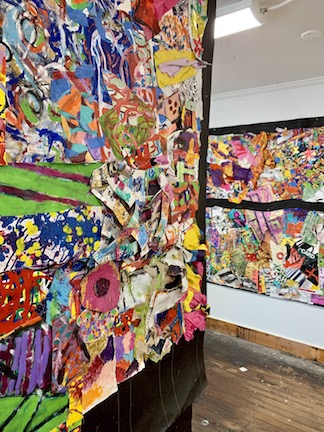 There will be glue guns on hand but please bring your own if you can. Spencer says, "this will be the longest artwork ever made in Columbia or Greene County, from Albany to Dia Beacon. Come and add a couple of feet to this project. When it is done, it will hang in Hudson for all to see.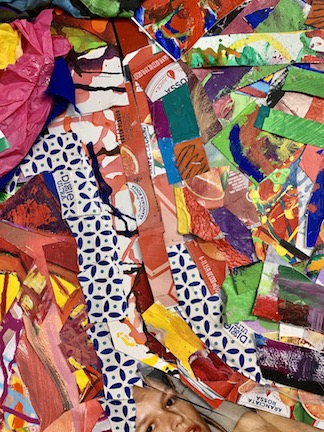 You can also buy a couple feet to give as a gift or for your own delectation. Remember, ars longa, vita brevis (art is long, life is short)."