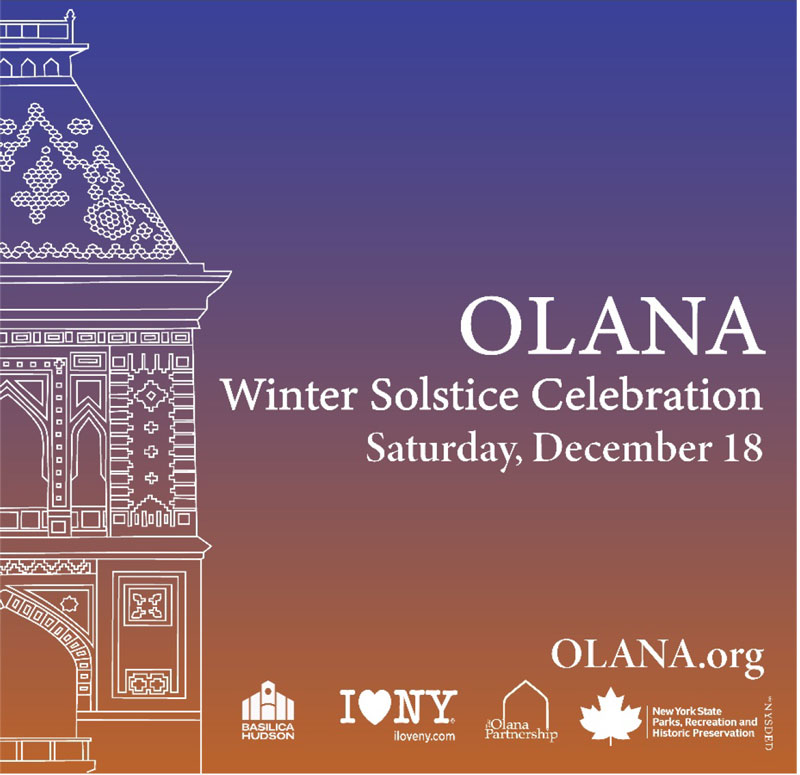 FREDERIC CHURCH'S OLANA HOSTS FREE WINTER SOLSTICE CELEBRATION
The Olana Partnership and Olana State Historic Site will host the second annual Winter Solstice Celebration on Saturday, December 18 from 1-5pm. This free community event will feature a variety of programs for Olana guests to participate in as the sun sets on the shortest day of the year.
Starting at 1 PM, visitors can take an abbreviated self-guided tour of the Main House until 3:30 PM or immerse themselves in a listening experience from b e i n g – s o u n d. Artists Joro-Boro and Keena.Maya use their mobile tea house stage to incorporate a variety of sound sources to open listeners to the wonders and mysteries hidden in everyday life. For 30 minutes, registered participants will put on a set of headphones and sip tea while engaging with the ambiance of sounds and senses of Olana. Those wishing to participate in the free mobile tea house experience by b e i n g – s o u n d can sign-up on our website. Self-guided tours of the Main House are available on a first-come-first-served basis and registration is not required.
As part of the day's activities, guests are welcome to listen to this year's winter mix, curated by Basilica Hudson. Throughout the event, families can get creative with free art activities and use a Winter Activity Guide from the Columbia Land Conservancy to engage with Olana's forested landscape. To celebrate the new season, seasonal refreshments from Samascott Orchards and Stewarts Shops will be available during the event.
Holiday shoppers can visit The Olana Museum Store from 10 AM until 5 PM for a full line of unique, handmade, local, and TasteNY products. Members of The Olana Partnership get a double discount for all in-store purchases on December 18 only.
To conclude the evening, a sunset bonfire will commence by the Main House on the East Lawn. As a farewell to Jean Shin's art installation, FALLEN, parts of the hemlock will be cremated into ash and charcoal in the bonfire. What remains of the tree will be returned to the landscape to nourish the living hemlocks at Olana.
To learn more about the event and to register for the mobile tea house, visit OLANA.org.
The mobile tea house program is made possible with funds from the Decentralization Program, a regrant program of the New York State Council on the Arts with the support of the New York State Legislature and administered in Columbia County by the Greene County Council on the Arts dba CREATE Council for Resources to Enrich the Arts, Technology & Education.