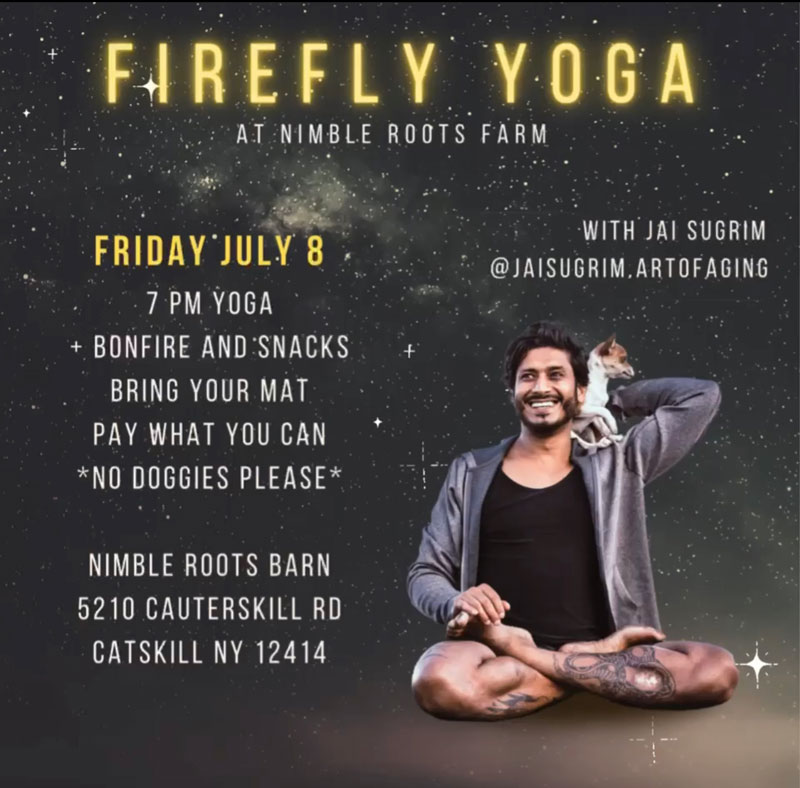 Firefly Yoga at Nimble Roots Farm
Join Yogi Jai Sugrim for a Hudson Valley community yoga class and social gathering.
Jai will teach "Firefly Yoga at Nimble Roots Farm" in Catskill, New York on Friday July 8th.
We will practice yoga at 7pm, light a fire right next to the river after practice, take a swim, and drink ye, while trading stories and sitting in the bliss of our own selves. Fireflies will blanket the property as the sun sets, and bring a magical energy to the summer air for us to enjoy.
The address is 5210 Cauterskill Rd, Catskill, N.Y. 12414.
This is a community class, and is donation based, so give what you can, as there is no one fixed fee.
The aim of this class is to share yoga, create a space for the tribe to interact with one another, develop trust, exchange ideas, and inspire one another in spirituality & health.
The owners of the 140 acre property, Cecelia and Gabe have a vision of developing the land and the structures on it, to serve a close-knit community.
Firefly Yoga, is our kick-off "practice & social' that gets the ball rolling in the right direction!!!
Please bring your own mat to practice!