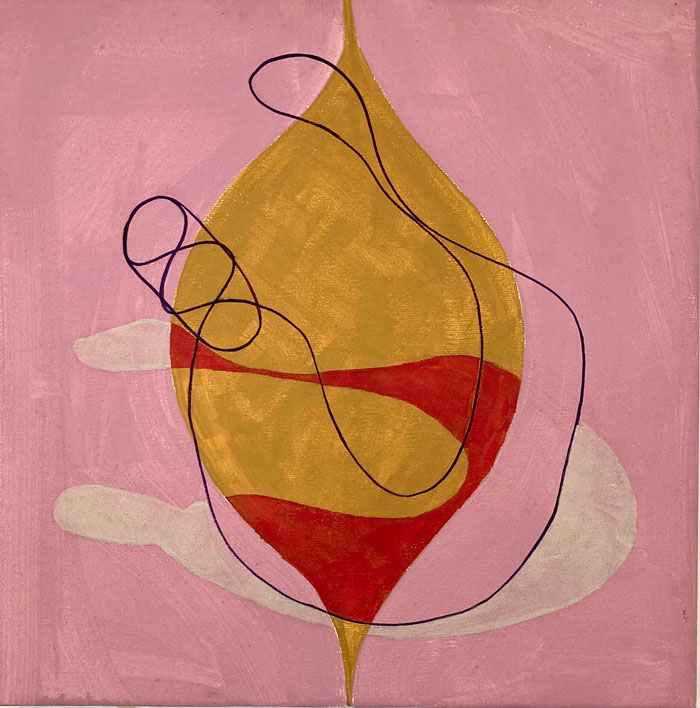 Fire Lit
Please join Holly, Katarra and Michelle for an evening of painting and performance at Holly's private residence in Hudson, New York on Friday, August 13th from 6 to 10 pm. We are pleased to present new work created over the past year with a renewed sense of urgency and deep reflection in light of our recent and often fractured collective experiences.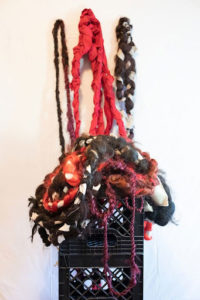 Holly Knox Rhame, working in oil crayon and wash on canvas, explores the shattered body through images recalling sacrifices, piles of limbs, mythological beings and meaty vessels. Several of her canvases are placed in high back wooden chairs anthropomorphizing the content to conspire and confront. Holly Rhame was born in Southport, Connecticut in 1988 and attended the California Institute of the Arts in 2007 for her Bachelors in Fine Art. She is currently in her final semester at Lesley University's Low Residency MFA program. She has shown work in New York, South Africa and Dublin, Ireland as well as attended residencies internationally, including the Studios as Mass MoCA. Holly lives and works in Hudson, New York.
Katarra LaRae Peterson is a mixed-media artist with a focus on abstraction and landscape. Her use of kanekalon hair in recent paintings and performances engages history, radical imagination and joy as resistance through the lens of Black womanhood. Her passion for color underpins the work in an effort to access our collective emotional response to chroma. Peterson (b. 1986, Vallejo CA) earned her BS in Fine Art with a concentration in painting from Skidmore College in 2009 before withdrawing from Rhode Island School of Design's MFA program to pursue art independently. She has since exhibited work in Finland, Germany, and Uganda and at institutions across the United States. She lives and works in The Bronx, NY.
Over the last six months Michelle Peterson has been learning and collecting string figures after a close reading of Carl Jung's Four Archetypes. The geometry of the paintings that emerged from her engagement with string figures became a visual language.
She began to talk about her dreams and experiences using the string figure in conjunction with nails, hooks, hands and feathers. This investigation also prompted Van Dyke photograms, installations and performance video as studies of the figures themselves. These videos can be viewed on Michelle's instagram @articulatedstring. Michelle Peterson was born in 1986 in Southern New Hampshire. She attended the New Hampshire Institute of the Arts for her BFA in painting and photography in 2011 and continued on to receive her Masters in Visual Art from New England College. She graduated from the Masters program in 2020. Michelle Peterson still resides and works in Southern New Hampshire.