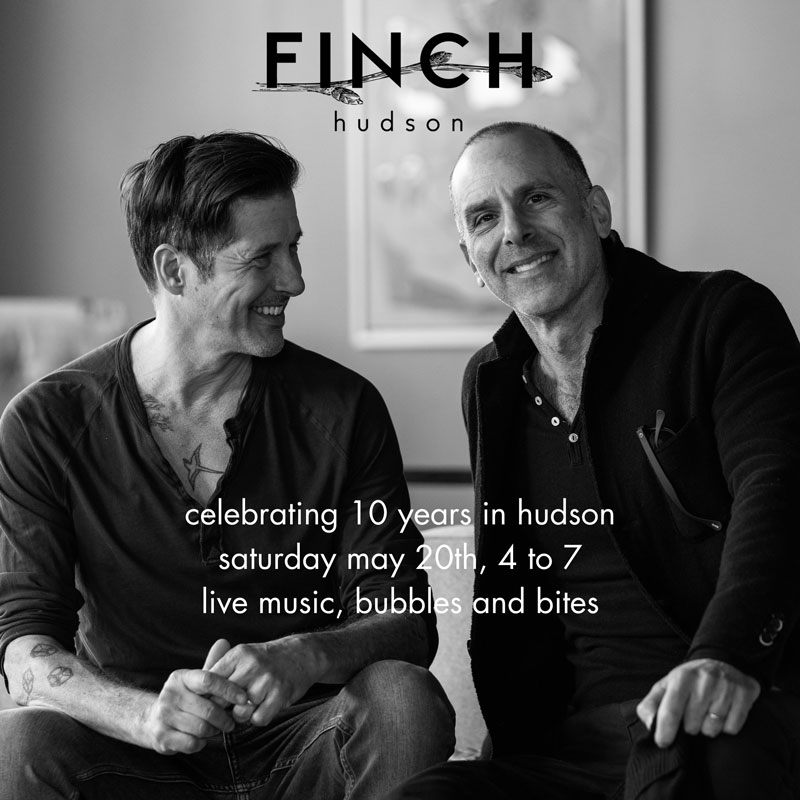 Finch Celebrates Ten Years in Hudson
FINCH, the widely respected home & lifestyle store, celebrates ten years in Hudson with the opening of their bi-level concept store at 427 Warren Street, and launch of several new categories: women's apparel, bedding and textiles.
"We've always envisioned creating a lifestyle experience of vintage and modern goods for the home, body and soul. Our new location represents the culmination of our vision," says Andrew Arrick, who co-owns the business with his partner Michael Hofemann.
Adds Hofemann, "Hudson is home to so many creative people in art, music, food and design. We knew there was an appetite for a richer retail experience and for something more immersive, modern, sexy and fun."
Located in a former police precinct, the 10,000 square foot mid-century brick building has been reimagined, with concrete floors, steel beams, skylights to allow natural light, and a glass facade designed in partnership with Workstead and KDA. Originally a single floor, Arrick and Hofemann opened up the building to create a 2500 sq ft second floor, which houses womens, bedding, and textiles in an airy space with floor-to-ceiling windows overlooking Warren St. Anchoring the back of the store is a men's apparel shop, including bath and body products from Aesop and Malin + Goetz. Arrick and Hofemann point to the rich retail experiences of Merci in Paris, Dover Street Market, RW Guild, and Todd Snyder's flagship as proof points of a more immersive approach to retail.
"Hudson has evolved so much in the seventeen years that we've lived upstate. Even during challenging times like the past few years, Hudson continues to thrive. We know there is a market for this kind of experience and if we've learned anything, it's that amazing retail shouldn't be limited to the big cities."
Customers entering the store are met with different vignettes, all envisioned and brought to life by Arrick.
"I love to create 'rooms' for customers to explore and visualize how a piece or an object might work in their own homes." It's really about all aspects of home – so we offer everything from furniture to tabletop to bedding." Recent sales range from a pair of Viggo Boesen Little Petra chairs in shearling by &tradition Copenhagen to a collection of 1960's West German pottery.
Arrick and Hofemann look to expand both the IRL (in real life) and e-commerce experience, with future partnerships, FINCH-designed home products, including a candle line developed in partnership with Source Adage Fragrances, bespoke design services, and future brick-and-mortar locations.
For any inquiries, please contact us:  info@finchhudson.com