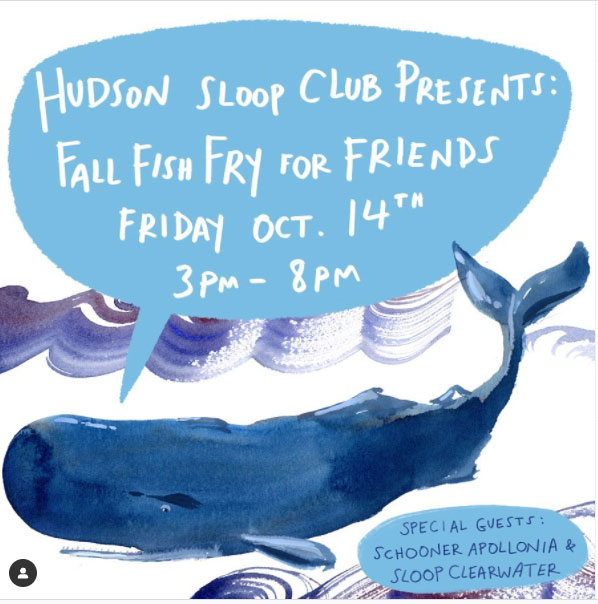 Fall Fish Fry for Friends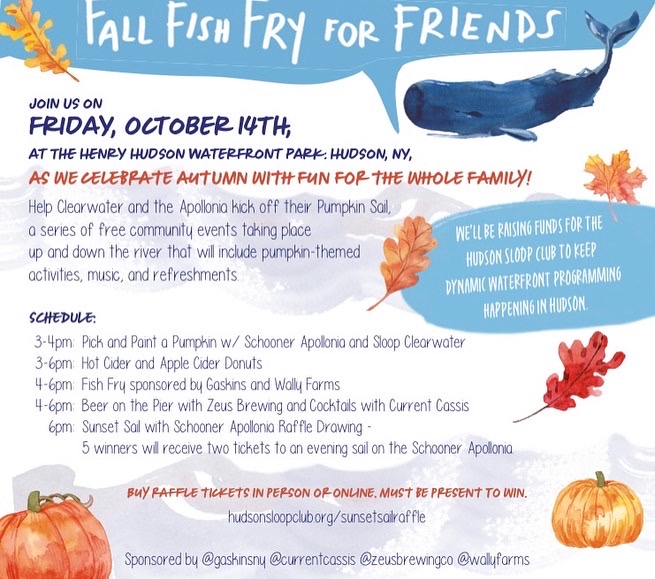 Fall Fish Fry for Friends!
(AKA my dream event : fried fish on the waterfront)
Join us and the @hudsonsloopclub on October 14th with special guests @sloopclearwater and @schooner_apollonia to celebrate autumn with fun for the whole family!
We'll be raising funds for the Hudson Sloop Club to keep dynamic waterfront programming happening in Hudson.
Help Clearwater and the Apollonia kick off their Pumpkin Sail, a series of free community events taking place up and down the river that will include pumpkin-themed activities, music, and refreshments.
Enjoy a community fish-fry with us in Henry Hudson Waterfront Park. Learn about about all they accomplished this year and what we want to have more of next year all while having seasonal fun!
There will be a raffle for a sunset sail on Schooner Apollonia to wave farewell to Sloop Clearwater as they head off to their first Pumpkin Sail stop!
Schedule:
3-4pm: Pick and Paint a Pumpkin w/ Schooner Apollonia and Sloop Clearwater
3-6pm: Hot Cider and Apple Cider Donuts
4-6pm: Fish Fry sponsored by @gaskinsny and @wallyfarms
4-6pm: Beer on the Pier with @zeusbrewingco and Cocktails with @currentcassis
6pm: Sunset Sail with Schooner Apollonia Raffle Drawing – the first ten people selected from the raffle drawing set sail for a sunset cruise.
Sponsored by @gaskinsny @currentcassis @zeusbrewingco @wallyfarms
🐋invite courtesy of @steven_draws