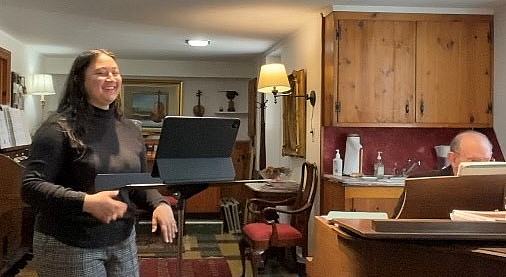 Every Opera Singer's Journey is Different
Rachel Wagman got the worst of COVID without contracting the disease.  Her final concert at Fredonia, where she had studied opera, was cancelled.  Her graduation was cancelled.  And, worst of all, the possibilities of working in professional opera companies disappeared as each venue closed.
But things are looking up.  She's spent almost three years studying one-on-one with her long-time voice teacher, Amanda Boyd.  She says Boyd has "whipped my voice into shape."  She's packing up to move to Germany where she's been accepted into one of the most prestigious musical schools in the world, the Berlin Opera Academy.  And, she's back on stage!  At least, the makeshift one at Temple Israel of Catskill.
On Sunday, May 21st, at 2PM, Wagman will be performing in concert along with her long-time accompanist, Michael Clement. The concert is a benefit for the Temple Israel Cemetery Fund and will be held at the Temple, 220 Spring Street in Catskill.  Reservations are required. Call or text 518.751.8986 or go the www.TempleIsraelofCatskill.org  and click on donations.
Checks made out to Temple Israel Cemetery must be sent by May 5th to the Temple.
Wagman has selected a mixed program including a full jazz set as well as operatic pieces.  "During my first year of college," she says, "I sang with a jazz ensemble.  It was my first time singing with a big jazz band and it's a moment I'll never forget!"  One of her selections will be Ella Fitzgerald's first recording, "A-Tisket-a-Tasket" by Chick Webb – arranged by Van Alexander.
Wagman's opera selections include a few pieces from Dominick Argento – including "Spring".  "It's perfect timing for the season," she says, and a selection from Mozart from Cosi Fan Tutte.  "It is one of my favorite operas," Wagman explains.  "The role of Fiordiligi will be my focus of study this summer in Berlin."
Overall, the concert will include many of the Catskill native's favorites.  "I'm always happy to share the reasons for my selections." Wagman concludes.  "There are usually some good stories included."
The concert takes place on Sunday, May 21st at 2PM.  Tickets are $20.00 and should be purchased in advance.
Go to www.TempleIsraelofCatskill.org/donate, or text/call 518.751.8986.  Or, send a check made out to Temple Israel Cemetery by May 5th.  The concert will be held at the Temple, 220 Spring Street, Catskill.