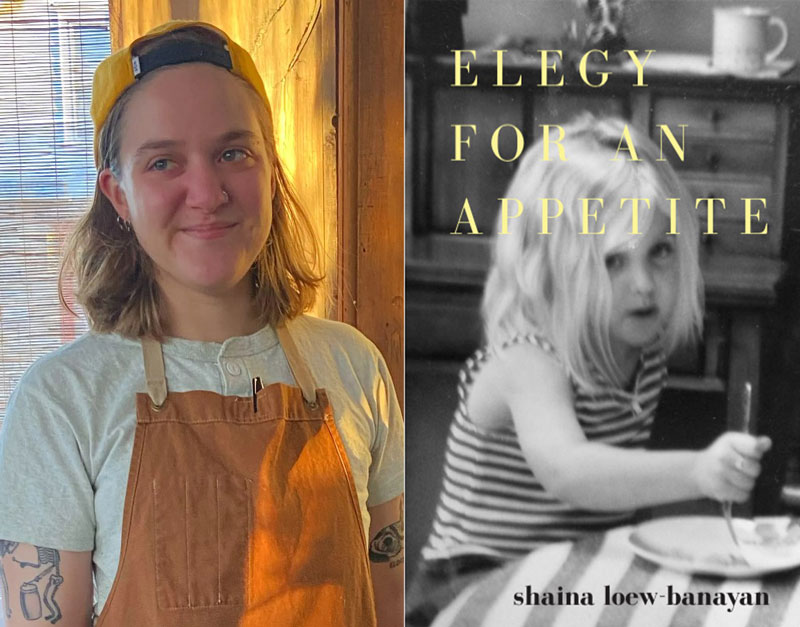 ELEGY FOR AN APPETITE
Shaina Loew-Banayan
Thursday, October 27 at 6pm
Author and chef Shaina Loew-Banayan (Café Mutton) in conversation with author Tamar Adler (An Everlasting Meal; Something Old, Something New; The Everlasting Meal Cookbook)
Followed by a book signing and reception
Free, reservations recommended
Elegy for an Appetite (PANK Books, 2022) is the story of a young cook's tumultuous relationship with their body and eating.  This short, poetic memoir, which mostly takes place in a series of professional kitchens, follows the author's journey from voracious childhood to starving teen years and then to challenging early adulthood.  The book explores the author's search for identity, validity, and healing through a series of both dark and ridiculous kitchen tales.  Through these experiences, Loew-Banayan is forced to question the intentions of existing systems and cultures in the restaurant world and beyond.  Elegy for an Appetite turns an unblinking eye toward survival in a world where certain forms of physical embodiment can imply hardship, but it also forces us to consider what can happen when we abandon the ideologies we've held as true for far too long.
Shaina Loew-Banayan is the chef and owner of Café Mutton in Hudson, NY.  When they're not making sausages, they're living the dream at home with their wife, Bettina, their cat, Birdie, and a rotating cast of mysteriously plaintive chickens.
Tamar Adler is the James Beard and IACP Award–winning author of An Everlasting Meal; Something Old, Something New; and The Everlasting Meal Cookbook. She is a contributing editor at Vogue, has been a New York Times Magazine columnist, and the host of the Luminary podcast, Food Actually. Adler's review of Elegy for an Appetite appeared in The New Yorker on May 19, 2022. She has cooked at Chez Panisse, and lives in Hudson, New York.