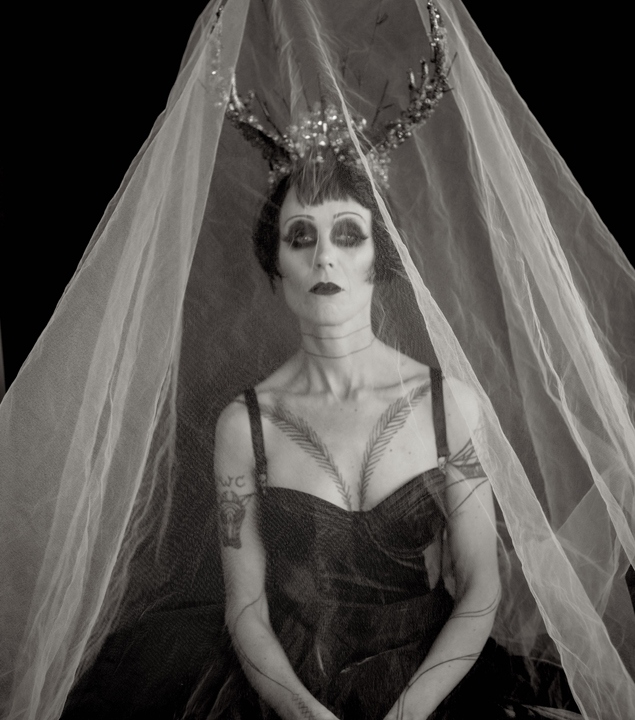 Dust Bowl Faeries Virtual Concert, Friday 8pm
The Dust Bowl Faeries Quarantine Concert Series continues with Ryder Cooley & Jon B Woodin this FRIDAY, June 5th at 8:00 PM, streaming on the Dust Bowl Faeries Facebook page and via Gilt & Fanfare (an online summer halloween circus dream) https://www.facebook.com/events/459487874985016
Meanwhile, our hearts go out to everyone protesting and fighting for equality & justice right now. On Friday we will dedicate a song to George Floyd & the Black Lives Matter movement (in solidarity with The Show Must Be Paused / Black Out Tuesday)
Dust Bowl Faeries is a dark cabaret band based in Catskill NY. The band was founded by inter-disciplinary artist Ryder Cooley and Hazel, a taxidermy ram who performs with the band as their mascot spirit animal. The eclectic repertoire of Dust Bowl Faeries draws inspiration from circus, post-punk and Eastern European music. Accordion, singing saw, ukulele, guitar and percussion combines to create the Dust Bowl Faeries otherworldly sound.
Gilt & Fanfare:
Gilt & Fanfare combines rousing entertainment with carnival merriment and a dash of mystery. The Circus is coming…and, for one weekend, YOU can join it!
You can see some of what we're doing over at our Enchantments page (www.giltandfanfare.com/enchantments) Enter a blissfully peculiar world with a semi-immersive environment that blends the imaginary and the real into a delight for the senses, brightened by great performers and lots of other Dreamers!
Dress in your best and finest, or your costumes, or your most comfortable clothes. Let's trick-or-treat, eat candy, interact with characters from all manner of genres, with all participants in our wondrous Figmental Circus experience. Let' s tell stories, hang out around a (virtual) campfire. Let's see some shows, search for clues, interact with splendidly unusual characters, rock to music, explore mysteries and meet new weird and wonderful friends! This weekend-long virtual adventure celebrates everything we love about Halloween and the Circus – right at the start of Summer, when we need it most. June 5th-7th, 2020
http://www.GiltAndFanfare.com for more details
photo: Dina Shirin, March 2020