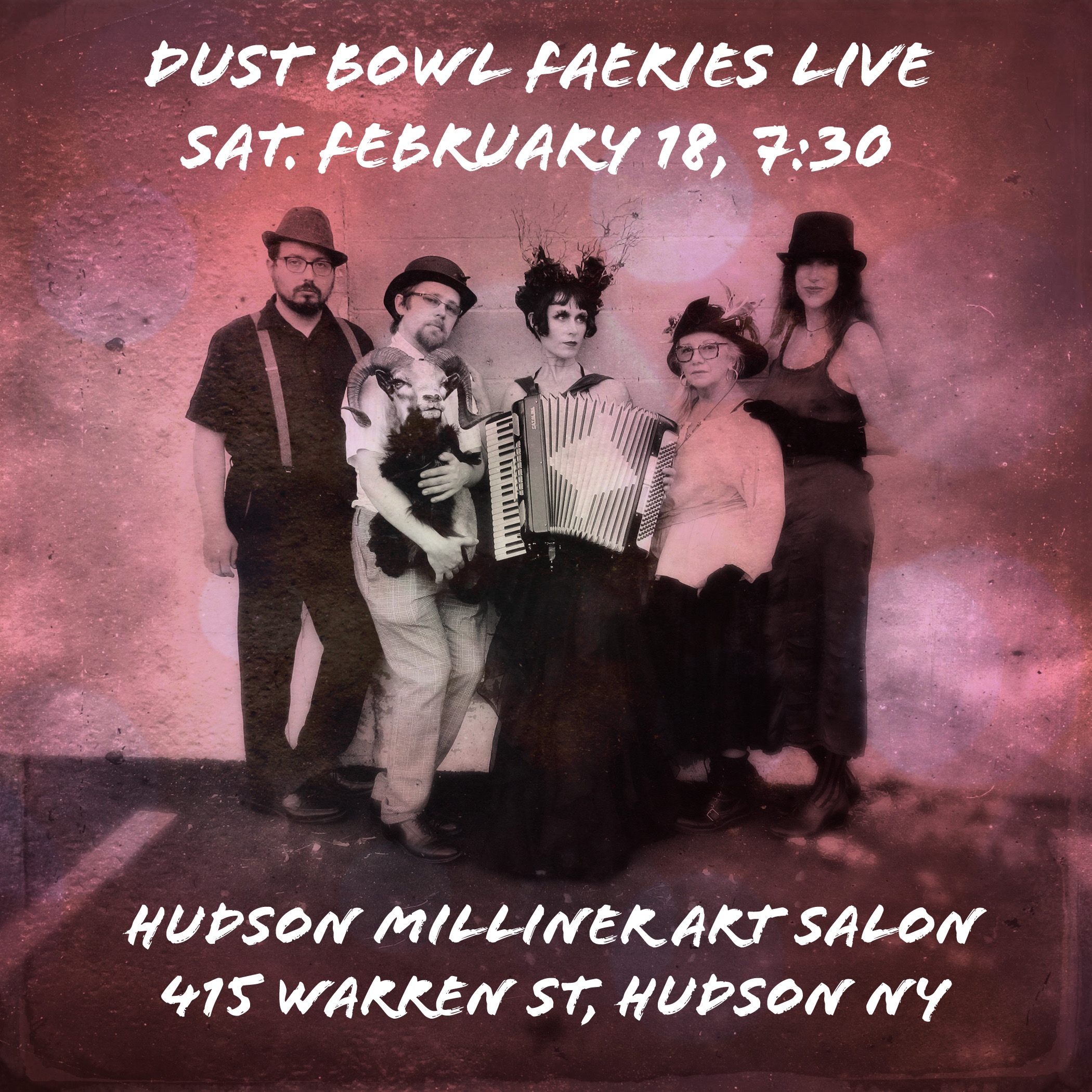 Dust Bowl Faeries Live at Hudson Milliner
Dust Bowl Faeries, dark cabaret at Hudson Milliner Art Salon, Sat. Feb 18, 7:30pm
415 Warren St. Hudson NY
$10 donation, BYOB
DUST BOWL FAERIES inhabit the Hudson Milliner Art Salon for an evening of dark polka and gothic spaghetti western music, featuring new macabre songs for a sinister new year. Possible dancing / magical happenings! Hazel the Ram will be there.
DUST BOWL FAERIES – Dark Carnival Dream Music
"Americana by way of pagan cabaret"
A faerie-tale fusion of dark cabaret and post-punk music, Dust Bowl Faeries is a dark-carnival band from the New York Hudson Valley. The band's eclectic repertoire of songs draw inspiration from circus songs, murder ballads and Eastern European folk tunes. Accordion, singing saw and acoustic guitar combine to create the Dust Bowl Faeries otherworldly sound. The band was founded by Ryder Cooley (faerie queen) and her taxidermy spirit animal, Hazel the Ram. Ryder and Hazel are joined by Jon B. Woodin (rocket faerie), Liz LoGiudice (river faerie), Andrew Stein (time faerie) & Rubie LaRue (feisty faerie).
Dust Bowl Faeries have two full albums, The Plague Garden (2020) and a self titled debut album (2017), produced by music critic Seth Rogovoy, featuring Tommy Stinson (Replacements) & Melora Creager (Rasputina). They released two EP's with producer Floyd Fisher/Upstate Brooklyn, and their forthcoming EP, Carnival Dust, will be out January 24th, 2023, featuring harpist Mikaela Davis.
  "There are no waters of the sea, as deep and marvelous as Ryder Cooley." – Instinct Magazine