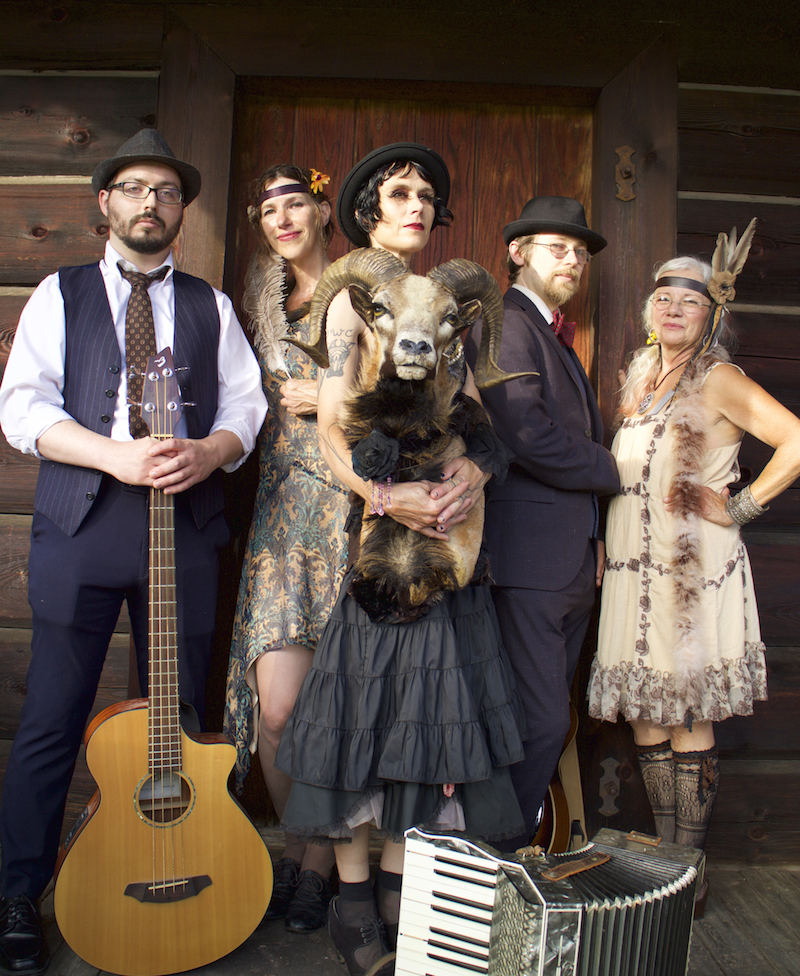 Dust Bowl Faeries Full Band, Live at Colony Woodstock Friday Oct 2
Dust Bowl Faeries are celebrating the upcoming release of a new album and an epic music video this Friday October 2nd at the Colony Woodstock outdoor stage, 7-9pm, (donation)
Despite political turmoil and Covid gloom, the band will be playing two sets of dark carnival music featuring songs from their new album as well as old standards and new tunes. This is the first time that the five piece band has played together since quarantine in March, and it could very well be the last full band show until the spring of 2021, so please put on your very best masks and join the Faeries for a doomsday hurray in the Colony beer garden / grill, where you will find safely distanced tables (with umbrellas), food, drinks and a big donation bucket for the musicians. Costumes are welcome for this last hurrah before the cold months set in.
The Dust Bowl Faeries' new album, The Plague Garden, was recorded by Mike Schoonmaker during the pandemic, and their new video, Candy Store, is produced and directed by Lisa M. Thomas of Thin Edge Films. The album and video will be released later in October (stay tuned!).
The album will be available for pre-release digital downloads starting this Friday, October 2nd, on BandCamp at this link:
https://rydercooley.bandcamp.com
Dust Bowl Faeries is a dark-carnival band from the New York Hudson Valley. Their eclectic repertoire of songs draw inspiration from circus, post-punk and Eastern European folk music. Accordion, singing saw, ukulele, lap-steel, guitar and percussion combine to create the Dust Bowl Faeries otherworldly sound. The band was founded by inter-disciplinary artist Ryder Cooley and Hazel, a disembodied taxidermy ram who performs with the Fairies as their mascot-spirit animal. Ryder and Hazel are joined by Rubi LaRue, Jon B. Woodin, Liz LoGiudice & Andrew Stein.
"Carnival,circus, cabaret, silent-movie-era, fin de siecle, Lynchian…baroque with a touch of Jethro Tull." Ric Kallaher, 2019