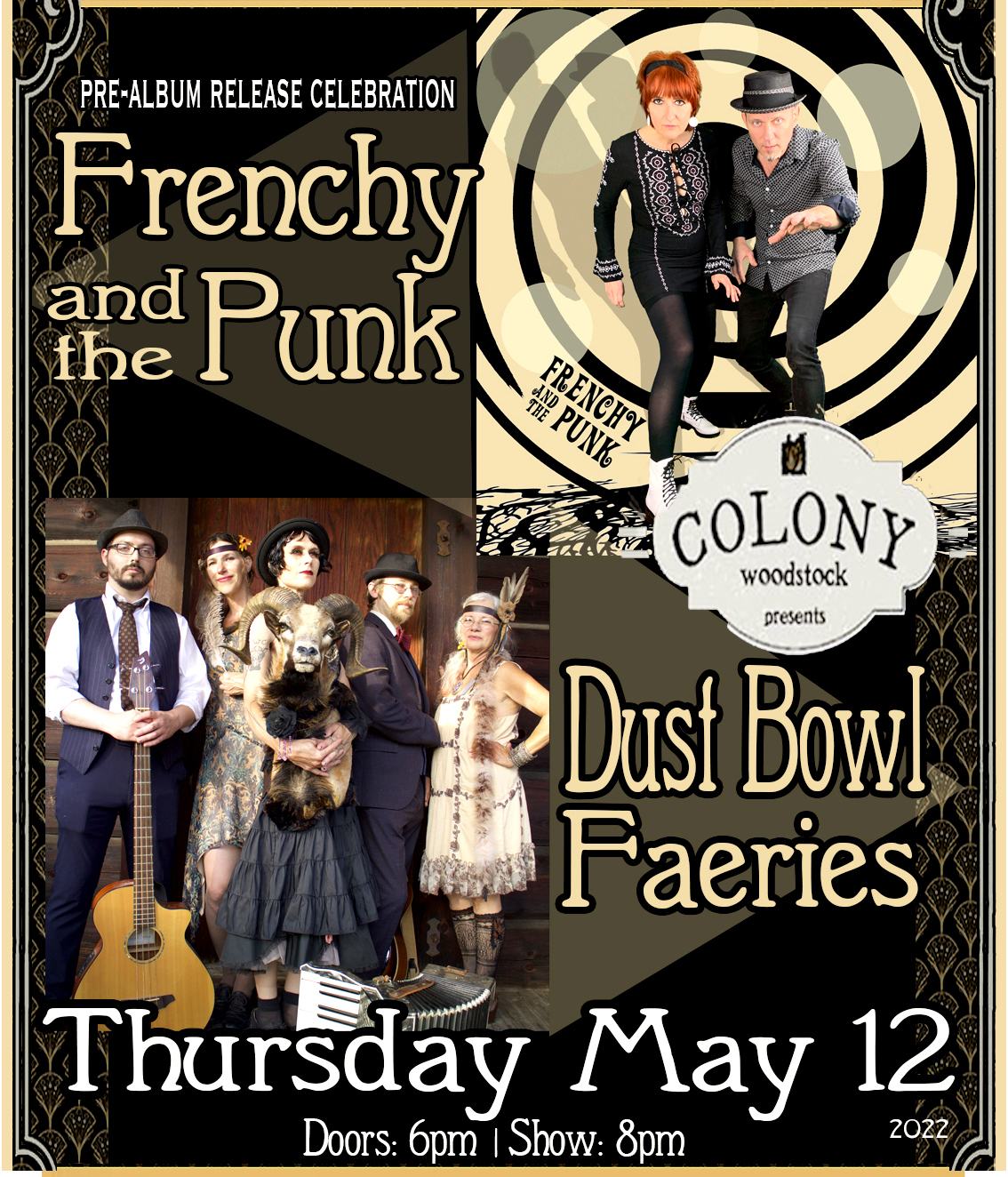 Dust Bowl Faeries + Frenchy & the Punk, Thurs May 12, Colony Woodstock
COLONY WOODSTOCK PRESENTS:
FRENCHY & THE PUNK + DUST BOWL FAERIES
THURSDAY 5.12.22
DOORS: 7PM / SHOW: 8PM
FRENCHY AND THE PUNK is French-born singer and percussionist Samantha Stephenson and American Hardcore Punk veteran guitarist Scott Helland. Flavored with an alternative post-punk vibe and intertwined with dark pop and modern cabaret elements, their forthcoming and 7th full-length album, ZenGhost, is due out in Summer 2022. They delve into themes of timeless love and excavating the phantoms that can plague the mind.
Reminding one generation of Grace Slick and another of Siouxsie Sioux, Stephenson sings in both English and French with a powerful yet graceful Gothy heft. Guitarist Scott Helland, a former punk rock bass player from the legendary Massachusetts hardcore bands Deep Wound (with J Mascis and Lou Barlow of Dinosaur jr) and Outpatients, propels this dynamic duo's sound with looped rhythms and melodic Rock, Surf and Spanish style acoustic guitar licks.
Listed as one of the top duos in the US by Yahoo Music Blog, this prolific and fiercely independent duo has toured the US, Canada, Europe and even West Africa.
————
A faerie-tale fusion of dark cabaret, gothic polka and post-punk music, DUST BOWL FAERIES is a dark-carnival band from the New York Hudson Valley. The band's eclectic repertoire of songs draw inspiration from circus songs, murder ballads and Eastern European folk music. Accordion, singing saw, acoustic guitar, lap-steel, bass and percussion combine to create the Dust Bowl Faeries otherworldly sound.
The band was founded by Ryder Cooley (faerie queen) and her taxidermy spirit animal, Hazel the Ram. Ryder and Hazel are joined by Jon B. Woodin (rocket faerie), Liz LoGiudice (river faerie), Andrew Stein (time faerie) & Rubie LaRue (feisty faerie). Dust Bowl Faeries released their most recent album, The Plague Garden, in 2020. Previously, they released two EP's and a self titled debut album, featuring Tommy Stinson (Replacements) & Melora Creager (Rasputina)