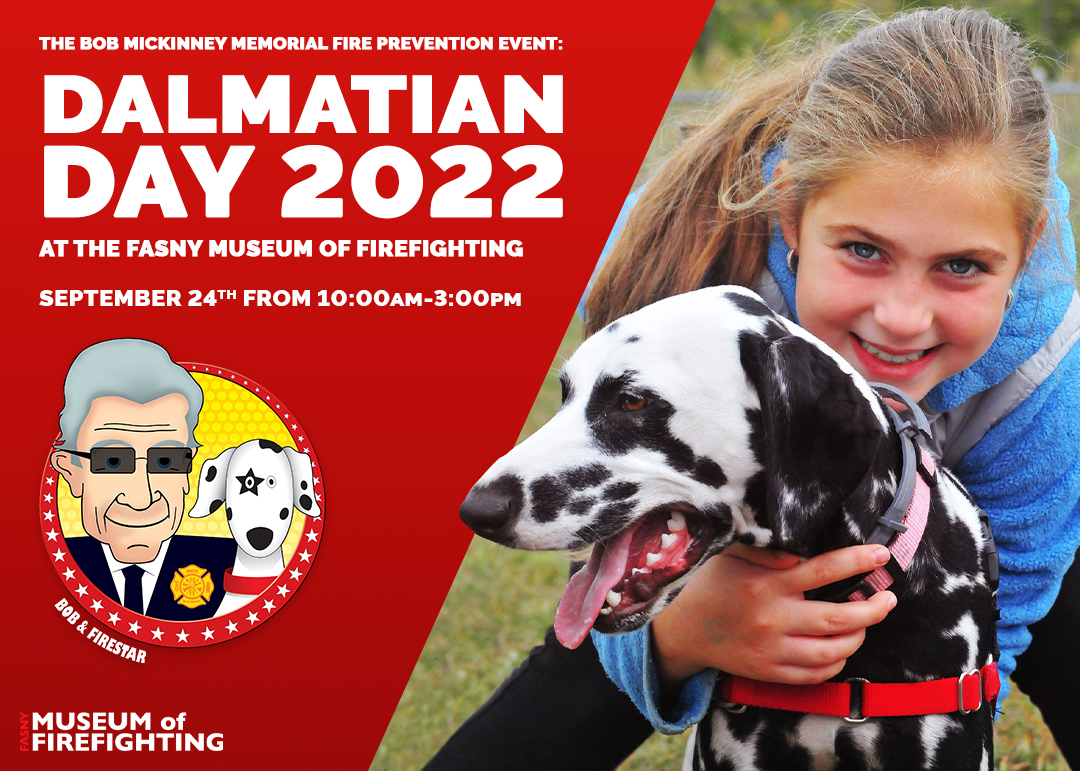 Dalmatian Day 2022
Join us on September 24th, 2022 from 10:00 am–3:00 pm for a FREE IN-PERSON event: The Bob McKinney Memorial Fire Prevention Event: Dalmatian Day 2022!
We invite you to join in on the exciting return of Dalmatian Day 2022! During this free event, you can enjoy:
• Meet & Greet Live Dalmatians
• Games with Prizes for Kids
• Dalmatian-Themed Craft Projects
• Juggling Show by Joshua J. Superstar
• Interactive Safety House Tours
• Puppet Show… and so much more!
All activities are FREE, and FREE admission to the Museum will also be offered during the event. RESERVATIONS ARE NOT REQUIRED FOR THIS EVENT.
________________________________________________________
This event is made possible, in part, by the generous support of the following partners and sponsors (an updated list of sponsors can be found on the Museum's website.):
Platinum Sponsor:
• Hudson River Bank and Trust Co. Foundation
Gold Sponsors:
• Greylock Federal Credit Union
• Martin, Harding & Mazzotti, LLP
Silver Sponsor:
• Stewart's Shops
Bronze Sponsors:
• Hannaford Supermarkets
• Red Hook Fire Co. Inc.
Copper Sponsors:
• Garrison Fire & Rescue Corp.
• Gina's K-9 Bed & Breakfast
• Ginsberg's Foods
• ProPrinters
Iron Sponsors:
• East Jewett Fire Department
• Karen's Flower Shoppe & Gifts
• Lawlor's Package Store
• Lebanon Valley Prot. Assoc. Inc.
• New Hackensack Fire Co.
• Stockport Vol. Fire Co. #1