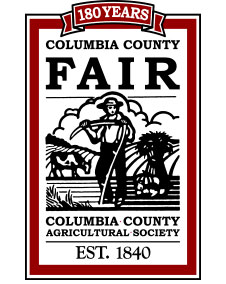 Columbia County Fair
The historic Chatham Fairgrounds of the Columbia County Fair may look serene and quiet at the moment, but behind the scenes, preparations are well underway for the 180th Columbia County Fair. Excitement is in the air! The Fair Board, vendors, and exhibitors are eager to welcome everyone back after an unprecedented year in which all fairs were cancelled due to pubic health concerns.
Fair Director Angelo Nero notes that this year, the focus will be on Agriculture, and local musical acts will be taking stage, rather than a Headliner. Unfortunately, the School Girl Queen Pagent has been postponed until next year but favorites like the Demolition Derby, Firefighters' Parade, Racing Pigs, Monster Tractor Pull, and Monday's Rodeo will all return.
Several changes have been made to Fair policies to enhance safety and improve the experience of all who attend this family-friendly event. For the first time, the Fair will be an entirely smoke-free event, with smoking of any kind prohibited within the confines of the Fairground's fenced-in area. Smoking will be permitted in the parking lots only.
Bag checks at all entrance gates will continue to be in place and all bags will be searched. A full list of prohibited items may be found at columbiafair.com.
Please leave your pets at home! Specially trained service dogs who accompany disabled persons are the only dogs permitted on the grounds.
In accordance with the state-wide relaxation of Covid-19 restrictions, there is currently no plan to require the wearing of a mask, although unvaccinated patrons are urged to do so. Hand sanitizer will be available around the Fairgrounds and in each restroom. More specific guidance will be issued closer to the time of the Fair and is subject to change per the state Department of Health.

Local favorite Eli's Gin plays the Fair's Main Stage on Sunday evening from 6:00pm – 9:00pm
CHATHAM – The happy sound of music in the air returns to the Columbia County Fair in Chatham this September. A wide variety of home-grown musical entertainment will be appearing each day and it is all free of charge, included in the cost of your admission ticket!
This year's event features carefully selected musical performers. Some of the acts are familiar favorites from years past and others are making their debut. All will be offering up something unique and sure to please every visitor.
Music will be popping up all over the Fairgrounds during the day. Those who appreciate old-fashioned harmonies will enjoy encountering the strolling barbershop quartet. Blue Electric DJ will be spinning tunes on the North Gate Stage on the first night of the Fair, and Jack the DJ will entertain in the Beer Pavilion Thursday through Monday. The beloved Ghent Band returns, playing classic marches, overtures, and show tunes Monday morning on the North Gate Stage. Don't miss the chance to see this classic town band, which has been pleasing audiences since 1899!
In the Beer Tent, featured musical entertainment includes some extraordinarily strong local talent. Acoustic Rye plays Friday evening. The Alex and Azzaam Jazz Band return Saturday afternoon and Jarod will take over that evening. Sunday's lineup will include DJ Jeff Ouellette and a performance by the Joe Adee Band. October Rose rounds out the programming on Monday afternoon.
Taking the Main Stage at the Grandstand this year are two bands that will have everyone dancing. You can't get more local than Side Show Wille, a group that hails quite literally from the neighborhood – right here in Chatham! These seasoned musicians will be offering up classic rock on Sunday from 1pm to 4pm. And Eli's Gin may have started out as an acoustic band, but have transformed their sound and promise "good ole' fashioned rock and roll at full volume". You can catch them on Sunday from 6pm to 9pm.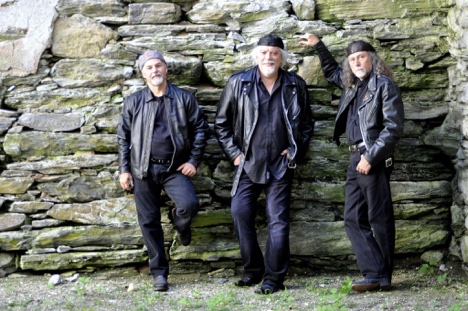 Veteran musicians Side Show Willie appear Sunday from 1:00pm to 4:00pm on the Main Stage at the Grandstand
Attendees should take note that this year, for the first time, the Fair will be an entirely smoke-free event. Smoking of any kind is prohibited within the confines of the Fairground's fenced-in area but will be permitted in the parking lots only.
THE FOCUS IS "LOCAL "AT THE COLUMBIA COUNTY FAIR
CHATHAM – At the Columbia County Fair, the focus is always on what's "local". The annual event serves as a showcase of the pride of the county's citizens and local family farms. After an unprecedented year off, opening day has been eagerly anticipated, especially among the local folk who have been busily preparing to exhibit their wares, agricultural products, talent, music, livestock, and handiwork, or prepare for competition in a wide variety of contests.
Admire the handiwork of artists and crafters, sample food and products from local makers, and browse the exhibits by local Granges, Scout Groups, Garden Clubs, and Students. Maybe you'll be inspired to start a new hobby at the Quilt show, Wool Booth, or antique farm equipment display.
Prizes will be awarded in a wide variety of areas which include photography, flower arranging, domestic arts and crafts, and Scarecrow making. There is a competition for the best in wine, beer, and cider, along with fruits and vegetables, baked goods, and giant pumpkins and sunflowers. For fun, a trophy, and bragging rights, there's even a watermelon eating contest and an ice cream eating contest!
Columbia County's Got Talent is the annual talent show sponsored by Kneller Insurance Agency. On Wednesday, September 1st, singers, dancers, jugglers, and performers of all types and all ages will take the stage to compete for cash prizes as well as the Marilyn Barry Memorial Award. With the cancellation of a contest at the State Fair this year, this will be the only venue for many, as the Columbia County Fair is one of the very few Fairs holding a competition. Talent Coordinator Betsy Braley said she is always impressed with the contestants, saying "We are so fortunate to attract so much amazing talent!"
Fair food is the highlight for many visitors and the local focus extends here too. The majority of the food venues are operated by local owners and organizations this year, making it easy to grab a local beverage and enjoy a home-grown treat. There is a wealth of options to choose from the food court, and of course, the 4H'ers will continue the tradition of featuring their baked potatoes and yummy milkshakes as well.
You can cheer for the county's selfless public servants during the Firefighters' Parade, which steps off Saturday morning at 11am. Come see our local fire companies, auxiliaries, and vintage and contemporary fire apparatus. They will be joined by color guard units from police and emergency service agencies, bands, civic and Veteran associations, and other groups proudly participating in this highly popular part of the Fair.
The Columbia County Fair has been recognized as one of the premier county fairs in the state, and that reputation is well-earned. From the beautifully landscaped grounds to the whirling Midway, all the features of an authentic old-fashioned agricultural fair are part of the proud tradition here.
So come on out and enjoy a classic. There's no better way to experience the bounty of Columbia County and enjoy a day of family fun than a visit to the Fairgrounds in Chatham. It's all here and all local and all included in the price of admission!
OLD FAVORITES JOINED BY NEW CONVENIENCES AT COLUMBIA COUNTY FAIR
CHATHAM – Old favorites are back but there are also a few new conveniences in store at this year's Columbia County Fair. Visitors can expect the old-fashioned country Fair they remember while enjoying some modern upgrades designed to improve the experience. For starters, a map of the Fairgrounds, along with information about other local features will be available on outRise, a mobile app that "helps people find, create, and share experiences and adventures". In addition, Fairgoers will find more cell phone charging stations on the grounds this year, as well as three ATM's.
New and old are also represented in a diverse slate of Fair entertainment. Opening Day features an Antique Tractor Pull, while the "Monster" Tractor Pull, sponsored by ACP Power Equipment, will roar at the Grandstand Saturday afternoon. Stoney Roberts Productions' Demolition Derby, a crowd favorite, will make for excitement Thursday and Friday evenings. This popular show is sponsored by HudsonValley360.com and Sorros Excavating LLC. A traditional rodeo will round out the Fair schedule at the Grandstand on Monday. Painted Pony Championship Rodeo is sponsored by Mario's Home Center.
If you've come to play, Amusements of America will be back on the Midway, spinning rides and offering up classic carnival games. If you enjoy a little mystery with your entertainment, be sure to check out Jay Mattioli's magic and Corrie J's feats of hypnotism. If multi-tasking is your fancy, there's Neils Dunkier, who injects a bit of lighthearted comedy while showing off his juggling skills.
There are some new things to notice just walking around the 82 acres of beautiful grounds. For the first time in its 180 year history, the Fair was forced to cancel its 2020 run, but the time off was put to good use. Historic buildings were spruced up with a fresh coat of paint, the landscaping received some extra attention, and an overhaul of the Heritage Village was done, making it the final Fair building to be completely refurbished. Fair Manager Angelo Nero said that, "at this moment, the Fairgrounds have never looked better!" Infrastructure improvements this year include a new awning for the entrance to the Show Ring, which will shield both livestock and their exhibitors from the sun as they wait their turn for judging.
The Fair showcases the best of what Columbia County has to offer, and all of it would be impossible without a small army of dedicated folks, who generously put in countless hours of effort to make each year's event a success. There is an abundance of volunteers – everyone from the 4H, Granges, and Garden Clubs to judges and each venue's Superintendent – who literally make the Fair happen. Seasonal workers spring into action to support operations before, during, and after the Fair. Participants work all year to perfect their skills, create their masterpieces, or compete in the Show Ring. Corporate sponsors provide the means for the entertainment, contests, exhibits, and other attractions.
ANIMALS, KIDS, EARLY COMPETITIONS SHOWCASED AT COUNTY FAIR
CHATHAM – The 180th Columbia County Fair begins Wednesday, September 1, but there is plenty happening the weekend before at the Fairgrounds in Chatham.
The Open Horse Show takes place on Sunday, August 29 and is a "shine only" event this year – the show will be cancelled if it rains. Competition begins at 8:30am for Junior and Senior English and Western-style riders from Columbia, Dutchess, Rensselaer, and Berkshire counties. Holding the Horse Show ahead of the official opening of the Fair showcases the event, and gives fans and participants full use of the Grandstand. Superintendent Holly Cooley said that she is excited about this year's Show and looks forward to seeing everyone again. She also wanted to thank their generous sponsors, Dover Saddlery, Greene County Horseshoe Supply, Wenk Funeral Home, Chatham Brewing, Macfarlane Contracting, and Robert Meehan, Jr. Excavation. Holly added that photographer Doug Stalker will be capturing all the action and the fine folks from Ghent's Whitestone Cafe are opening up their Fairgrounds booth to feed everyone.
The Sunflower contest will also be held on August 29 between 1:00 and 2:00PM. Sponsored by Trustco Bank, cash prizes and ribbons will be awarded for the tallest, largest head, and most flowers on one stalk. Competitors in adult and youth classes will be reaching high – the World Record is 30 feet, one inch tall!
Local beverage-makers will compete in the Amateur Craft Beer, Wine, and Cider contest, sponsored by S.T. Hudson's Son Plumbing and Heating on Saturday, August 28. Cash prizes will be awarded in each individual section and class, and "Best of Show" will be chosen from among the first-place finishers in each class.
Once the Fair officially opens, animals will take a starring role at this traditional agricultural Fair. Livestock competitions were the very reason county Fairs were created, and the Show Ring is center stage. Entrants will be exhibiting dairy cattle, beef cattle, and sheep. There are also contests for poultry at the Poultry Building. You won't want to miss the "Loud Mouth Rooster Crowing Contest" – four contests during the week will culminate in the "Loud Mouth Championship" on Sunday afternoon!
A visit to the Fair is the best chance for kids to get up close and interact with animals, either in a walk through the barns or at the Petting Zoo. Hands-on experience is also one of the many advantages of participation in the 4H program. There is a traditionally strong presence of 4H kids from Columbia and Greene Counties led by the skilled adult volunteers of the Cornell Cooperative Extension. 4Hers work all summer to prepare and will be showing their beef and dairy cattle, sheep, poultry, rabbits, goats and swine in the Show Ring. Be sure to visit Columbia Hall to see their other projects, learn more about the program, and grab a milkshake at their kid-powered booth!
And there's more! Whether you prefer the excitement of pig racing or the thrilling action of an authentic professional Rodeo, it's all there at the Columbia County Fair.
The Columbia County Fair is located off Route 66 in Chatham, NY. Opening day is Wednesday, September 1, at noon. The fair 'always runs over Labor Day', and concludes on Monday, September 6.
Admission includes parking and all entertainment. Daily hours are Wednesday: noon to 11PM, Thursday – Monday: 10AM – 11PM. Seniors Day is Wednesday with special pricing for $5.00 for ALL patrons. Youth under 18 are admitted for free that day until 4PM. Daily admission all other days is $10.00. Children 12 and under are always free. Advance tickets are $8 each and are available at the Fair Administration Office until August 31.
Advance tickets will also be available at branch offices of Bank of Greene County and at Price Chopper from August 1 – August 31. Special ride passes will be sold at the ride ticket booth across from the cattle area at the Fair's North Gate entrance from noon through closing. The cost is $15 on Wednesday and Monday and $20 on all other days.