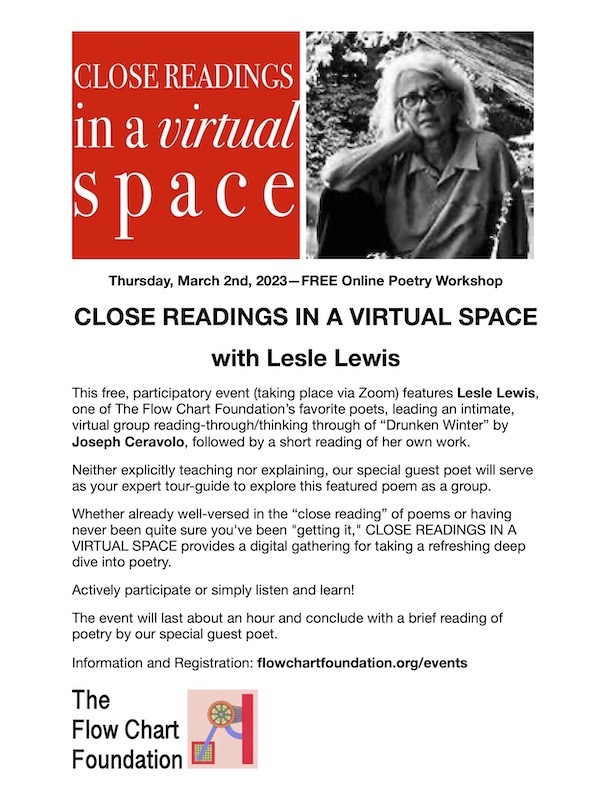 Close Readings in a Virtual Space: Lesle Lewis
This free, participatory event (taking place via Zoom) features Lesle Lewis, one of our favorite poets, leading an intimate, virtual group reading-through/thinking through of a single poem . Neither explicitly teaching nor explaining, our special guest poet will serve as your expert tour-guide to explore this featured poem as a group.
Whether already well-versed in the "close reading" of poems or having never been quite sure you've been "getting it," CLOSE READINGS IN A VIRTUAL SPACE provides a digital gathering for taking a refreshing deep dive into poetry.
Actively participate or simply listen and learn!
The event will last about an hour and conclude with a brief reading of poetry by our special guest poet.
Lesle Lewis' collections include Small Boat (winner of the 2002 Iowa Poetry Prize), Landscapes I & II (Alice James Books, 2006), lie down too (Alice James Books, 2011), A Boot's a Boot (Cleveland State University Poetry Center, 2014), and Rainy Days on the Farm (Fence Books, 2019) Her chapbook, It's Rothko in Winter or Belgium was published by Factory Hollow Press in 2012. She has had poems appear in many journals including American Letters and Commentary, Northern New England Review, Hotel Amerika, Mississippi Review, The Cincinnati Review, Green Mountains Review, Barrow Street Mudfish, LIT, Pool, jubilat, notnostrums, and Sentence. She lives in New Hampshire.