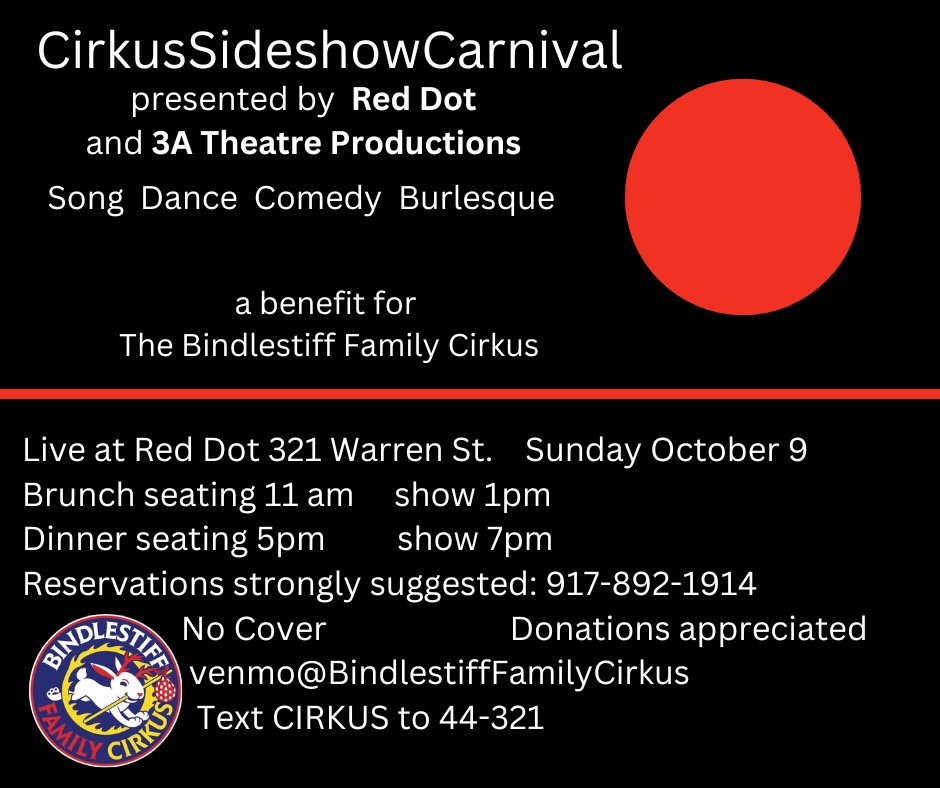 CirkusSideshowCarnival
Oct. 9 at the Red Dot, 321 Warren St. Hudson NY 
Presented by 3A Theatre Productions
NO COVER but donations welcomed!
The "Cirkus Sideshow Carnival" comes to town for two shows on Sunday, Oct. 9, 1:00 pm and 7:00 pm.
Singers, Dancers, Actors – and Clowns from the Bindlestiff Family Cirkus. Come for brunch or dinner before if you choose, no cover charge, donations will be welcome. Venmo: @BindlestiffFamilyCirkus;  GiveLively: Text CIRKUS to 44-321; Paypal: www.paypal.me/bindlestiff
Featuring Bindlestiff Family Cirkus artists Mariko Iwasa, Lex Alston, and Deborah Lohse; plus Jackie Draper, Alana Hauptmann, Mana Kobuchi, Terence Law, Miranda Moirai, Stephanie Monseu, Phil Moguls, John Philip, Bronwyn Rucker & Elizabeth Schneider, and the Sternfeld Ballroom Dancers. Live music by Woody Regan; Directed by Andrew Loren Resto; Stage Manager James Moore.
All donations benefit Bindlestiff, a 501(c)(3) non-profit devoted to the preservation of the variety arts – and who through the pandemic  and to the present bring free shows – via the "Flatbed Follies" – to the streets of New York City and beyond. 
Brunch seating begins 11 am, first show at 1pm
Dinner seating begins 5pm, second show at 7pm