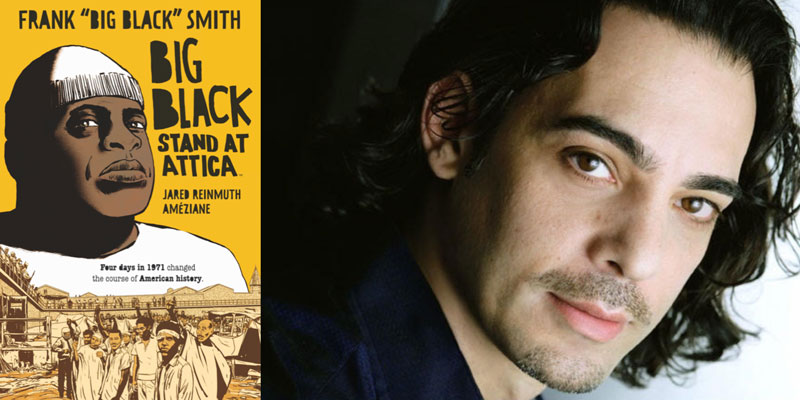 Book Signing & Author Talk with Big Black: Stand at Attica co-author, Jared Reinmuth
Hudson Area Library to commemorate the 50th Anniversary
of the Attica Prison Rebellion of 1971
The Hudson Area Library presents a Book Signing & Author Talk with Big Black: Stand at Attica co-author, Jared Reinmuth, Saturday, September 18, 12:30-2:30pm. To commemorate the 50th anniversary of the Attica Prison Rebellion of 1971, Jared Reinmuth will visit the Hudson Area Library to discuss Big Black: Stand at Attica, an Eisner nominated graphic novel memoir from Frank "Big Black" Smith, who was a prisoner at Attica State Prison in 1971.
In the summer of 1971, New York's Attica State Prison is a symbol of everything broken in America – abused prisoners, rampant racism and a blind eye turned towards the injustices perpetrated on the powerless. But when the guards at Attica overreact to a minor incident, the prisoners decide they've had enough – and revolt against their jailers, taking them hostage and making demands for humane conditions. Frank "Big Black" Smith finds himself at the center of this uprising, struggling to protect hostages, prisoners and negotiators alike. But when the only avenue for justice seems to be negotiating with ambitious Governor Nelson Rockefeller, Big Black soon discovers there may be no hope in finding a peaceful resolution for the prisoners in Attica.
Written by Jared Reinmuth and Frank "Big Black" Smith himself, adapted and illustrated by Ameziane, Big Black: Stand At Attica is an unflinching look at the price of standing up to injustice in what remains one of the bloodiest civil rights confrontations in American history.
Seating is limited for this in-person program, so we encourage you to reserve a seat by emailing programs@hudsonarealibrary.org or calling 518-828-1792 x101. We will hold reserved seats until 10 min. before the event's start time. At that time, we will make available all remaining seats on a first come, first served basis. Masks and social distancing will be required for the safety of all participants.
The Hudson Area Library is located at 51 North Fifth Street in Hudson, NY. The mission of the library is to enrich the quality of life by providing free and equal access to programs, services and resources, and by creating opportunities for all members of our community to connect, create, learn and grow. To learn more about this program and other library offerings, visit hudsonarealibrary.org
Jared Reinmuth Jared Reinmuth has worked as an actor, writer, teacher, director, and songwriter. He made his acting debut at the 1994 Dionysian International Theatre Festival in Veroli, Italy in Karen Malpede's The Beekeeper's Daughter. Reinmuth made his directorial debut in 2016 at the Theater for the New City's Dream UP Festival with Andrea J. Fulton's Roof-Top Joy. His adaptation of Alexandre Dumas' seminal masterpiece, Monte Cristo, debuted at the Hackensack Cultural Arts Center. He began his writing collaboration with Frank "Big Black" Smith in 1997, while assisting his father, famed Attica attorney Dan Meyers. In 2017, at the suggestion of his friend and colleague, Patrick Kennedy, Reinmuth joined forces with co-creator and artist Améziane, Frank Smith's wife, Pearl Battle Smith, and composer Alex Tichane to fully realize the work initially started by Frank "Big Black" Smith, as the graphic novel Big Black: Stand at Attica.
Frank "Big Black" Smith was a former inmate at Attica prison who was tortured by officers following the deadly 1971 uprising. After his release from prison, he worked as a substance abuse counselor and devoted his life to becoming the voice of his fellow prisoners in a 26-year lawsuit against New York State. Smith later became an advocate for the Forgotten Victims of Attica, a group comprised of surviving hostages and relatives of the dead prison guards who were believed to have been encouraged to accept limited benefits which barred them from suing the state. Smith married in 1983, studied to be a paralegal, and worked as an investigator for lawyers. He passed away at 70 years old in Kingston, N.C., after a long battle with cancer. He is survived by his wife, Pearl.