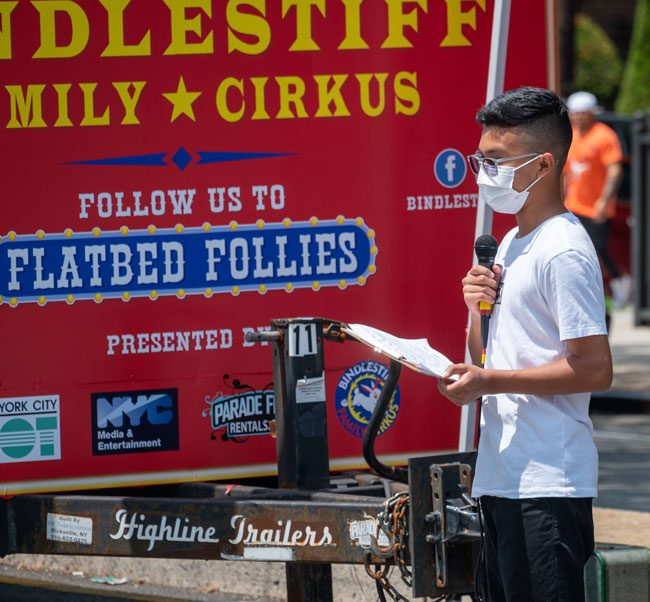 Bindlestiff's Flatbed Follies
Bindlestiff Family Cirkus introduces:
Bindlestiff's Flatbed Follies
An innovative collection of mobile performance stages, bringing world-class circus talent to the Twin Counties!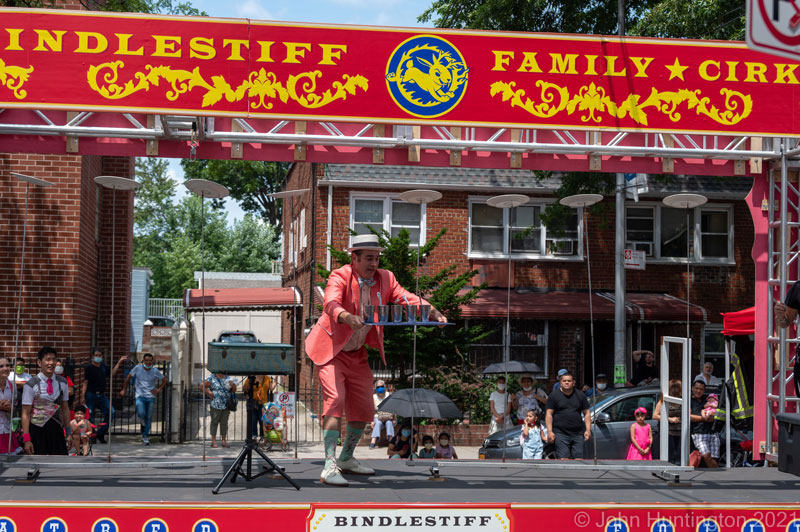 First stop is Dutchmen's Landing Park in Catskill on August 20 followed by shows at Hudson High School on August 21. Program supported by the City of Hudson Common Council Tourism Board and the New York State Council on the Arts. A NYSCA #restartNY Grantee.
Hudson (July 30, 2021) – Columbia County's acclaimed variety arts ensemble, the Bindlestiff Family Cirkus, presents Flatbed Follies, bringing performing arts to communities emerging from COVID-19, economic displacement, and systemic racism. Performances will take place upon an innovative series of parade float stages featuring circus artists from multiple disciplines. There will even be a calliope wagon providing authentic circus music. The first stops for this new summer-long series takes place Friday, August 20 at Dutchman's Landing Park, 64 Dutchman's Landing, Catskill, NY 12414 with shows at 3pm, 5pm, and 7pm. Next, the show crosses the Rip Van Winkle Bridge for 3 shows on Saturday, August 21 with shows at 2 pm , 4pm, and 6pm at Hudson High School Athletic Fields, 215 Harry Howard Ave Hudson, NY  12534. All performances are FREE.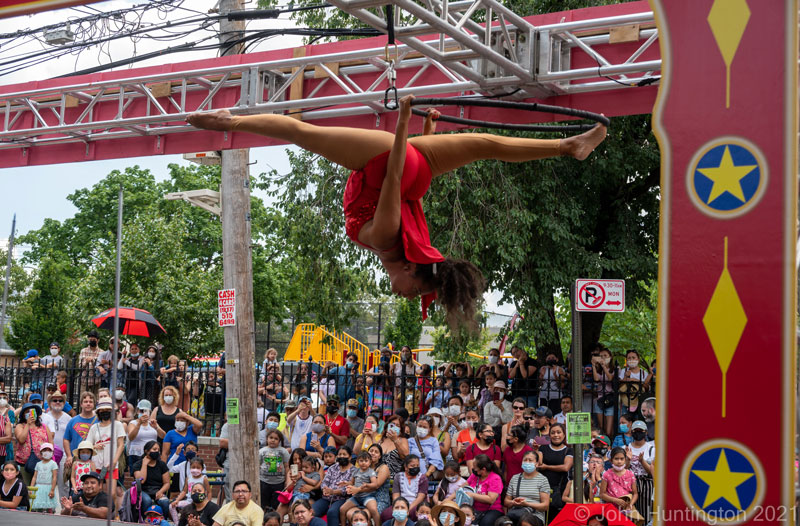 Twin County performances are part of an entire Summer of Joy including free youth activities like:  Summer Cirkus, with weekly free classes at Hudson Youth Center's Oakdale Lake camp followed by an intensive week-long circus camp and stilt walking camp with 2021 Artists-in-Residence Kaisokah Moko Jumbies from NYC; Hudson Juggling Club, with free weekly meetings as part of Waterfront Wednesdays in Hudson, and, in New York City, free shows of Flatbed Follies in NYC's 5 Boroughs. Here in the Twin Counties, Bindlestiff's Summer of Joy Activities are sponsored by the New York State Council on the Arts under Governor Andrew Cuomo; Operation Unite New York; Hudson innkeepers Wm. Farmer & Sons; The City of Hudson Common Council's Tourism Board, The Hudson Youth Center, and Friends of Hudson Youth.  For more information about other locations, visit www.bindlestiff.org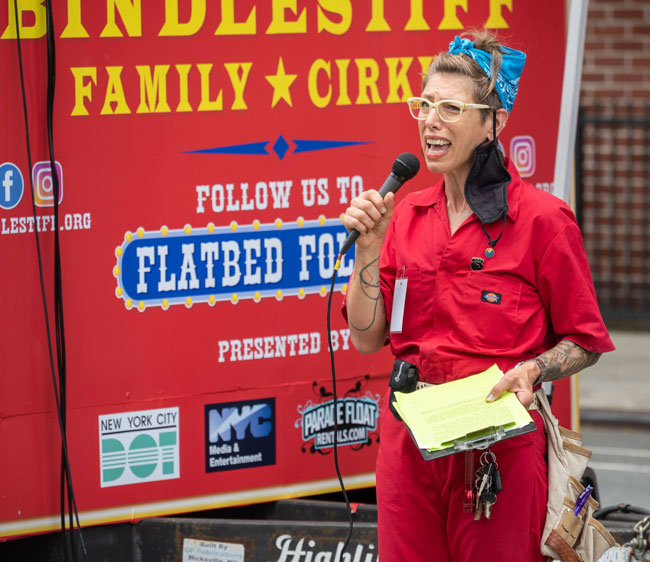 Photo Credit:  John Huntington 2021
Harkening back to the days when the grand circus parade came through towns across the country and captivated everyone who saw it, the Flatbed Follies will bring much-needed celebration and art back to streets and parks. The repurposed parade floats are equipped to showcase incredible and eclectic talent from clowns, jugglers, wire walkers, acrobats, aerial acts and more.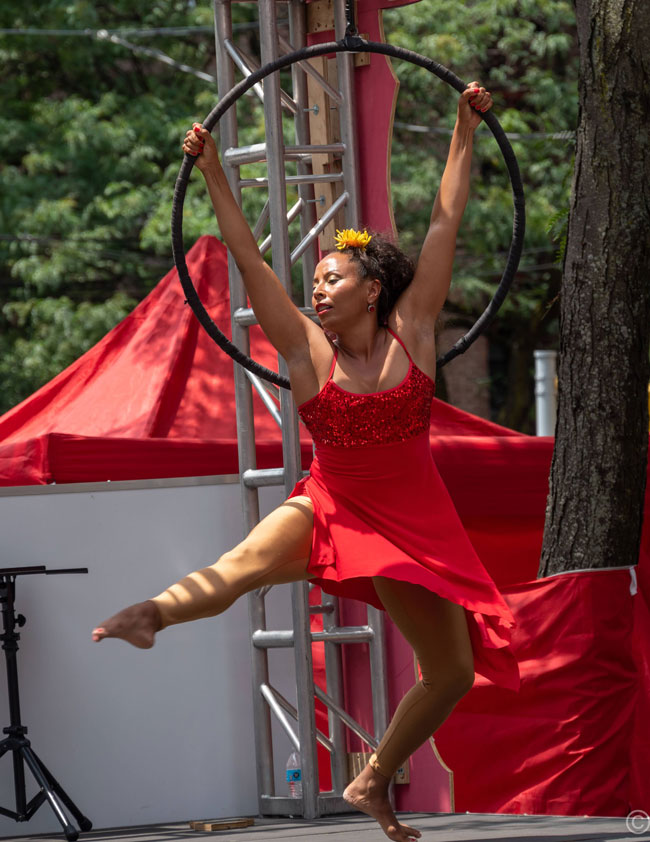 Photo Credit:  John Huntington 2021
Bindlestiff's Flatbed Follies is a new concept in live entertainment and is perfectly suited for 2021. Each Bindlestiff Flatbed temporarily halts in front of a stationary, socially-distanced audience to present live performances by incredible contemporary circus artists. In keeping with American circus history, an authentic musical calliope wagon leads the way and is followed by beautifully decorated parade floats serving as rolling stages providing audiences with a thrilling outdoor circus experience. In addition to the floating stages, parade-style elements such as stilt walkers, penny-farthing riders, physical comedians and other local talent such as marching bands, gymnastic troupes and other talent will be part of the celebration.
Bindlestiff's Flatbed Cirkus, as proposed for Hudson, will be a 75-minute outdoor staged experience, relying on local staff, performers and vendors plus visiting circus artists from outside our region, to bring joy, wonder, and a little economic stimulus to our city.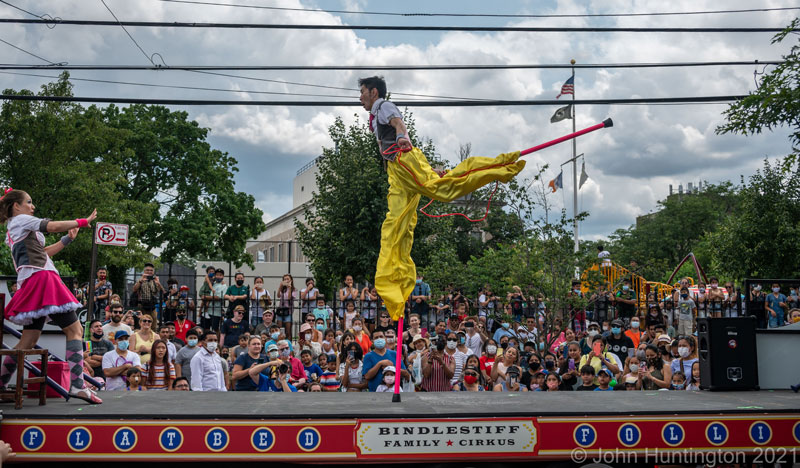 Photo Credit:  John Huntington 2021
Public performance is a community rite that can help us celebrate survival, imagine new possibilities, mark the passing of loved ones, overcome the hard times we've faced, and spark the renewal of hope that life always offers.
Live performance will lead us back toward connection as a community. Fire performers, aerialists, dancers, jugglers, acrobats, stilt walkers, poets, artists, musicians and emerging youth will bring us from the pain of this time into healing. Circus, particularly, is an ancient art form that springs from the circle – the original way in which humans gathered around a central wonder. For our ancestors, fire. For us, the highest reaches of human achievement as artists defy gravity, take flight, and hold up the figurative mirror of tender, tragic, or joyous clowning. The promise that Circus brings is that ordinary humans can achieve the near-impossible. We, as audience, see our highest aims reflected in the triumph of these artists' feats. In the circle of the audience, we see each other across that central circus ring, sharing the experience and bonding in thrills, laughter, and celebration.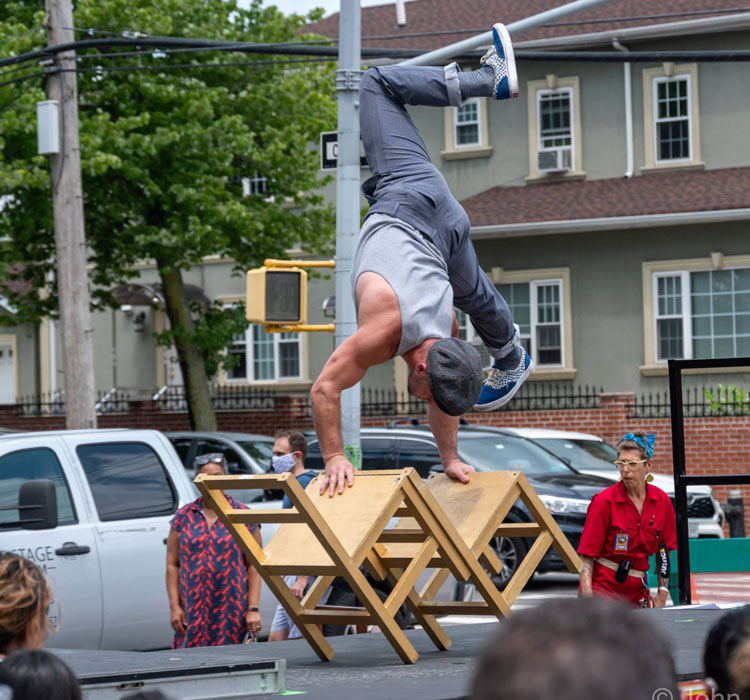 Photo Credit:  John Huntington 2021
Community Impact:
Social Benefit: Circus and variety arts uplift and inspire through humor, joyous spectacle, demonstrations of skill and bravery, and the accomplishment of seemingly impossible acts. The moving procession of the Flatbed Cirkus parallels cycles of change, progress, the resiliency of our communities and hope for the future. These performances will enable us to share in the powerful healing that comes from connecting on an emotional and spiritual level. By raising the morale of communities who watch and participate.  By partnering with local artists and community youth groups, we create a collective effort that will bring joy and a sense of belonging in the face of social isolation, plus forge new connections for resiliency and resource sharing.
Workforce Development/Local Economy: Bindlestiff's Flatbed Follies will employ local artists, laborers, and technicians from multiple disciplines.  Host venue, local sponsors, and invited vendors employ and/or bring business to local labor workers, technology support, hospitality workers, retail, and more.
Regional Tourism: Marketing outreach promoting Bindlestiff's Flatbed Follies to the host venue's broader region will encourage intra- and inter-city tourism, including day trips and longer stays, increasing business for hospitality and retail sectors.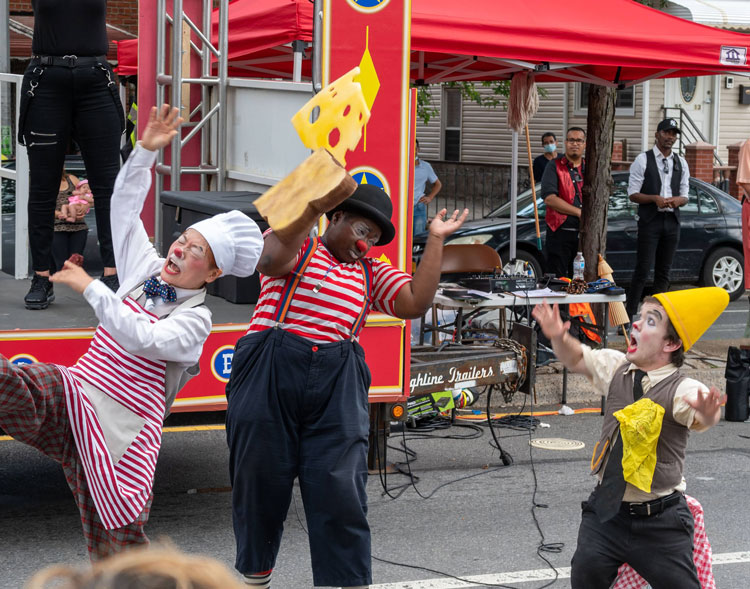 Photo Credit:  John Huntington 2021
ABOUT BINDLESTIFF FAMILY CIRKUS
For over 25 years, The Bindlestiff Family Cirkus has been presenting classic American circus tradition with its own
uniquely contemporary spin.  Its hybrid of vaudeville, circus, comedy, burlesque, live original music, and sideshow
has enthralled audiences across the United States and around the world. The New York Times said of the
Bindlestiffs, "There are certain things that make New York City so incredibly special. And this is one of them."
For information about where the Bindlestiff Family Cirkus Flatbed Follies will be appearing this summer, visit www.Bindlestiff.org.
Produced by Bindlestiff Family Variety Arts, Inc., a 501(c)(3) non-profit organization devoted to the preservation and evolution of the variety arts.
http://www.bindlestiff.org Twitter @bindlestiff Instagram @bindlestifffamilycirkus FB/Bindlestiff Family Cirkus
@#restartNY @NYSCArts  @NYSCouncilontheArts