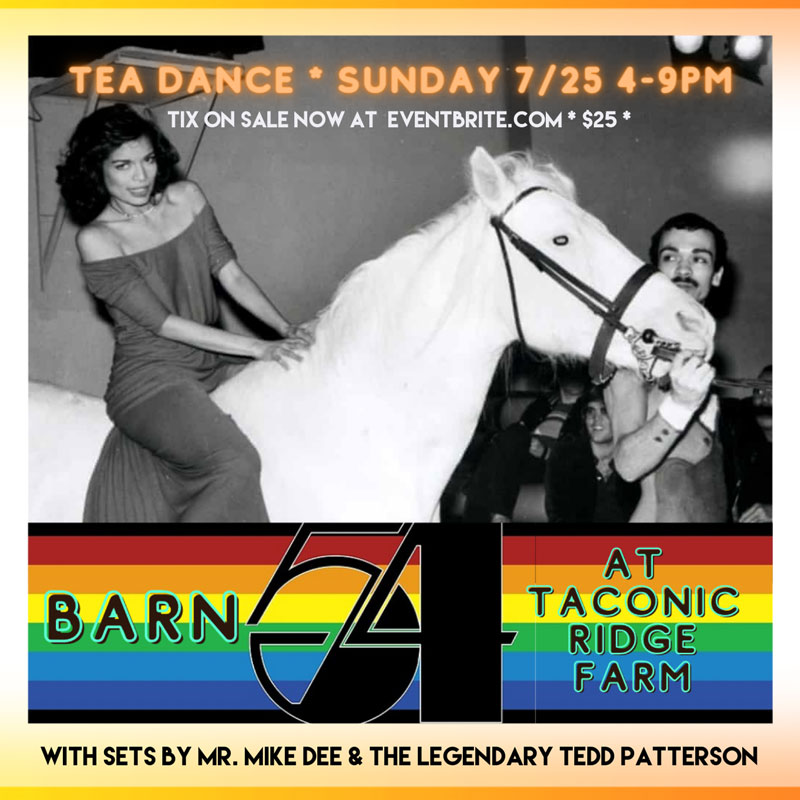 BARN 54 AT TACONIC RIDGE FARM (A Sunday TEA Dance) in Hillsdale, NY
The dance event of the summer in the Hudson Valley with Mr. Mike Dee and the Legendary Tedd Patterson! At Taconic Ridge Farm in Hillsdale. 
GET TIX HERE: https://www.eventbrite.com/e/barn-54-at-taconic-ridge-farm-a-sunday-tea-dance-tickets-161243344183
Join us for a trip back in time to a party in the tradition of a Sunday TEA Dance in the spirit of Studio 54. Two DJs will be in charge of transporting us all back to the days of disco and early house, in a giant barn at Taconic Ridge Farm. The first two hours will be with Hillsdale's own Mr. Mike Dee who will play all the faves and gems from the Studio period.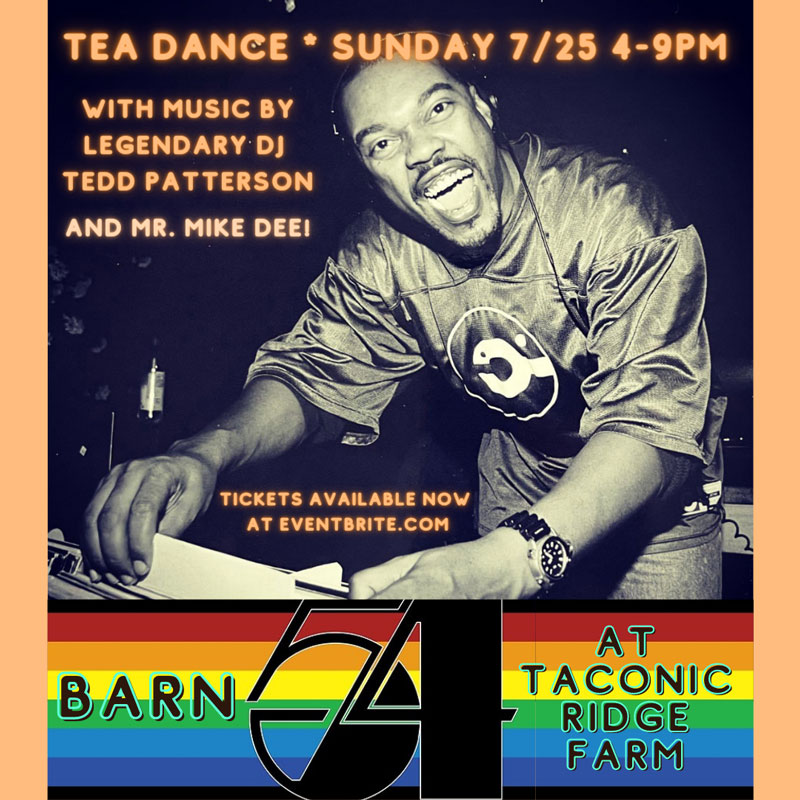 Then the legendary Tedd Peterson will take over and take you higher on a sonic trip of mixed music from the past and present. Some DJs refuse to bend to the norm, defy convention and think outside-of-the-box. Tedd Patterson is such a creative force and a New York clubbing institution. He's from the floor and a product of the '90s heyday of Sound Factory, Sound Factory Bar, Save The Robots, and Zanzibar, to name a few. You can hear that heritage as much in his productions as when he plays; a torchbearer for all that is fab and funky.
To make things even funkier, there will be three special drag performances from the chic farm crew of Rock Steady Farm interspersed throughout the first half of the event. So get ready to be dazzled and to dance! There will also be fresh wood-fired pizzas from Hilltown Hot Pies by Rafi and a selection of craft beer, wine and, non-alcoholic beverages for sale by the venue in the adjacent shed lounge and bar.
10% of the net profits from tickets and the bar will go to benefit Rock Steady Farm in Millerton, NY. Rock Steady is a queer-owned and operated cooperative vegetable farm rooted in social justice, food access, and farmer training.*Queer for us contains and includes multitudes of identities and expressions – lesbian, gay, bisexual, pansexual, asexual, intersex, transgender, and all expressions of our gender rebel siblings, including those who identify as gender non-conforming, non-binary and two-spirit.
So get your tix to the dance party of the summer in the Hudson Valley, space is limited and we expect this event to sell out quickly! See you there!
This event is produced by Shire 935 Events…the same team that brings you GRILLSDALE.