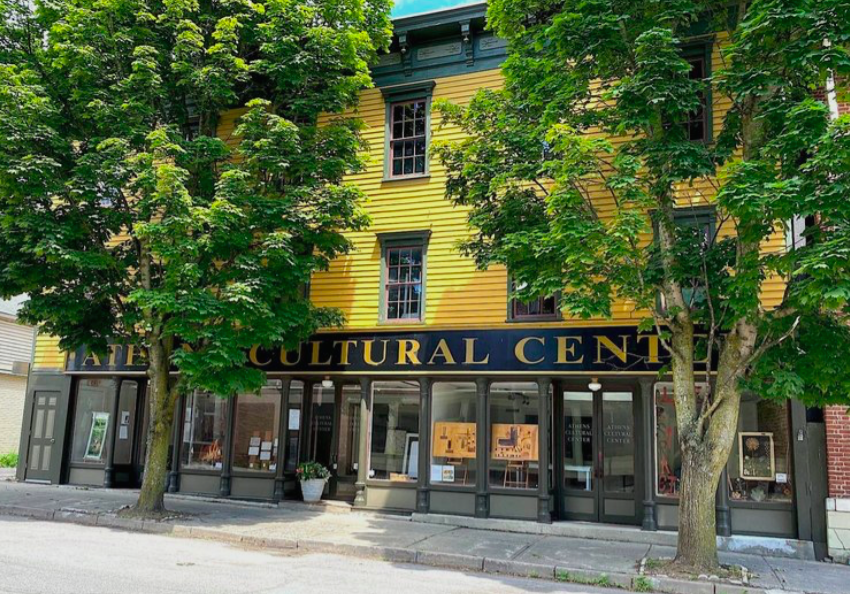 Athens, NY: Second Saturday Film Series
The Athens Cultural Center (Athens, NY) announces the line-up for its inaugural Second Saturday's Outdoor Film Series. The organization will host a no-cost film screening every Second Saturday from May through September, 2022. Most screenings will take place under the stars at Athens's historic Riverfront Park, right on the Hudson River, with special guests, performances and events in partnership with The Stewart House Hotel.
May 14: Harold and Maude, 1971 [PG]
June 11: Thirsty, 2016 [R]
July 9: A Trip To The Moon, 1902 [NR]
August 13: Summer of Soul, 2021 [PG-13]
September 10: I Dream Too Much, 2015 [PG-13]
Showtime is at 8:30, but arrive early to enjoy a sunset picnic and gather with friends before the free screenings begin. Grab a drink to-go from The Stewart House and other tasty treats. Be sure to also stop by the Athens Cultural Center before 6p to view the latest in our exhibition programming. 
Saturday, May 14th, we begin with the iconic 70s cult classic, Harold and Maude, and follow an eccentric pair's relationship and deep connection in spite of a sixty-year age gap. Experience indelible performances by Bud Cort and Ruth Gordon in concert with a remarkable soundtrack by Cat Stevens.
On June 11, we'll introduce you to  Thirsty, a true-life coming-of-age drag story, and host a LIVE after-screening performance by the film's star, Thirsty Burlington, at The Stewart House. It's a celebration of Pride Month and visitors are encouraged to start at The Athens Cultural Center's gallery show, Spectrum, an exhibit of Hudson Valley-based LGBTQ+ artists and allies. 
The Athens Street Festival returns on July 9th,  during which we'll move indoors to host two afternoon screenings of the legendary 1902 short film, A Trip to The Moon, projected by 16mm film. Meet special guest Denny Daniel of The Museum of Interesting Things to learn film history tidbits alongside a display of zoetropes, kinetoscopes, camera obscuras and other artifacts. (Note: these two screenings are at 2pm and 3:30pm at the Athens Cultural Center, 24 Second Street, Athens.)
On August 13, we'll be back at The Athens Riverfront Park with this year's Oscar winner for Best Documentary, Questlove's Summer of Soul. Sing and dance along to this incredible live performance footage of the 1969 Harlem Cultural Festival. 
Our Second Saturday's 2022 season comes to a close on September 10 with I Dream Too Much, directed by local filmmaker and writer, Katie Cokinos. Set in upstate NY, I Dream Too Much is a heartwarming tale illustrating the challenges that women and families experience from the perspective of three different generations performed by Eden Brolin, Diane Ladd, Danielle Brooks, and Christina Rouner.