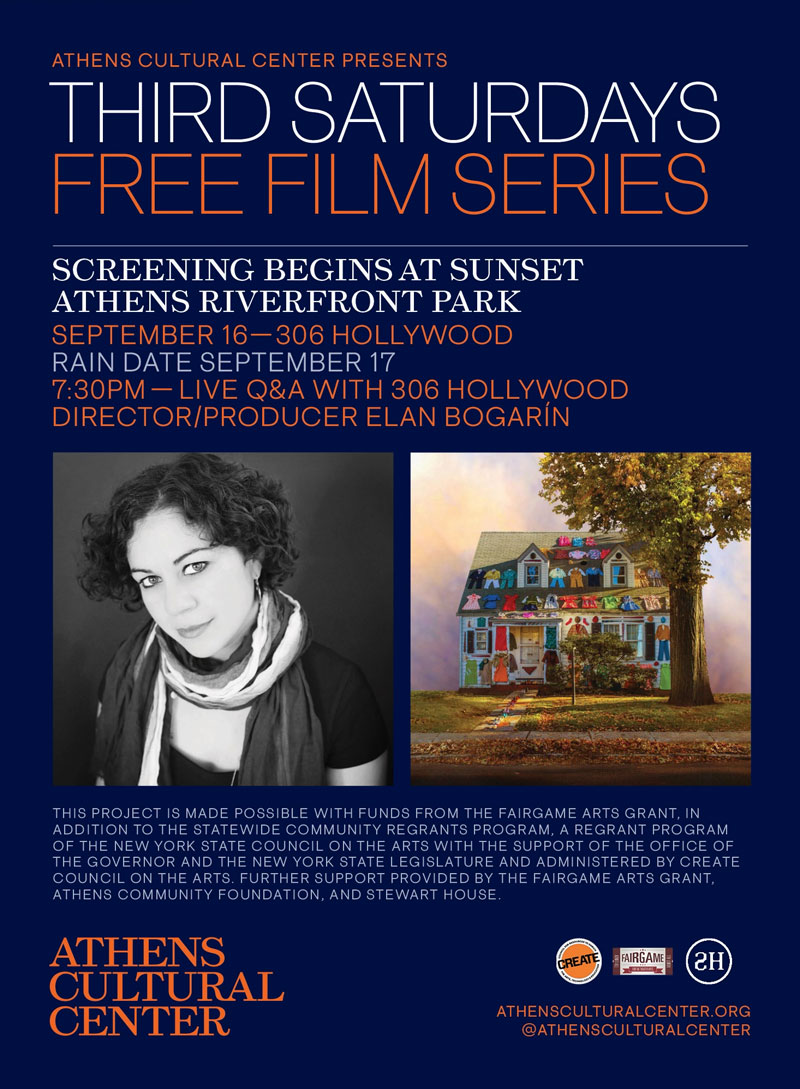 Athens Cultural Center Wraps Up its Third Saturdays Free Film Series with 306 Hollywood and its Award-winning Filmmaker Elan Bogarín
The Athens Cultural Center (ACC) is closing out its Third Saturdays Free Film Series on Saturday, September 16, with the surreal and fantastical documentary, 306 Hollywood, preceded by a Q&A with the film's producer/director Elan Bogarín. The outdoor sunset screening will take place at the Athens Riverfront Park beginning with special guest Bogarín at 7:30 pm. (Rain date: Sept. 17.)
The Third Saturdays series kicked off its 2023 season this past May with Steven Spielberg's adaptive rendition of War of the Worlds, followed by Beeban Kidron's To Wong Foo, Thanks for Everything! Julie Newmar, Chloé Zhao's 2021 Oscar-winning feature Nomadland, and Godfrey Reggio's breathtaking 2014 release of Visitors.
Third Saturdays will close out the year on September 16 with the documentary darling of the 2018 film festival circuit, 306 Hollywood. In the film, sibling directors Elan & Jonathan Bogarín present a highly personal and fantastical journey filled with stunning visuals and heartfelt discoveries, culminating in a landmark film experience not to be missed.
In an interview from April 2018, Elan Bogarín described 306 Hollywood in her own words:
"When siblings Elan and Jonathan Bogarín lose their grandma, they face a profound question: when a loved one dies, what do we do with everything they left behind? Turning documentary on its head, the Bogaríns embark on a magical-realist journey that transforms Grandma's cluttered New Jersey home into a visually exquisite ruin where tchotchkes become artifacts, and the siblings become archaeologists. Our film is about the stories we leave behind — the crazy, personal, funny, thought-provoking stories we tell each other." 
— Elan Bogarin
Filmmaker Magazine named Elan and Jonathan Bogarín among their 2017 "25 New Faces of Independent Film" and PBS added 306 Hollywood to its POV showcase in 2019. The Athens Cultural Center is honored to host Ms. Bogarín and introduce such imaginative, critically acclaimed talent to its 2023 Third Saturdays finale attendees.
For more information about ACC's Third Saturdays Free Film Series' September 16, 7:30 pm screening of 306 Hollywood with its producer/director, Elan Bogarín, at Athens Riverfront Park, please visit https://athensculturalcenter.org.
The Third Saturdays Free Film Series was made possible with funds from a regrant program of the New York State Council on the Arts with the support of the Office of the Governor and the New York State Legislature and administered in Greene County by CREATE Council on the Arts and FairGame Grant. Further support is provided by the Stewart House and monetary donations.