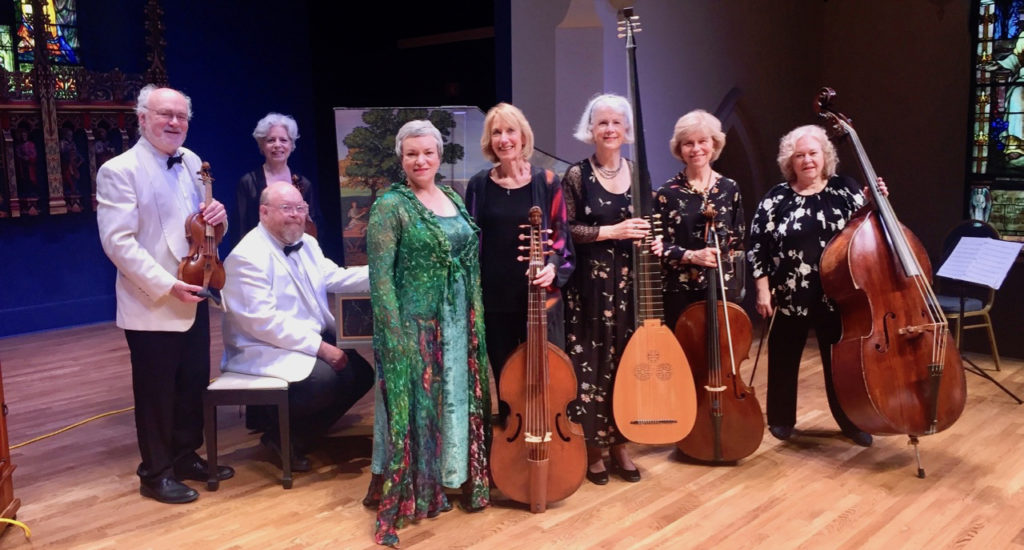 ASTON MAGNA MUSIC FESTIVAL
"A once-in-a-lifetime event—that is the characteristic nature of an Aston Magna concert." – The Millbrook Independent
HUDSON, NY – June 7, 2022: The Aston Magna Music Festival returns to Hudson Hall for five weeks of sublime early music from "the Hudson Valley's early music specialists" (Woodstock Times). Performed on period instruments, the concerts take place each Friday at 7pm from June 24 to July 22 and are preceded by a pre-concert talk by Aston Magna Artistic Director, Daniel Stepner.  The festival celebrates its 49th season with works by Scarlatti, Stravinsky, Schumann, Bach, Handel, and Francois Couperin's Tributes to Corelli and Lully. Tickets are $40/$50 at the door, $15 for under 30's with ID, free for children 18 or under, and free to students with valid ID. To purchase tickets, visit hudsonhall.org or phone (518) 822-1438. The opening concert on June 24 features a double bill of Scarlatti's Humanity and Lucifer and Stravinsky's The Soldier's Tale. "These morality tales mirror each other across two centuries, representing humanity's struggle with its demons," says Stepner. "Stravinsky's 1918 piece has resonance for today: war, revolution, pandemic. In fact, Spanish influenza halted performances of The Soldier's Tale." Hailed by critics for her "blithe and silvery" tone (Boston Globe) and "striking poise" (Opera News), soprano Kristen Watson is joined by tenor Frank Kelley in the Scarlatti piece. Kelley, who has appeared in concert with the St. Louis Symphony, the National Symphony, the Chicago Symphony, and the St. Paul Chamber Orchestra among many others, will also narrate and stage-direct The Soldier's Tale, performed by two actors, a dancer, and a rag-tag "village band," comprised of more than a dozen Aston Magna musicians performing on period instruments. The festival continues June 30 with a program titled The Chamber Music of Robert and Clara Schumann. Performing are David Hyun-su Kim, fortepiano; Daniel Stepner, violin; Marcus Thompson, viola; and Jacques Lee Wood, cello. On July 7, Aston Magna presents Chamber Music by J.S. Bach, including excerpts from The Musical Offering, with Andrea LeBlanc, baroque flute; Peter Sykes, harpsichord; Daniel Stepner, baroque violin, and Laura Jeppesen, viola da gamba. On July 14, the "All Handel" program offers Armida abbandonata and Gloria with Daniel Stepner and Julie Leven, baroque violins; Laura Jeppesen, viola da gamba, and Michael Sponseller, harpsichord; and soprano Dominique Labelle, who is known for turning in performances of "almost alarming ferocity" (San Francisco Chronicle) that have "the audience hanging on every note" (Boston Globe). The concluding concert on July 21, Double Apotheosis: Francois Couperin's Tributes to Corelli and Lully, is performed by Daniel Stepner and Edson Scheid, baroque violins; Laura Jeppesen, viola da gamba; Catherine Liddell, theorbo; and Michael Sponseller, harpsichord. In addition to the concerts at Hudson Hall, Aston Magna performs the festival program at Slosberg Music Center at Brandeis University on Thursdays, and at the Mahaiwe Performing Arts Center (June 25 only) and Saint James Place in Great Barrington on Saturdays. More information can be found at

astonmagna.org

.FESTIVAL PROGRAMAll concerts are preceded by a 6:15pm pre-concert talk by Aston Magna Artistic Director, Daniel Stepner.Friday, June 24 at 7pmThe Devil's in the TalesScarlatti: Humanità e Lucifero (1704) Stravinsky: The Soldier's Tale (1918) with Kristen Watson, soprano; Frank Kelly, tenor Two musical/theatrical works feature the struggle between personifications of good and evil. Alessandro Scarlatti's Humanità e Lucifero (1706) pits the Virgin Mary against Lucifer, and Igor Stravinsky's L'histoire du Soldat (1918) dramatizes Satan's Faustian bargaining for the soul of an innocent soldier. Both composers and their librettists were looking over their shoulders towards the medieval morality play, in which the existential contests between the forces of light and dark play out in stark, primary colors.Friday, July 1 at 7pmThe Chamber Music of Robert and Clara SchumannOne of the early Romantic era's most productive couples. Fantasy pieces, a trio and a piano quartet for fortepiano, violin, viola and cello.Friday, July 8 at 7pmChamber Music by J. S. BachSonatas and fugues, including excerpts from The Musical Offering, for baroque flute, violin, gamba and harpsichord.Friday, July 15 at 7pmAll HandelHandel motet (Gloria), cantata (Armida abbandonata) and instrumental music with Dominique Labelle, soprano, and the Aston Magna ensembleFriday, July 22 at 7pmDouble Apotheosis: Music of François Couperin, Arcangelo Corelli and Jean-Féry Rebel.François Couperin's scintillating musical diplomacy, melding French and Italian tastes in his opulent tributes to Corelli and Lully, kingpins of the baroque.
ABOUT HUDSON HALLHudson Hall (www.hudsonhall.org) is a cultural beacon in the Hudson Valley, offering a dynamic year-round schedule of music, theater, dance, literature, exhibitions, workshops for youth and adults, as well as family programs and large-scale community events such as Winter Walk. Located in a historic landmark that houses New York State's oldest surviving theater, Hudson Hall underwent a full restoration and reopened to the public in April 2017 for the first time in over 55 years. In 2019, through an extensive program encompassing live performance, art exhibitions, city-wide festivals, free community events and workshops, Hudson Hall served an audience of 50,000 and employed over 400 artists and skilled technicians, making it a valuable contributor to Columbia County's $8 million creative economy. Approximately 70% of Hudson Hall's programs are free of charge or subsidized to ensure equitable access to the arts.