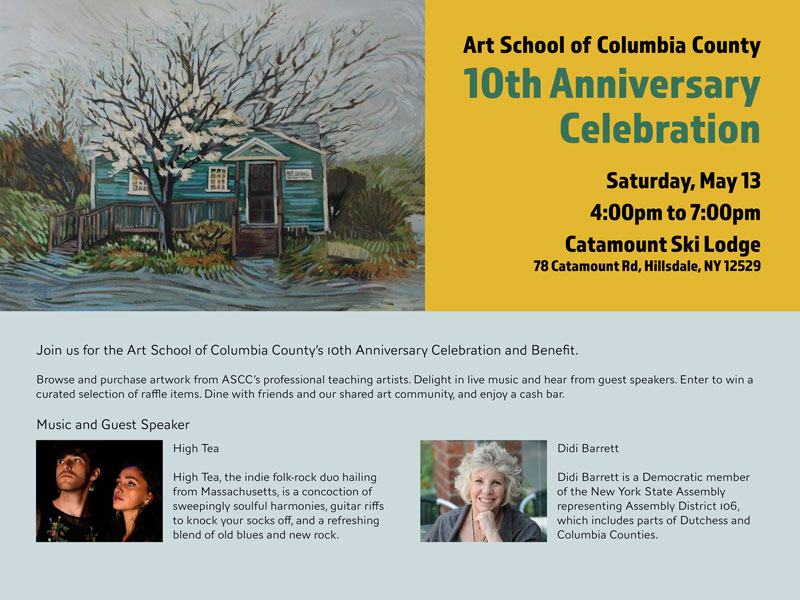 Art School of Columbia County's 10th Anniversary Celebration and Benefit on Saturday, May 13
Art School of Columbia County Celebrates 10th Anniversary with Benefit Event on Saturday, May 13
The Art School of Columbia County, a non-profit 501 (C) 3  year round, art organization, will celebrate their 10th Anniversary on Saturday, May 13 from  4:00 – 7:00 p.m. at The Catamount Ski Lodge, in Hillsdale, NY.
It is a benefit event organized to support and to bring further awareness into the communities about the work and dedicated educational mission of ASCC. The event aims to support the financial needs and growth of the organization that includes areas such as educational initiatives and art programming, art exhibits and opening receptions, artist talks, grounds and physical plant needs, art class scholarships for all ages, studio space developments and further needs of this 10 year community art organization  ASCC is housed in a historic building and is located on 2 acres of bucolic land in the Hawthorne Valley area of Ghent/Hillsdale, NY.
Art classes, taught by practicing professional artist who are also skilled art teachers, are offered to children, teens and adults in mornings, afternoons or evenings on a year round basis. The May 13 Anniversary event will highlight the ongoing accomplishments, recent developments and plans for the organization as well as display artwork by ASCC teachers that will also be for sale; include speakers such as Didi Barrett, Democratic member of the New York State Assembly representing Assembly District 106, which includes parts of Dutchess and Columbia Counties; you'll enjoy live music by musicians High Tea; have opportunities to engage with creative raffle items; and enjoy delicious foods, desserts and with a cash bar. ASCC art teachers, board members and staff will be there to host the event and will also offer opportunities to learn more about the organization.
Please visit https://artschoolofcolumbiacounty.org/  at the ASCC home page to purchase tickets to the event and to learn more about the Art School of Columbia County. You can help support the 10th Anniversary of this non-profit, art organization by making a donation or purchasing a ticket.