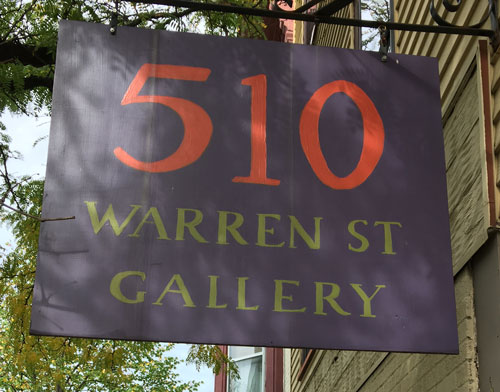 Anna Oliver: "Meadow Suite"
Anna Oliver: "Meadow Suite"
February 5 – February 28, 2021
510 Warren Street Gallery
510 Warren St., Hudson, NY 12534
(518) 822-0510
510warrenstgallery@gmail.com
510warrenstreetgallery.com
Hours: Fridays, Saturdays, 12-6, Sundays, 12-5
Hudson, NY – 510 Warren Street Gallery is proud to present the recent work of Anna Oliver in a show titled "Meadow Suite." Oliver's paintings will be exhibited beginning Friday, February 5th and continue until Sunday, February 28th. The gallery is happy to welcome viewers with Covid protocols in place.
Anna Oliver moved to the southern Berkshires with her husband Stephan three years ago and was immediately entranced by the ever-changing array of wildflowers that line the roads and fill fallow fields in the warmer months. It reminded her of the mountain meadows that had been a favorite feature of her childhood in northern New Mexico. A wild slope in her own backyard filled with black-eyed susans, clover, wild dill and innumerable other flowers and grasses.
When Oliver first began to paint a decade ago, she was initially drawn to the bold color and intricate patterns of light, shadow and color in her Connecticut flower garden, and then, more and more often to subjects that told some kind of a story, often expressed by a human figure suspended mid-action: jumping into a pool, swinging upside-down on a ride at a county fair. In 2019, however, after encountering the exquisite gardenscapes of painter William Nichols, she returned to the subject of flowers and, specifically, the meadows of her new neighborhood. She and Stephan were in the middle of a disruptive renovation and dealing with the ill health of a family member, and, as a result, she had only short bursts of time in which to work, but she found that she could spend an hour on a complex interlacing of leaves and flowers and sticks and relax into the creation of those forms.. Oliver describes herself as a restless person and an impatient artist, but she could fall into a meditative state – through the frame of the painting, as it were – by working in a small area, detail by detail, building color and shape in dashes and layers over time. Fortuitously, this approach proved to be good preparation for the even greater physical and emotional disruption of the Covid pandemic: intense bursts of color, a little at a time, until a joyous explosion of intersecting shapes emerges, translating the feast of nature out the back door into a visual feast on canvas.