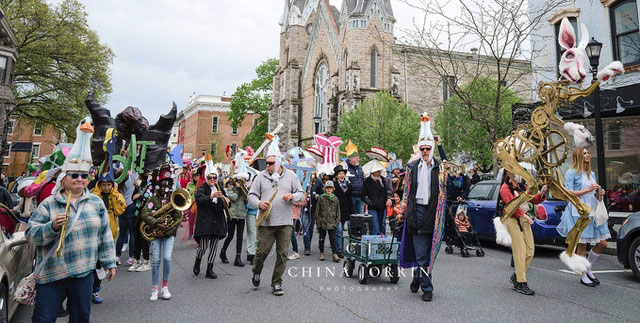 4th Annual Hudson Mad Hatters' Parade!
Hudson's homegrown wearable-art parade returns! Anyone can join! Drawing inspiration from Hudson's evolving history as a city of makers, the Mad Hatters' Parade brings together diverse communities in a shared spectacle of the nonsensical. The Parade invites YOU to come out and show off your mad hats and mythic headpieces, your burlesque ball-gowns and bricolage gargoyles, your DIY instruments and divergent inventions!
The Parade steps off from the Hudson Area Library (51 N 5th Street) at 2 PM and wends its way through the streets to a final Grand Sashay up Promenade Hill Park and final Huzzah around St. Winifred, whose storied capacity for regrowing lost heads is an inspiration to us all…
The Mad Hatters' Parade is made possible by the generous support from The Spark of Hudson, Bank of Greene County, Stewart's Shops, FINCH hudson, Carrie Haddad Gallery and Five & Diamond.
Photo © China Jorrin Photography