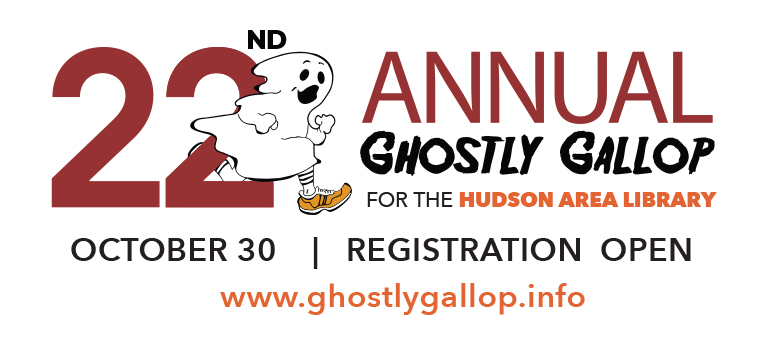 22nd Annual Ghostly Gallop 5K and One-Mile Kids Fun Run
The Hudson Area Library's Ghostly Gallop 5K run/walk will be held Sunday, October 30, at the Hudson Jr./Sr. High School and will include a Halloween costume contest for kids and adults and a photo booth.
The Ghostly Gallop includes two events:
· A one-mile Fun Run that is free for children aged 12 and under. Every participant receives a finishing medal, a race bib featuring their name, and a free book thanks to the Hudson Children's Book Festival.
· A 5K run/walk for all ages, with free entry for youth aged 17 and under.
"The Ghostly Gallop was started as a community fun run by library trustee William Cranna and other library supporters," Library Director Emily Chameides said. "We invite the community to join us in that spirit this year — to have fun and support the library's programs for children and adults."
This year's Ghostly Gallop will include a costume contest for children and adults with prizes in several categories. There also will be a photo booth where everyone can get their photos taken in costume for free.
Chameides said that the Ghostly Gallop is an important fundraiser for the library, which needs to raise 55 percent of its budget every year through community events.
The 5K course is certified and takes runners and walkers through Hudson, past the library, and back to the Jr./Sr. High School. The top male and female finishers receive Cranna Cups, the traditional trophy for the race's fastest finishers. The top three male and female finishers in seven age categories will receive medals. Every entrant will receive a Ghostly Gallop water bottle. As in past years, there will be prizes for the biggest and fastest teams.
The Ghostly Gallop returns to the streets of Hudson this year after two years of being held virtually because of COVID.
"The Ghostly Gallop always has been first and foremost about having fun and so we are glad we can get together again to run and walk and support the library," said race director and library trustee Gary Sheffer.
The one-mile Fun Run begins at 10:00 a.m. and the 5K at 10:30 a.m. The costume contest will be held at 9:30 a.m.
To register for the Fun Run or 5K, visit www.ghostlygallop.info.
To help support the library, registrants can also raise funds on their own by requesting donations from friends and family. The Ghostly Gallop website makes this easy. Prizes will be awarded to the individual and team who raise the most money.
The Ghostly Gallop also is looking for sponsors to help underwrite the cost of the event. Details are available at https://ghostlygallop.info/sponsor/.