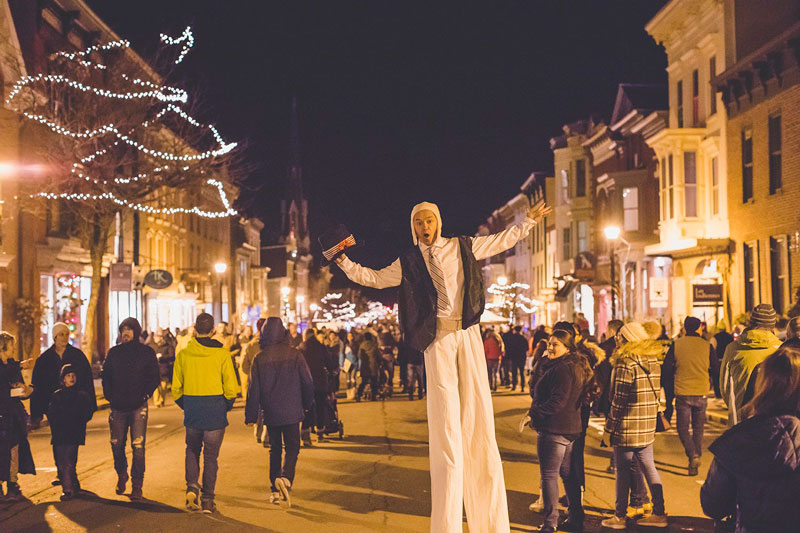 2022 Winter Walk
The 26th Anniversary
Saturday, December 3 at 5pm
Hudson's favorite winter street festival returns for its 26th year bigger and brighter than ever. Take an evening stroll down the mile-long length of historic Warren Street and enjoy performances, art installations, family-friendly attractions, local food and drinks, holiday shopping, fireworks and festive cheer.
Hudson Hall is pleased to announce Hudson River Bank & Trust Foundation as the Grand Sponsor of Winter Walk. HRBT Foundation's generous 2-year sponsorship ensures the future of Hudson Hall's Winter Walk Artist Grant Program. Begun in 2021, the program was created to support the diversity, ingenuity, and perseverance of Hudson's unique creative community – among them artists, musicians, actors, circus performers, and more – with funds to help individuals, teams, and community groups of all ages and abilities create work to be featured at Winter Walk, which this year takes place on Saturday, December 3 from 5-8pm along the mile-long length of historic Warren Street.
"Hudson River Bank & Trust Foundation is proud to support Winter Walk, a beloved Hudson tradition that families from across Columbia County eagerly anticipate each year," said HRBT Foundation President, Carl Florio. "It's a magical evening filled with family-friendly attractions, beautifully decorated shops, and spectacular fireworks that draws visitors to support local businesses and fosters enormous community pride."
Additional major support for Winter Walk to support featured artists has been received from the Berkshire Taconic Community Foundation, the Bank of Greene County Charitable Foundation, the City of Hudson Common Council Tourism Committee, Columbia Economic Development Corporation, Columbia Memorial Health Foundation, FINCH hudson, and The Spark of Hudson.
Hudson Hall first produced Winter Walk in 1997 to help bring foot traffic back to Warren Street after a long period of decline. Today, Winter Walk encompasses the entire stretch of Hudson's main street, rings Seventh Street Park, spills over to the side streets, and extends down to Front Street every first Saturday in December. Voted Best Winter Community Event numerous times, Winter Walk kicks off the holiday season by highlighting the unique shops, galleries, restaurants, and artistic community behind Hudson's creative economy. For more information about Winter Walk or to become a sponsor, visit hudsonhall.org or phone (518) 822-1438.
In addition to the many street performers and attractions that have become Winter Walk traditions such as Santa at City Hall, horse and carriage rides, street attractions and numerous performers animating the shops, Hudson Hall is pleased to announce the 2022 Winter Walk Artist Grant Awardees (in alphabetical order):
Fashion designer and artist Loki Anthony is creating a one-of-a-kind costume for a local ballet dancer to wear while performing in the window of Lightforms Art Center (743 Columbia St).
Drag queen Meredith Brick leads a trio of singers who will delight revelers along Warren Street with their traditional and contemporary caroling.
Beautiful Racket, a group who offers music programming that encourages self-expression and empowerment, presents a showcase of young vocalists and spoken word artists from the Hudson Youth Department at the First Presbyterian Church.
Lou Craft and Lindsay Herr (aka Lady Lou and Lady Lindsay) offer Winter Walkers the chance to see into their future (or hear a good fable) with Fortunes for the Future: Forthright and Fraudulent. See them in front of the Pocket Park across from 327 Warren Street.
Inspired by the region's railway tradition, artist Jack Dylan recreates a bucolic scene of animated vintage train cars with a backdrop of the cat-like Catskill Mountains in the window of 441 Warren Street.
Diata Diata Folkloric Theatre's percussion ensemble led by the fantastically talented Badila family perform at the corner of 5th and Warren Streets.
DJ Ronnie Rave, who creates rave-like experiences with lights, sounds and great dance music, will turn the pocket park next to FINCH hudson into a dance party for all ages.
Puppet artists Rachel Drozdowicz and Wren Bytheway activate the gigantic Winter Bird created by Camphill Hudson for Winter Walk.
Flow Chart Foundation celebrates Audre Lorde's poetry and writing through a multi-part installation in the Foundation's "Incident Report" windows at 348 Warren Street and on the façade of 328 Warren Street.
Harmony Project Hudson to greet Santa at City Hall with a festive medley of holiday songs.
The Hudson Area Library to curate a window highlighting the wonderful resources of its History Room at 323 Warren Street.
The Hudson-Athens Lighthouse Preservation Society to curate a window display to highlight why this beacon of light has been deemed one of Seven to Save by the New York State Preservation Society at 620 Warren Street.
Hudson Festival Orchestra, led by local veteran conductor and artistic director Gwen Gould, presents a Holiday Sing featuring Christmas carols, Hanukkah songs, and Kwanzaa songs, culminating in a Hallelujah Chorus in front of 441 Warren Street.
Dance artist Rachel Kappel to curate Dancers & Prancers, featuring dozens of dancers in shop windows and along the street. Participating dancers and groups include Davon & Friends, Sondra Loring, Elena Mosley and Operation Unite NY, Roz's Dance Works, Sternfeld Dance Studio, Hudson Valley Performing Arts Center, Zumba with Paula and The Spark of Hudson.
LikeMinded Objects hosts a group t-shirt waste weaving activation in their storefront at 344 Warren Street. The project was developed alongside collaborators Franny Capone and Spark of Hudson in 2021 to extend the life of discarded materials alongside the mission of creating local jobs. Visitors are invited to bring their own discarded t-shirts and to engage in weaving on the sidewalk in front of the store.
Jazz fusion quartet Pocket Merchant performs an hour of all-new original compositions composed by Alden Slack and Adriana Tampasis for Winter Walk 2022.
OutHudson – a LGTBQIA+ nonprofit organization representing the Mid-Hudson Valley – presents legendary Hudson Valley queens Isis Vermouth and Merrie Cherrie in opulent drag as "Mrs. & Mrs. Claus".
To highlight the adaptive reuse of the Crescent Building (750 Warren) into a vibrant community resource and cultural space, Winter Walkers can view a sculpture installation through the windows curated by Kris Perry and Dan McCabe.
Theater company Tivoli Players brings a cast of colorful characters from their work-in-progress show, Curiouser and Curiouser, a dreamy adaptation of Lewis Carrol's Alice in Wonderland and Through the Looking Glass, to entertain the crowds at Winter Walk.
Kathleen Vance and Daniel Aycock to create Winter Wonderland, a winter themed exhibition of miniature sculptures, paintings, drawings, and photographs, and a large-scale sculptural installation by Thomas Broadbent featuring projected local wildlife in the window of 727 Warren Street.
Designer, drawer, installation artist, musician, and master screen printer Jef "Wolfy" Scharf returns with his unique take on a holiday shop – where all the gifts will be free and created using repurposed materials using images from the Hudson Hall archive.
Trixie Starr, aka Ms. Trixolina Clauzone, Santa's bitter ex-wife, is back! Sit on Ms. Clauzone's lap and have your picture taken while serenaded with carols by performer Ophelia Nightly.
Trixie the Clown to create balloon creations that are sure to delight any young Winter Walker.
A SPECIAL THANK YOU TO OUR WINTER WALK SPONSORS
City of Hudson Common Council Tourism Committee
Berkshire Taconic Community Foundation
Bank of Greene County Charitable Foundation
Columbia Economic Development Corporation