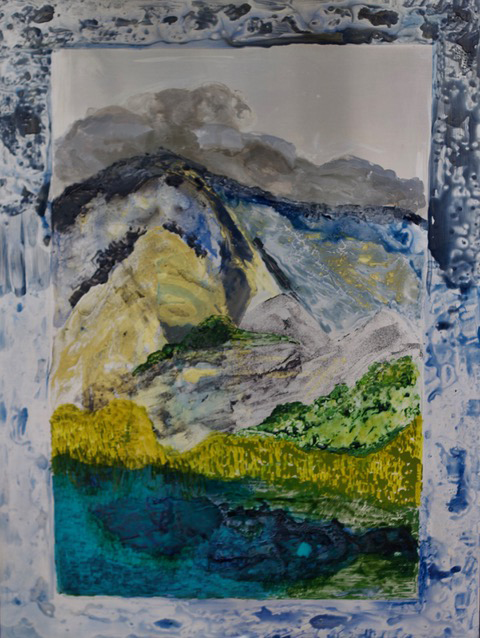 2020: A Year of Inner Journeys: New Paintings by Doris Simon
Hours: Fri., Sat., 12-6, Sun., 12-5
Hudson, NY – 510 Warren Street Gallery is happy to present a show of paintings by Doris Simon titled "2020: A Year of Inner Journeys."  The show begins on Friday, December 4th and continues until December 27th.  The gallery will be open extended hours on Saturday, December 5th until 8 pm in celebration of Hudson's season of cheer.
It would be hard to find a better title for the shared experience of 2020.  Simon's journey is revealed through light, through color and gesture. She is a dedicated gardener and traveler whose love of flowers, their color and form. brought her to painting 15 years ago.  Nature in general, is still the inspiration for many of her abstract compositions and landscapes.  She merges her inner journey with an expression of the color, form, space and texture on canvas.
So, in this most unusual year, the lockdown created her an opportunity to travel to the imaginary landscapes that the viewer sees in this body of work.  These paintings may suggest images from other worlds, dreams or naturally occurring more earthly equivalents.  Through the materiality of pigment, gesture and form, the viewer is drawn into the joys of pure visual delight and the artist has transported us to places we can only dream about in these uncertain times.
Also, at 510 Warren Street Gallery, we are proudly exhibiting the works of Charles Benton, Linda Hertz, Trevor Hunter, Stephan Klein, Kate Knapp, John Lipkowitz, Nina Lipkowitz, Hannah Mandel, Paul Nueckel, Anna Oliver, Marilyn Orner, Peggy Reeves, Ken Sahr, Josie Simon, and H. David Stein.