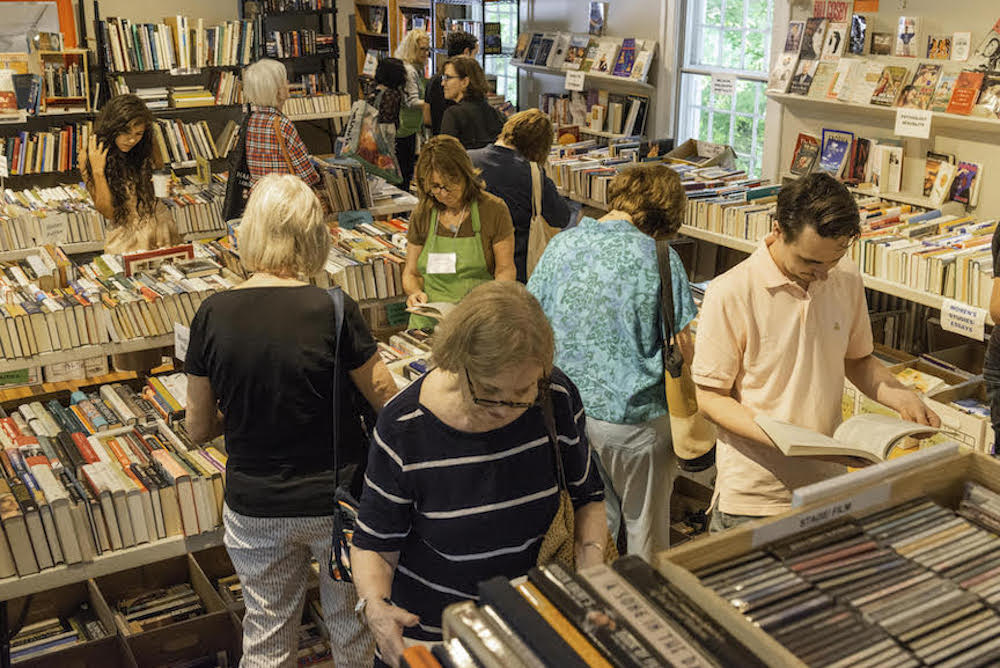 Spencertown Academy Festival of Books
Spencertown Academy Arts Center's 18th annual Festival of Books takes place over Labor Day weekend, September 1 through September 4. The Festival features a giant used book sale, two days of discussions with and readings by esteemed authors, and a children's program. Featured authors include Tamar Adler, Wesley Brown, Jonathan Darman, Eleanor Henderson, Julie Kabat, Daphne Kalotay, and Jane Roper. Admission is free to all of the events, save for the Members Preview early book-buying opportunity detailed below.
The Festival, which began in 2006 as a book sale to raise funds for the Academy's community arts programs, has grown into one of the biggest and most eagerly anticipated cultural events of the season. Carl Atkins, Wayne Greene, and Jill Kalotay are co-chairs of the Festival this year. "We are looking forward to author talks by both nationally acclaimed and local stars—you'll hear from memoirists, historians, writers of long and short fiction, and a cookbook author with an eye on flavor and sustainability," says Atkins. "Our volunteers can't wait to get started again sorting the thousands of used books we'll be receiving for sale in our beautifully renovated building."
Authors' books will be available for purchase and signing. Healthy, delicious snacks and beverages will also be for sale on Saturday and Sunday, including the Academy's signature "To-Die-For, No-Alarm Vegetarian Chili."
FESTIVAL MAIN STAGE
Saturday, September 2
The Festival kicks off at 12:00pm with bestselling author Eleanor Henderson discussing her memoir, Everything I Have Is Yours: A Marriage, which was named a New York Times Notable Book and a Best Book of the Year by Vogue. One of her two novels, Ten Thousands Saints, was named one of the 10 Best Books of the Year by the New York Times and was the basis for the movie adaptation 10,000 Saints starring Ethan Hawke. Chair of the Writing Department at Ithaca College, she lives in Ithaca, New York. Joining her in conversation will be author Brendan Mathews, associate professor of creative writing and literature at Bard College at Simon's Rock.
At 1:30pm, James Beard and IACP Award-winning author Tamar Adler will talk about her new book, The Everlasting Meal Cookbook: Leftovers A-Z. This encyclopedia of leftovers is organized by ingredient (apple skins, Dorito dust, cooked farro, crumbled gorgonzola, etc.) with 1,500+ inspiring, money-saving, and environmentally responsible recipes for what to do with them. She is a contributing editor at Vogue. A former professional cook at New York's Prune restaurant and Berkeley's Chez Panisse, she now lives in Hudson, New York. Joining Adler in conversation will be Shaina Loew-Banayan, author of the memoir Elegy for an Appetite, and chef and owner of Hudson's Cafe Mutton.
At 3:00pm, playwright and novelist Wesley Brown will discuss his latest work, Blue in Green: A Novella, a timely meditation on the psychological impact of police brutality through the lens of a day in the life of legendary trumpeter Miles Davis. The story opens in August 1959, when Davis was assaulted by a New York City policeman outside Birdland jazz club. The reinvented narrative lets the reader listen in on Davis's tempestuous relationship with his wife Frances Taylor, an acclaimed dancer, and the voices of Lena Horne, Charlie Parker, Billie Holiday, Eartha Kitt, and others. Brown lives in Lawrenceville, Georgia. Joining him in conversation will be Gerald Seligman, a Grammy-nominated record producer who spent his professional life in the music business.
FESTIVAL MAIN STAGE
Sunday, September 3
At 10:30am, winners of the Academy's 2023 Young Writers' Contest will read from their winning fiction and non-fiction entries. The contest encourages creative writing among students in grades 9-12 in Columbia County, NY, and Berkshire County, MA.
At 12:00pm, journalist and historian Jonathan Darman will discuss his latest book, Becoming FDR: The Personal Crisis that Made a President. At age 39, Franklin Roosevelt saw his life upended by a sudden, devastating infection from the polio virus. The catastrophic illness looked like the end of his political career. Instead, it made him into the man who could lead his country through its own darkest hours. As a former national political correspondent for Newsweek, Darman covered the presidential campaigns of Hillary Clinton, John Kerry, and Mitt Romney and wrote extensively about other major figures in national politics. His previous book was Landslide: Lyndon Johnson and Ronald Reagan at the Dawn of a New America. A frequent  commentator on politics and presidential history on television and radio, he lives in Brooklyn and the Hudson Valley. Joining Darman in conversation will be James Lawler, founder of Climate Now, a communication and policy hub, and of Osmosis Films, a creative studio.
At 1:30pm, acclaimed authors Daphne Kalotay and Jane Roper will discuss their latest books. Kalotay's The Archivists won the Grace Paley Prize for Short Fiction. This moving collection of stories considers issues of identity, history, memory, and a shared search for meaning. She is also the author of Calamity and Other Stories—shortlisted for the Story Prize—and the award-winning novels Russian Winter, Sight Reading, and Blue Hours. Her work has been published in more than twenty languages. She lives in Somerville, MA.
Roper's The Society of Shame is a satiric novel that captures today's moment in time: a philandering politician, a wife shunned then celebrated, a pubescent daughter caught in the maelstrom, an internet-fueled image campaign, plus a pinch of misogyny. She is also the author of the novel Eden Lake and a memoir, Double Time: How I Survived–and Mostly Thrived–Through the First Three Years of Mothering Twins. A graduate of the Iowa Writers' Workshop, she currently lives just north of Boston. Author Jamie Cat Callan will facilitate the conversation between Kalotay and Roper. In addition to her many books, Callan is the creator of The Writer's Toolbox: Creative Games and Exercises for the "Write" Side of the Brain.
Sunday's final program at 3:00pm will feature Julie Kabat discussing her nonfiction debut, Love Letter from Pig: My Brother's Story of Freedom Summer, an inspiring, deeply personal story about a tumultuous period in civil rights history. In the summer of 1964, hundreds of college students joined the Freedom Summer voter registration project in Mississippi, the author's brother Luke among them. Drawing on a wealth of primary resources, especially her brother's letters and diaries, Kabat delves deep into her family history to understand Luke's motivations for joining the movement and documents his experiences as an activist. Joining Kabat in conversation will be Paul Murray, author of Seeing Jesus in the Eyes of the Oppressed and emeritus professor of Siena College.
CHILDREN'S PROGRAM 
The Festival of Books children's program on Saturday, September 2 from 10:00am to 11:30am will feature a meet and greet with Lyle the Crocodile. In Bernard Waber's classic books, the Pimm family found the lovable reptile in their tub when they moved into a Victorian house in New York City. Kids will be able to have their pictures taken with the costumed character, get crafty with art activities, and listen to the Lyle's books read by storyteller Ann Gainer.
GIANT USED BOOK SALE 
At the heart of the Festival is a giant book sale, one of the biggest in the region, featuring more than 15,000 gently used books, including fiction and non-fiction, hard and soft covers—all offered at affordable prices. There's a special Kids' Corner for young readers and a media section full of DVDs, CDs, audio books, and vinyl LPs. A first-floor gallery features a handpicked selection of specialty books, limited editions, and out-of-print books.
Friends of the Academy donate books and a dedicated band of volunteers, led by Wayne Greene, spend countless hours throughout the summer carefully sorting and organizing the books in preparation for the sale. "This year, I'm especially excited about the Special Book Room, which will feature an eye-catching array of curated books, including art, photography, architecture, design, cookbooks, graphic novels, collectible first editions, signed books, esoterica, and much more," says Greene. "We are also proud of our enhanced children's book selections that represent diverse voices, including an expanded range of cultural tales and biographies," adds Academy Board Member Charles Baum.
The book sale is open to the public on Saturday, September 2 from 10:00am to 5:00pm; Sunday, September 3 from 10:00am to 4:00pm; and on Monday, September 4 (bargain day) from 10:00am to 2:00pm. Admission is free. Teachers with ID receive a 20% discount on their purchases (except in the Special Books Room and guest author books).
In addition, Spencertown Academy members will have first crack at the books during the Members Preview on Friday, September 1 from 3:00pm to 8:00pm. Free for members, $10 for member's guests, and memberships will be available at the door or online.
Founded in 1972, Spencertown Academy Arts Center is a cultural center and community resource serving Columbia County, the Berkshires, and the Capital region. Housed in a landmark 1847 Greek Revival schoolhouse, the Academy is located at 790 State Route 203 in Spencertown, New York. For more information, please see www.spencertownacademy.org.