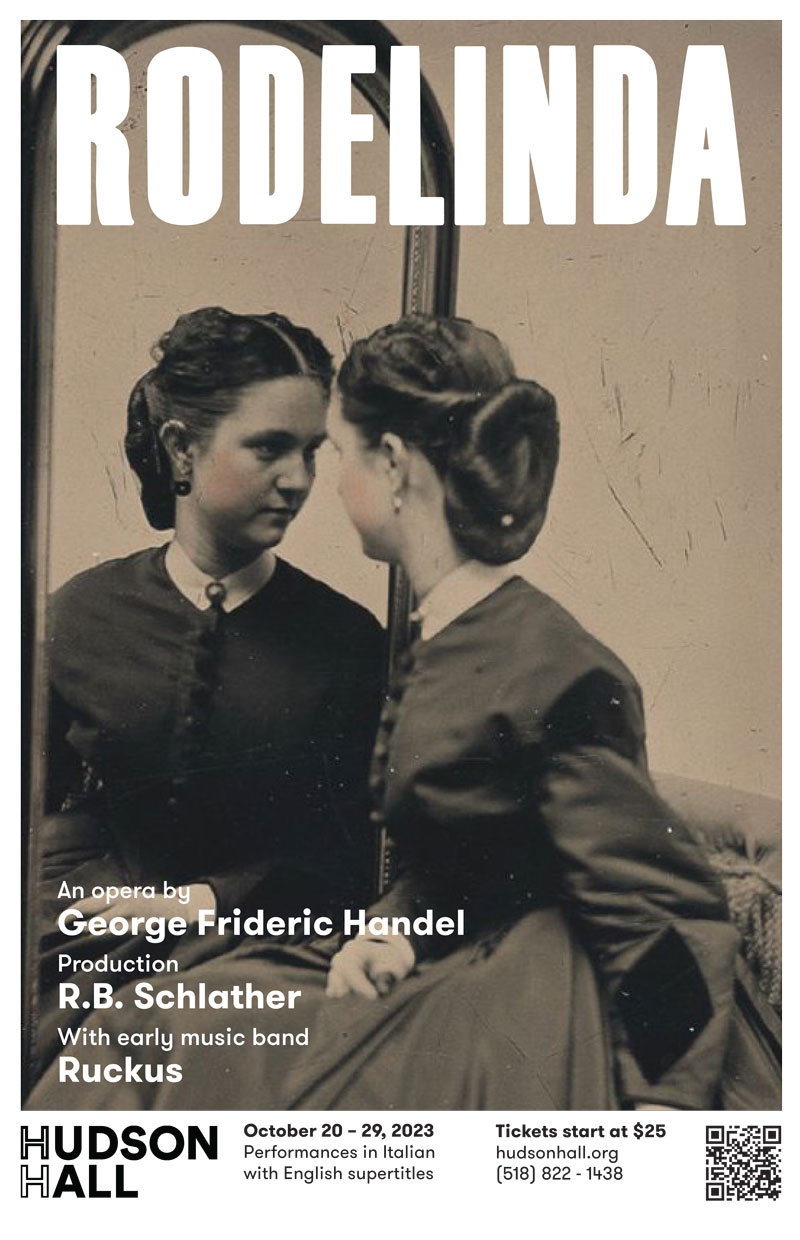 Rodelinda
RODELINDA
October 20*, 24, 26, 28 at 7pm
October 22, 29 at 3pm
Performances in Italian with English supertitles
Running Time: Approx. 2 hours and 15 minutes
Opera by G.F. Handel, premiered at the King's Theater in London, 1725
Direction and Production R.B. Schlather
With early music band Ruckus
Building on the extraordinary success of his production of Virgil Thompson and Gertrude Stein's The Mother of Us All at Hudson Hall in 2017 (named one of the Best Classical Music Performances of the year by The New York Times), internationally acclaimed opera director R.B. Schlather returns to Hudson Hall with a new and dynamic production of Handel's Rodelinda – a timeless tale about love, power, loyalty, tyranny, grief, and ultimately, redemption. Learn more here.
*The opening night performance will be followed by a post performance reception with the artists. To attend the reception, please purchase a "Section 1+ Opening Night Reception" ticket ($300, contribution portion – $160)
CAST:
Keely Futterer, Rodelinda
Sun-Ly Pierce, Bertarido
Karim Sulayman, Grimoaldo
Teresa Buchholz, Eduige
Douglas Williams, Garibaldo
Brennan Hall, Unulfo
SYNOPSIS:
A woman's husband is missing, maybe dead. Her life as she knew it has disappeared. Villains invade her home, seeking to profit from her loss. To their surprise, she heroically overcomes her grief, defends her child and her home. After her husband's dramatic reappearance, the evildoers are expelled, and marital order is restored. They begin again.
TICKETS:
Section 1: Reserved Seating (starting at $85)
Section 2: General Admission, Mid-Center Section/Side Aisle, Front Mezzanine (starting at $50)
Section 3: General Admission, Rear and Side Seating, far sides may be partially obstructed (starting at $25)
Hudson Hall is grateful for the generous support from the following for making this production possible:
The Schlather family, in memory of Robert B. Schlather.
The Reinhart Foundation, Fenimore Asset Management, Cynthia R. Richards, Wheelock Whitney III and Sandro Cagnin, and the Joan Shafran & Rob Haimes Foundation.
Kaatsbaan Cultural Park for partnering with Hudson Hall to provide an artist residency.
Consigli Construction for set construction.