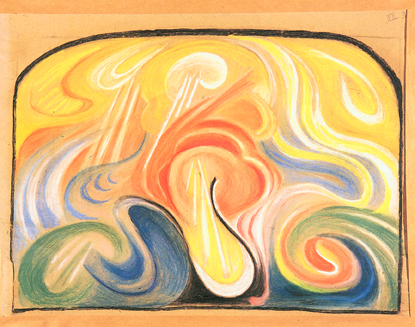 Of Light and Song, Of Earth and Fire
Part 1: Music for the Eye and Ear
This is an original performance created by artist Nathaniel Williams and composer Don Jamison involving choral music sung by a local chorus, the art of  eurythmy ( led by Virginia Hermann), and live use of an array of newly invented, analog colored-light-projection instruments. It is inspired by imaginations of interweaving music, colored light, colored shadows, movement, and the spoken word, based on a 1918 suggestion by Rudolf Steiner in Switzerland that a new kind of "live," less materialistic motion picture art could be developed where colors and forms are "creatively shaped, not by an automated apparatus, but as an artform of creative light ("light-play-art")" shaped by live human beings." Prints of the 15 chalk-on-paper sketches from 1919-1937 by Jan Stuten (1890-1948) made for the original light-play-art composition, "The Metamorphosis of Fear" will also be on display continuously on weekends from Nov. 19 through Dec. 11.
Performances:  Thursday, Dec. 1, 7 pm; Friday, Dec.2, 5:30 pm, and Saturday, Dec. 3, 5:30 pm.
Conversations of artists involved with this new "light-play-art" (Nathaniel Williams, Laura Summer, Michael Howard, and Gary Lamb), Saturday, Nov. 26, 2-4 pm
Part 2: The Art of Wood-Fired Ceramics. At the same time, displayed in another part of the gallery space, is  a presentation by Mark Rowntree and Stefan Ambrose as a new batch of work and experience that has passed through the flames of the wood kiln at Free Columbia in Philmont.