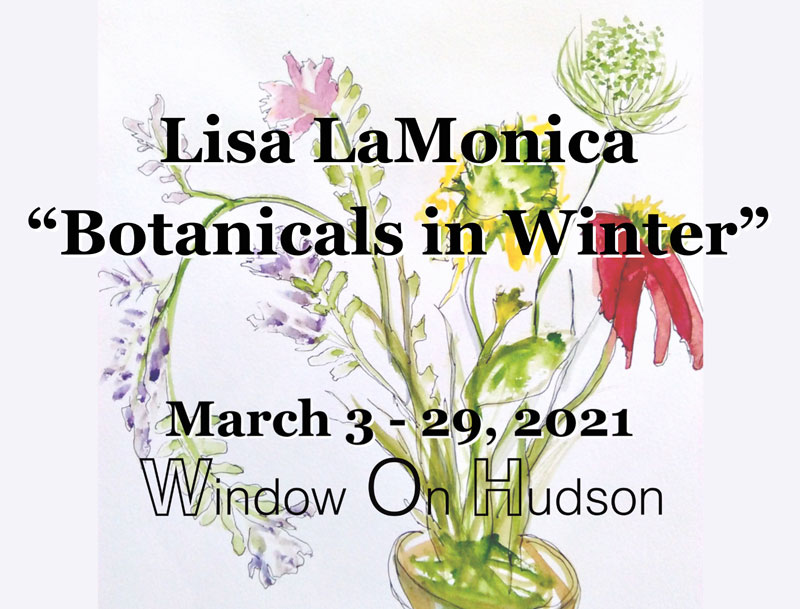 Lisa LaMonica's "Botanicals in Winter" at Window on Hudson Artist Reception
Window On Hudson is pleased to present Lisa LaMonica and her hint of things to come, "Botanicals in Winter"  Please join us as we celebrate Lisa …
Artist's Reception
Lisa LaMonica
Saturday, March 6th
3-5pm
Window On Hudson
43 South Third Street 
Hudson, NY 12534
Lisa LaMonica's watercolors are a study of plants she discovered growing in an abandoned garden in 2015.  She spent the spring and summer months cataloguing much of the flora, wanting to have a record of what someone else had created and then left behind.  Dozens of these delicate works will be on exhibit, giving us a reminder of the colorful life that is right around the corner.
Botanicals in Winter is on view until March 29, 2021.  If you are unable to attend the reception but would like to see the indoor works we are happy to make an appointment for private viewing.  A catalogue of LaMonica's works for sale will be provided upon request.
You can follow Lisa on instagram at @lisa.lamonica.14 and see more of her work at https://lisalamonica.com
We take Covid-19 and your health very seriously.  Our front door will remain open at all times.  We encourage visitors to bundle up and appreciate the art and each other's company outside in small, distanced clusters.