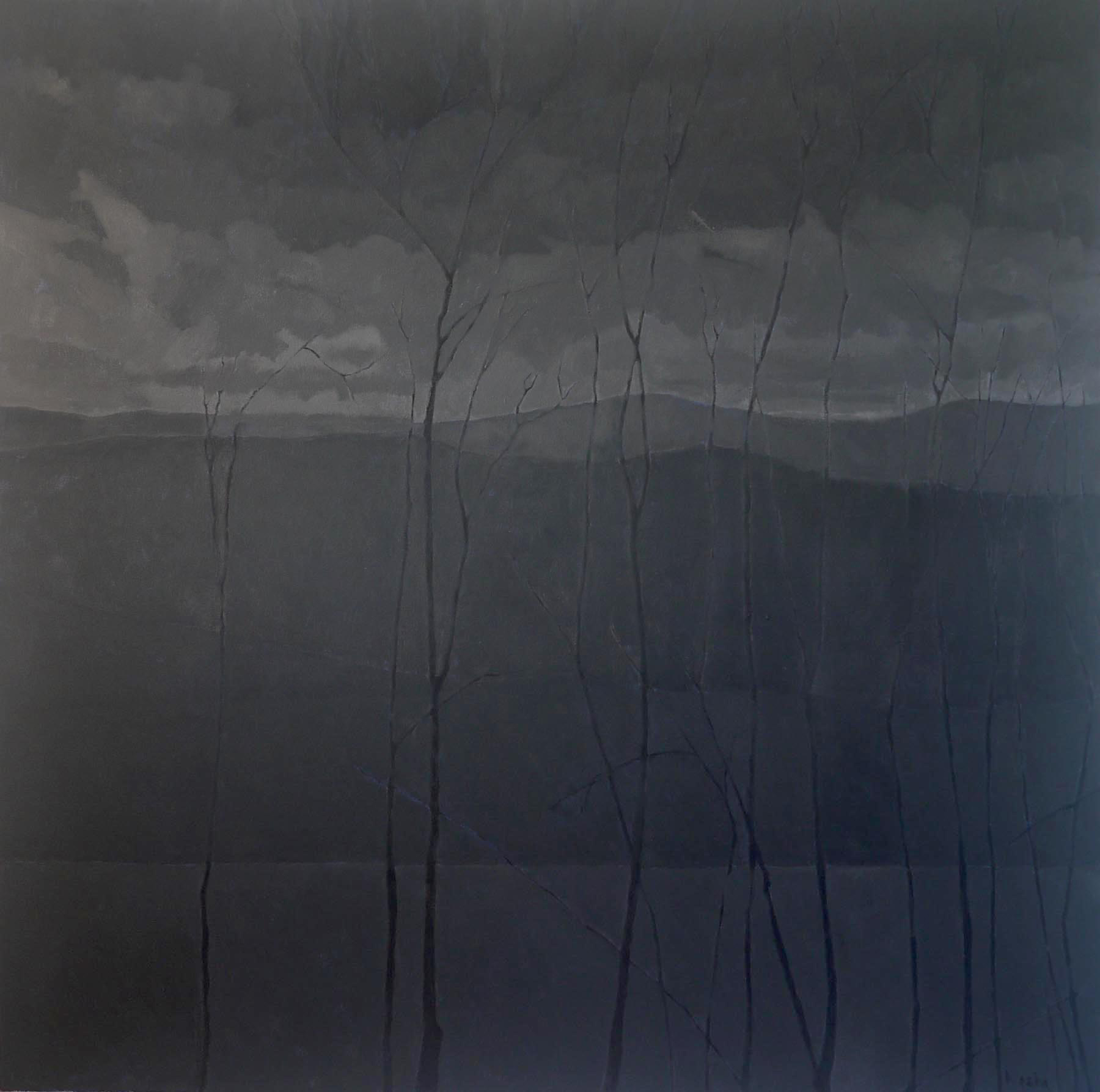 Ken Sahr: "Hudson Landscapes"
Hudson, NY – 510 Warren Street Gallery is happy to present the current work of Ken Sahr in a show titled "Hudson Landscapes" beginning Friday, March 5 and continuing until Sunday, March 28, 2021. The gallery welcomes viewers adhering to safe Covid prevention practices.
The current works of Ken Sahr are derived from his interest in the landscape in and around the city of Hudson, NY where he has lived for the last 4 years. The patterns formed by bare trees in winter along the Hudson River just down the road from his home are his subjects for this show at 510 Warren Street Gallery in downtown, a mere walk in the opposite direction. The entangled branches of trees form an intricate dance and appear quite abstract. At dusk, in particular, there is a vagueness and looseness of image that adds to their visual sense of mystery. The paintings are oil on canvas or panel and use a limited palette of either ivory black, raw umber and white or ultramarine blue, raw umber and white. This results in monochromatic paintings that have a very quiet and subdued feeling. Through careful observation on site and remembered images, Sahr completes these works in his studio where decisions of scale and materials are finalized. The subtlety and nuance of color and form is best appreciated in person and close up at the gallery. We hope to see you.
Also on view in March are works by Linda Hertz, Trevor Hunter, Caryn King, Stephan Marc Klein, Kate Knapp, John Lipkowitz, Nina Lipkowitz, Hannah Mandel, Paul Nueckel, Anna Oliver, Marilyn Orner, Peggy Reeves, Doris Simon and H. David Stein.
Ken Sahr: "Hudson Landscapes"
March 5 – March 28, 2021
510 Warren Street Gallery
510 Warren St., Hudson, NY
(518) 822-0510
www.510warrenstreetgallery.com
Hrs.: Fri., Sat., 12-6, Sun., 12-5