ENVIRONMENTALISTS LEAD LANDSCAPE WALKS AT OLANA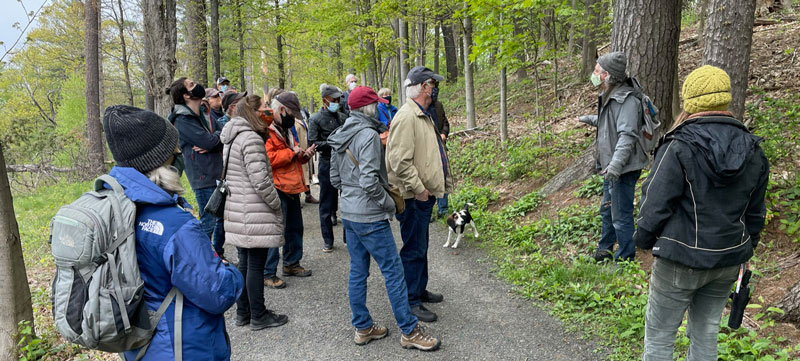 HUDSON, NY –
Environmentalists on Olana, a new series of walks organized by The Olana Partnership and led by regional environmentalists and ecological stewards, at Olana State Historic Site and continue throughout the 2021 season. Visiting environmentalists will provide a deeper understanding of Olana and connect their expertise with Olana's artist-designed landscape. These programs are designed in conjunction with Cross Pollination: Heade, Cole, Church, and Our Contemporary Moment, a joint exhibition created by the Thomas Cole National Historical Site, The Olana Partnership at Olana State Historic Site, and Crystal Bridges Museum of American Art, Bentonville, Arkansas.
Just as Cross Pollination explores the intersection of how art and ecology through the work of Martin Johnson Heade, Thomas Cole, Frederic Church, and a range of diverse contemporary artists, the Environmentalists on Olana series focuses on a range of topics and perspectives. Partnering with regional organizations, the series is designed to showcase Olana as a resource for immersive explorations in our environment, to foster appreciation of the natural world, and to inspire participants to shape the future of our region.
Constitution Marsh Audubon Center & Sanctuary staff will lead a guided bird walk highlighting the birds that call the Hudson Valley home during the summer season.  Melissa Auf der Maur, Co-Founder and Director of Basilica Hudson, will lead a walk that considers the vital role artists and art organizations can play in environmental advocacy and action. This tour is part of a larger collaboration between Basilica Hudson, the Thomas Cole National Historic Site and The Olana Partnership taking place this summer.
Meadow plants and their insect visitors will be discussed by Claudia Knab-Vispo and Conrad Vispo from Hawthorne Valley's Farmscape Ecology Program. Tracey Testo, program coordinator at the Cornell Cooperative Extension, will explore Olana through the lens of agroforestry and examine the history of our forested landscape. And finally, historical and current threats to the Hudson River will be examined by Riverkeeper's Volunteer and Outreach Coordinator, Jen Benson.
Olana requires all visitors to wear a mask and maintain a six-foot social distance while attending these outdoor tours.  Tickets are $15 person, $10 members of Olana and advanced registration is required. For more information and a full list of detailed offerings, dates and times, please contact education@olana.org or visit OLANA.org.  Generous support of this series has been provided by Art Bridges.
Full List of Programs:
June 26, 10:00-11:00am: Rise and Shine Bird Walk with Constitution Marsh Audubon Center & Sanctuary
July 31, 1:00-2:00pm: How the Arts Impact Our Landscapes Through the Lens of Basilica Hudson
August 28, 1:00-2:00pm: Exploring Meadow Plants and Insects with the Farmscape Ecology Program
September 18, 1:00-2:00pm: The History of Our Forested Landscape with Cornell Cooperative Extension of Columbia and Greene Counties
October 9, 1:00-2:00pm: Exploring Historic and Modern Threats to the Hudson River with Riverkeeper